Blog Tour + #Review: 'The Sinner' by Shantel Tessier
December 5, 2022
I received a complimentary copy of the book from the blog tour host in exchange for an honest review. This does not affect my opinion of the book or the content of my review.
This book may be unsuitable for people under 18 years of age due to its use of sexual content, drug and alcohol use, and/or violence.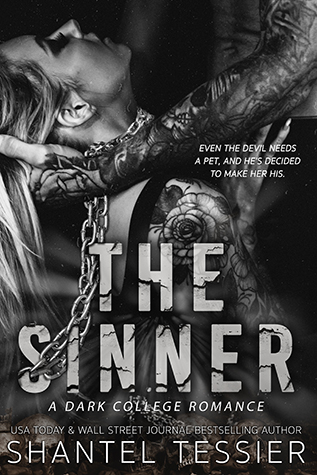 The Sinner
by
Shantel Tessier
Published by
Self-Published
on December 4, 2022
Genres:
Dark College Romance
,
Dark Romance
,
Dark Romantic Suspense
Format:
eArc
Goodreads
Purchase at
Amazon

An all-new dark standalone romance from the USA Today & Wall Street Journal bestselling author, Shantel Tessier
LITTLE DEMON
I was raised in a world where money and power are at your fingertips. My father is a LORD, a very respected member of a secret society that knows no bounds. When tragedy struck my family, we discovered we weren't untouchable. Just when I thought life couldn't get any worse, I was shown what hell is really like. Then he came and saved me. The devil disguised as my personal hero. But of course, nothing is for free. Not when a soul is up for grabs.
I VOW. YOU VOW. WE VOW.
Easton Bradley Sinnett—Sin—uses his power for his own sick pleasure. Like a typical Lord, he never thought about the consequences of his actions. I grew up with him, obsessed over him, craved him. He was who I pictured when I imagined doing things my body shouldn't want.
One day, I realized he was not who I thought he was. It didn't change anything, though, because I was already too far gone. If anything, I fell for him harder.
Every now and then, someone enters your life who flips it upside down. Sin wrecked me in the worst way, and I thanked him for it by serving on my knees.
As they say, nothing lasts forever. Men like him never stay with a woman like me. I'm what they use, not keep. So when he threw me away, I shouldn't have been all that surprised.
My body had always craved the darker side of love. The kind that left bruises and scars. I was what most would call unholy. And when the devil whispered in my ear that he loved me, I was more than determined to show him just how devoted I could be.
---
What can I say about this book without giving anything away? Because this book needs to be read if you are into Dark Romance, which includes every trigger/content warning out there. I thought Shantel brought the darkness in The Ritual. No, she upped it up in The Sinner. I recommend reading the author's note at the beginning of the book to go over the possible warnings/triggers that the author writes in this new dark college romance novel. 
Storyline/My Thoughts: I thought Ryat was an over-the-top jealous/possessive MMC in The Ritual. Nope. Easton Bradley Sinnett, otherwise known as Sin, is hundred times worst than Ryat when it comes to the woman he loves. He will do whatever it takes to make Ellington his in every possible way. He will unalive people without question and even mark or brand the FMC in this book that lets everyone know she is not to be touched because she is his little demon and he is her devil. I would consider Sin a HUGE red flag if he was not fictional. (What am I saying, he's a HUGE red flag even as a fictional character.) Although I definitely would want him on my side if he wasn't really fictional and I was going through the same crap Elli was going through in this book. He was the only one, and I mean the only one, that was there for her after he found out what had been happening to her after her father passed away. Yes, he may have done some questionable things. If it weren't for the Lords, the secret society he's a part of, he would end up in prison for everything he committed in this book. The Lords can make any questionable thing disappear. They even have people disappear all the time. 
The FMC, Ellington, has not had it easy since her father passed away, and you would think her mother would be nurturing to her, but she was the opposite. This is the fourth book where the mother has been a c**t in my eyes. Sorry if that word offends anyone, but that is precisely what she was in my eyes when reading this book. (I could use another word, but that may get me banned.) I wanted to go through the book and strip her of the title of mother to her daughter after finding out the truth, how this woman didn't believe her daughter, and what poor Elli had to endure. Yeah, her mother was despicable. I felt for poor Elli the whole time I read The Sinner. The girl had to resort to drugs to get through everything she was being put through. No one but Sin was there for her. It didn't seem at first, though. Shantel Tessier doesn't make it easy for the characters to have a happily ever after. There will be trials and tests that the characters have to go through together. Sin is a Lord, and things are expected of him. In this book, he doesn't even get Elli as his chosen, and there is a reason behind it. You'll have to read the book to find out.
I've read some spicy books where there are a lot of moments between the characters, this book, though, ups the spicy times. The spicy times are not sweet moments either. Prepare for a lot of bondage, being forced into things potentially hurting the FMC, but I would consider Elli a masochist and Sin a sadist. Their relationship works because Sin can give precisely what Elli craves and vice versa. He does call her his little demon, and he is her devil. They are not your usual cute pet names, but it works for them, which is why I liked them as a couple. You could read Sin's POV and know how devoted and in love, he was with Ellington. Sometimes I questioned him, but I knew something was up with him and how he was always watching out for Elli. He does something in this book that introduces readers to some characters that may be scarier than the Lords and their secret society. I want more of their story, and I know Shantel is going to since I read the ending of this book.
Shantel Tessier, you are the new author who makes my anxiety go off the damn charts. I swear my heart was racing when I read this book, and there were times I started crying for Elli and wanting to go through the book and beat some people. You made me feel so much for the characters and their story. I was rooting for Sin and Elli to have their HEA, and when they finally got it, it was a big relief. I love authors that write a book so well that you will never be able to forget it. I thought The Ritual put me through the wringer. No, The Sinner tripled it for me. I loved this damn book and this world with the Lords, even if it gave me panic attacks.
I give this book five stars, and I will never forget Sin and Elli's story. Do I plan on rereading this book? Yes, I do.
I can't wait for more standalone books from this world. I'm so glad I found Shantel Tessier's Dark Romance books. New favorite author – ✅.
Standalone or Part of Series: Standalone.
Steam/Spice: 🌶 🌶 🌶 🌶 🌶
Genre(s)/Trope(s)/Element(s): Dark Romance. Dark College Romance. Dark Romantic Suspense. Stalker Romance. Forced Proximity. BDSM. Secret Society. Anti-Hero. Tattooed/Pierced MMC. OTT Jealous/Possessive MMC. Pierced FMC. Touch Her and I'll Unalive You.
Trigger(s)/Content Warning(s): There's several and the author list them in the beginning of the book. I highly recommend checking them out before reading The Sinner.
HEA: Yes.
Would I recommend this book? Yes. I'm only recommending this book to readers who love Dark Romances that have all the triggers in them. You name a potential trigger; this book has it. If you can't handle an OTT J/P MMC, that is a HUGE red flag, and this book may not be for you. Sin is the antihero that would burn down the world for this FMC to have her, and he proves it in this book. His love for Elli is epic!
Favorite Quote(s): "You're my heaven, and I'm your hell."
"MY SINFUL, SINFUL, little demon in my dreams, you will see that you are what I want you to be, You're my demon, I'm your devil, And I will keep you chained in hell forever."

---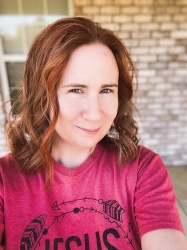 Latest posts by FranJessca
(see all)