Review: 'A Stop in Time' by RC Boldt
February 21, 2023
I received a complimentary copy of the book from Valentine PR in exchange for an honest review. This does not affect my opinion of the book or the content of my review.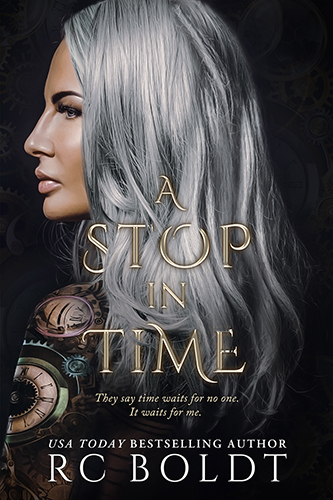 A Stop in Time
by
RC Boldt
Published by
Self-Published
on February 21, 2023
Genres:
Paranormal Romantic Suspense
Format:
eArc
Source:
Valentine PR
Goodreads
Purchase at
Amazon
|
Apple
|
Barnes & Noble
|
Google Play
|
Kobo

USA Today bestselling author RC Boldt brings readers an intriguing paranormal romantic suspense in A Stop in Time...

I've been an outcast my whole life. If my scars don't scare people off, my attitude certainly will.

I don't know what I am or how I got the power to stop time. What I do know is, there are far too many questions I need answers to.

When I cross paths with Daniel Madrano, second-in-command of a notoriously violent gang, his presence unravels a part of my past I never knew existed.

He may be a criminal and a murderer, but he's the first man to look at me and see beyond my scars.

As more of my memories rise to the surface, filling in the numerous gaps, danger only leaps closer. I'm faced with losing everything—including the first man I've ever loved.

But I should've known better. We were never meant to be more than a brief stop in time.
---
A Stop in Time is the first book I've read from R.C. Boldt, and it definitely won't be my last. I was intrigued by the synopsis of A Stop in Time when I came across it, and thanks to Valentine PR for the opportunity of reading an early copy of it. R.C. Boldt had me hooked from the first page. I love when authors can grab me immediately when I want nothing to do with reality because the book the author has written has sucked me inside it, and I don't want to return to the real world. I know I have to eventually, but for now, I will enjoy this fictional world that R.C. Boldt has created.
Storyline/My Thoughts: One thing I enjoyed most about A Stop in Time is that it is not only a Romantic Suspense, but it has paranormal elements. PNR has always been one of my favorite Romance subgenres, but when an author adds another one of my favorite subgenres into the mix, I'm instantly falling hard for the book and author.
This book not only has a strong and fierce FMC with supernatural powers that I absolutely adored, but it also has an MMC that is dreamy and badass that is second in command of a gang called Scorpions. These two MCs are from the opposite side of the track that would have never met if it wasn't for a tragedy that struck the male character's world. Daniel's sister was murdered, and he has been trying to track a person named Mac that supposedly can help him find the person that murdered her or at least give him a lead into his sister's murder. He ends up in a small town at a bar where people keep to themselves, and he meets the FMC, the local salvage yard owner/Mechanic named Mac Ford. She knows nothing about his sister's murder, but both are immediately drawn to each other. An instant attraction happens, and I loved these two when they were together. Mac, with her constantly calling Daniel, Danny, who is always correcting her, but she doesn't care. Daniel, with his constant protective instincts with Mac when he just met her. He's unlike the other guys who want to use and make fun of her. He doesn't see Mac's scars at first; he sees her and finds her fascinating and gorgeous. He wants to know her backstory, and I loved how he was determined to find out the real Mac Ford.
Mac has a story to tell, and readers will discover why Mac keeps to herself. I loved learning about her and discovering how she came to have supernatural powers. No spoilers here from me. You'll have to read the book. I also loved that she was a mechanic and knew cars. She is a badass FMC with powers, but she also knows and loves cars. Yes, ma'am. She is heavily tattooed, too. Mac Ford is an instant favorite. Just know that Mac knows nothing about her past and has no clue she's in danger. She suffers from blackouts and has no clue what is happening to her. She knows how to handle herself, though, which is why I respected and adored her character. It will take Daniel, someone who knows nothing about Mac, to help her discover the truth. It will also help him find out the truth about his sister.
The MMC also has a story to tell. Daniel is the second in command of a gang everyone from Jacksonville knows. He is determined to find out the truth about his sister. He's about to find out things are not what they seem in Mac's world and small town. I loved Daniel's character because he treated Mac with respect and because the gang he was a part of wasn't that horrible. They helped their community and looked out for others. They didn't really harm unless that person or group had ill intentions. This guy, that tended to wear all black and looked like someone from the movie Men in Black, was out of his element in Mac's town, but he learned to fit in, especially when it came to her. He is a dirty talker, too, and knows he's way in the bedroom if that doesn't sell you on his character. I friggin' loved him when it came to being with Mac Ford.
The mixture of paranormal elements in this romantic suspense with two lovable and kick-butt characters is why I'm giving this story five stars, and it's an instant favorite for 2023. Why didn't I read R.C. Boldt's books before until this book? I'm fixing that now, checking out her backlist, and adding them to my TBR. She's an instant buy author now for me.
Standalone or Part of Series: Standalone.
Steam/Spice: 🌶 🌶 🌶
Genre(s)/Trope(s)/Element(s): Paranormal Romantic Suspense. Enemies to Lovers. Small Town. Supernatural Powers. Alpha MMC. Strong FMC. Tattooed FMC. Tattooed MMC. Multicultural. Close Proximity. Orphan FMC. FMC in Danger. Found Family. Mechanic and Business Owner FMC. Gangster and Second in Command MMC. Kickbutt FMC.
Would I recommend this book? Yes. If you are like me and love Romantic Suspense with paranormal elements in the mix, you'll enjoy this book. I know I did, and now I'm obsessed with this fictional world and characters that R.C. Boldt masterminded and wrote for her readers. I need more stories from this fictional world.
Favorite Quote(s): "A guy like you? C'mon now."… "What's that supposed to mean?"… "You know." I wave a hand, encompassing him from head to toe. "Handsome. More than a touch intimidating. A criminal. The accent. You've got the 'bad boy' vibe on all fronts." With a small shrug, I plant my palms against the hood. "It's like catnip for most women."
"Never been so damn urgent to get my hands on a woman before that I shoved her on the hood of my car and forgot about watchin' my back." … "Well, I've never felt an urgency to be shoved on the hood of someone's car before, if that makes you feel any better."
"You gonna come on my tongue like a good girl?" "Don't know. You gonna be good enough to make me?" I hold her eyes for a beat while a smirk tugs at my lips. "Why don't we find out? Then I fuck her pussy with my tongue like my goddamn life depends on it.
Sometimes, you have to find the courage to slay the monsters that won't let you sleep at night. And, in some cases, you have to become a unique brand of monster to do it.

---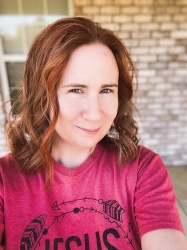 Latest posts by FranJessca
(see all)