Review: 'A Wedding in Springtime' by Amanda Forester #Romanceopoly2020
April 15, 2020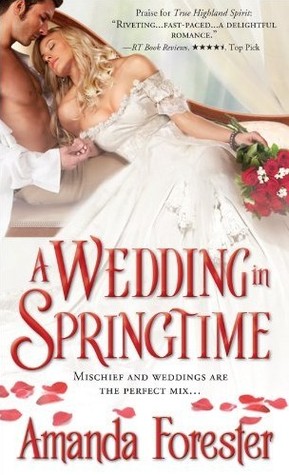 A Wedding in Springtime
by
Amanda Forester
Series:
Marriage Mart #1
Published by
Sourcebooks Casablanca
on May 7, 2013
Genres:
Historical Romance
Format:
Paperback
Goodreads
Purchase at
Amazon
|
Barnes & Noble

Her Timing Couldn't Be Worse...
Miss Eugenia Talbot's presentation to the queen is spoiled by a serious faux pas—the despicable William Grant made her laugh, right in front of Her Majesty. Now Eugenia is ruined and had better marry—someone, anyone—at once...
And His Couldn't Be Better...
Roguish William Grant has never taken anything seriously in his life. Until he meets Eugenia Talbot, who makes him feel and do thing he never thought he would.
Now Eugenia's great sense of humor and kindheartedness may be her undoing, unless William can help her find a husband. To his surprise, that's the last thing he wants to do...
---
I've had A Wedding in Springtime in my bookcase since it was released back in 2013. Unfortunately, I never had time to read it until I was able to fit into my #Romanceopoly2020 Challenge. It fulfilled my Spring square for the Moon Pack since it had the word 'Spring' in the title.
Male Protagonist (Hero): William Grant – A Reformed Rake who avoids 'marriage' like it's the plague until he meets the heroine of this story. He immediately is drawn to the Heroine and can't avoid her. I enjoyed his character in the story because he was rattled with having feelings with Genie. He's supposed to be the Rake in the story but didn't act like it when it came to Genie.
Female Protagonist (Heroine): Miss Eugenia Talbot aka Genie – She's in London to find a husband and save her family's name, but instead gets ruined when she laughs in front of the Queen. She's a funny, silly heroine who isn't bothered by getting her reputation jeopardized. She would instead like to go back to the country. She's not your normal heroine in a historical romance. I did adore her character at times. She was clueless about certain things, though, especially when it comes to William.
Storyline: The main plot of the story is all about Genie needing to get married and how her Aunt gets the Dowager Duchess of Marchford to help find her niece a husband. Genie's Aunt is the typical overbearing Aunt who wants her niece to find a husband. The Dowager Duchess and her companion, Miss Penelope Rose, have a matchmaking service (kind of) that will find a gentleman for Genie. Genie, though already has feelings for William Grant, even if he's a known Rake. Everyone tells Genie to stay away from William, but of course, she won't in the story. There's a smaller storyline issue that goes on in the story, too, with a French spy trying to steal secret codes in the story from the Duke of Marchford. The Duke has plans to catch the spy until they realize who it is, which I figured out after a while due to a specific character always showing up. Readers will also get to follow along with other supporting characters, which I believe they will get their own story next in the books. Unfortunately, I found this taking away from the main characters in this story.
Cliffhanger? No.
Do I recommend reading in order? I don't think it would matter reading in order, but I tend to have OCD and instead read in order.
Do I recommend this book? Yes, if you are a Historical Romance reader and love reading stories that involve mystery and having to deal with spies that want to steal secrets.
Overall, this book gets 3.5-stars from me. I found the author took the focus away from the main characters and also knowing ahead of time who the antagonist was in the story. I did enjoy the book and do plan on reading the next book and even reading different books from Amanda Forester.

This post contains affiliate links you can use to purchase the book. If you buy the book using that link, I will receive a small commission from the sale. It will help sponsor future giveaways but costs you nothing extra. You can read the full disclosure underneath the Privacy Policy.
---
---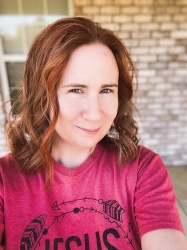 Latest posts by FranJessca
(see all)