Review: 'Almost to Die For' by Tate Hallaway
March 23, 2012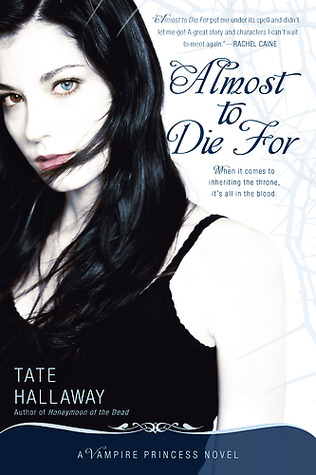 Almost to Die For
by
Tate Hallaway
Series:
Vampire Princess of St. Paul #1
Published by
NAL
on August 3rd, 2010
Genres:
Young Adult Paranormal
Format:
Paperback
Source:
Library
Goodreads
Purchase at
Amazon
|
Apple

On her sixteenth birthday, Anastasija Parker learns that her so-called deadbeat dad is actually a vampire king. And he wants Ana to assume her rightful position at his side, in spite of the fact that she has witch's blood running through her veins - from her mother's side.
Too bad witches and vampires are mortal enemies. And now Ana's parents are at each other's throats over her future. It's up to Ana to make a choice, but deciding your eternal destiny is a pretty big deal for a girl who just wants to get through high school.
 My Review
For anyone who knows me, I love reading YA.  I'm 28 years old and still enjoy Young Adult books so don't make fun. I have two little girls at home with me.  I have to read YA.  That's my excuse, and I'm sticking to it.  No…really I enjoy a good YA book.  I need a break from the lovemaking, ass smacking, and action-packed books every once in a while.
"Almost to Die For" was chosen for me through Random.org.  I didn't even know I had this book on my TBR list.  I must've added it because of the word "Twilight" being in the description when I was addicted to Twilight still.  I have my downfalls sometimes.  Maybe it was the cover of the girl with the two different eye colors.  It reminded me of the guy in "Practical Magic" with Sandra Bullock and Nicole Kidman.
Onto what I thought of the book though, I loved reading this book.  It was a nice break away from adult romance for a little while.  It was a short book too which was a plus.  I was able to read it in a short time frame because being a Mother of two; I have a hard time sneaking in reading during the daytime hours.
 I adore an Author who creates weird and beautiful names for characters.  The name Anastasija is not something you're used to reading about in a book.
Anatasija has known forever about Witches since her Mom is one and one of her best friends is one.  But is she one, she has to conjure up her powers during a Circle one night, which she is supposed to conjure up Air…but she has never felt like she has powers.  She's going to let down her Mom.  One day though, her father who has never been there come to her doorstep. She wasn't expecting to find out she is part Vampire and not only that but Vampire Princess.  Now, she has decided to either stay with the Witches or now go off and find out about her Vampire Side and take the Throne as Vampire Princess. Not only that but now she has a Sexy Vamp and a Sexy Witch Boy going after her affections.  What is a Teen Witch/Vamp to do?
I've noticed a lot in YA books. Lately, there's always a love triangle.  This book is showing a little bit of the love triangle, but it has a twist to it.  The Witch boy or man you should say since he's older than Ana has a twist to him; you'll find about when you read this book.  Don't want to spoil it.  Poor Ana, I don't know if she trusts him and gives up her love to him.
For the Vamp who is very protective of her, I love him.  The way Tate describes him, I'm rooting for Ana to hook up with him.  Why am I always going for the dark bad boys?  I have no idea.  It's always been in my blood to go for the bad boy type.
I loved the story that Tate created for this series.  Never expected to read a book about Witches and Vampires hating each other.  I do love the ending of the book when they confront each other head-on.  Gotta love when there's a fight scene, even if it's Power Related.  =)
I did find the book sometimes dull, but that's because I'm used to Adult Books. I am getting super bored with love triangles.  I wish the girl would decide on the guy she wants already.  Oh well, it's the "it" thing right now with books and even movies.  I can't get mad about it.
Now the real question is if I'm going to read the second book to the series.  I do find myself wanting to find out next what happens since Tate left us wanting to find out what is going to happen next to Ana and her Vampire lover (hint).  Wasn't expecting that to happen.  Poor Ana.  LOL
I will eventually get to the 2nd book, but it's not my priority to pick it up just yet.  I have too many books to read from Authors and my bookshelves at home.  I definitely will read other books from Tate though.  I'm glad I read a book from a New Author.  I'm always up for a New Author challenge.  =)
I recommend this book to anyone who loves YA and also loves something like Twilight, but somewhat different.  I recommend it to the readers who love "Love Triangles."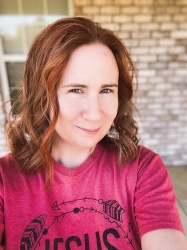 Latest posts by FranJessca
(see all)