Review: 'Apocalypse: The Lords of Deliverance Compendium' by Larissa Ione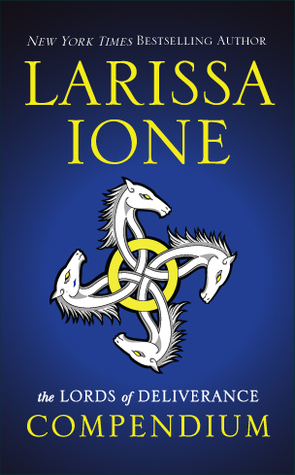 Apocalypse: The Lords of Deliverance Compendium
by
Larissa Ione
Series:
Lords of Deliverance #2.5
Published by
Grand Central Publishing
on May 1st 2012
Genres:
Paranormal Romance
Pages:
76
Format:
eBook
Source:
Purchased
Amazon Kindle
|
Amazon Paperback
Goodreads

They're here.
They ride.
The Four Horsemen of the Apocalypse
Born of a match between good and evil, four siblings stand between hell's minions and everything they want to destroy. They are the Lords of Deliverance, and they have the power to ward off Doomsday . . . or let it ride . . .
THE LORDS OF DELIVERANCE COMPENDIUM

With an all-new exclusive short story!

New York Times bestselling author Larissa Ione brings readers behind the scenes with this definitive guide to her latest imaginative, epic series featuring the Four Horsemen of the Apocalypse. With character descriptions, key player background information, a handy glossary of terms and special abilities, a Q&A inspired by reader questions, and an all-new, exclusive short story, this is a must-read for every Larissa Ione fan. As an added bonus, this compendium includes an extended sneak peek at the next book in the Lords of Deliverance series, Lethal Rider.
My Review
This is a short book on Larissa's latest series, The Lords of Deliverance. You'll get to read how she came up with the four horsemen, some demon characteristics, etc., details on the horsemen of course (and some other characters) Larissa also pulls you into a short story on how the horsemen parents…well made the horsemen. =)
Don't want to give away who they are if you haven't read the series or read this book. Larissa even answers some reader questions that we've been patiently waiting to know.
Then…the big whopper is when you'll get a sneak peek into the latest book "Lethal Rider." I love sneak peeks. Makes me want the next book right away which I just got and will be spending time reading it.
If you're a huge fan of Larissa Ione and want to know more about the Lords of Deliverance Series, you need to read this short ebook. It fills you in things that you may have been confused about in the series.
I found it fascinating to read about Larissa because I found out she used to live in VA, her hubby is in the Coast Guard, and she likes to dye her hair whatever color, whenever she feels like it. =)
My fave part of the book was reading the critical player background information. Love finding out more details about the characters I'm reading, and I'm falling in love with in the books.
This is a re-read whenever I need a refresher on the series.
It's only $0.99 so hurry up and get your copy. =)


I guess I should type a bio here. I'm FranJessca or Fran for short. I'm the owner of Book Lovin' Mamas and main Reviewer. I've been reviewing books since I got out of the Navy in 2011. Now 8 years later, I'm still reviewing, but this time with my youngest sidekick.
When I'm not reading and reviewing, you can find me at my day job during the week and on the weekend taking care of our little farm.

Latest posts by FranJessca (see all)