Review: 'Awakened' by PC Cast & Kristin Cast
February 18, 2011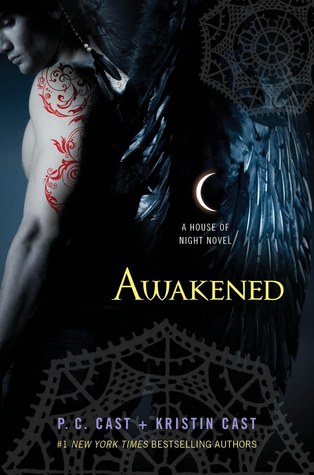 Awakened
by
P.C. Cast
,
Kristin Cast
Series:
House of Night #8
Published by
St. Martin's Griffin
on January 4th 2011
Genres:
Young Adult Paranormal
Format:
Hardcover
Source:
Purchased
Goodreads
Purchase at
Amazon
|
Apple

Exonerated by the Vampyre High Council and returned to her position of High Priestess at Tulsa's House of Night, Neferet has sworn vengeance on Zoey. Dominion over her immortal consort Kalona is only one of the weapons she plans to use against Z. But Zoey has found sanctuary on the Isle of Skye and is being groomed by Queen Sgiach to take over for her there. Being Queen would be cool, wouldn't it? Why should she return to Tulsa? After losing her human consort, Heath, she will never be the same – and her relationship with her super-hot-warrior, Stark, may never be the same either… And what about Stevie Rae and Rephaim? The Raven Mocker refuses to be used against Stevie Rae, but what choice does he have when no one in the entire world, including Zoey, would be okay with their relationship? Does he betray his father or his heart?
---
(Originally Reviewed on Mrs. Papillion aka "The Book Worm")
May I say, that both the Authors are making my tear ducts work overtime. Since the last book to this one, I was crying like crazy. Why oh why did you have to make so many people die? It's just crazy. The beginning and the end of the book some of the most amazing people had to die. Boohoo!
This was a tearjerker for me. The poor crew had to lose one of their loved ones, and so did Zoey. It's just crazy, I say! I loved the book though because it proved even more how evil Neferet is. I can't stand that woman; I wish the authors would get rid of her. She's making me want to go inside of the book and strangle her. She's even having people turn against Zoey and her friends. I love Stark though…he is just a dreamy and protective guy, and I'm glad Zoey is with him. I'm a little excited about the ending of the book and what the authors did. I'm also a little scared. What is going to happen in the next book? Nyx is making some changes, and I'm looking forward to it. The Authors had me wanting more at the end like they usually do and they threw in a twist. Thanks so much to P.C. Cast and Kristin Cast for keeping the House of Night Series going the way it is going. You both are amazing Authors!
Now let's not make me wait a year for the next book otherwise I will go insane without my House of Night fix. I'm hoping this series becomes a Movie soon because it definitely will knock the Twilight Series down. =)

This post contains affiliate links you can use to purchase the book. If you buy the book using that link, I will receive a small commission from the sale. It will help sponsor future giveaways but costs you nothing extra. You can read the full disclosure underneath the Privacy Policy.
---
---
---

Latest posts by FranJessca
(see all)