Review: 'Azrael' by Carrie Pulkinen
September 5, 2022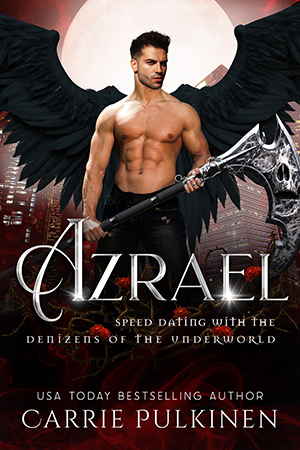 Azrael
by
Carrie Pulkinen
Series:
Speed Dating with the Denizens of the Underworld #3
Published by
Naughty Nights Press LLC
on June 7, 2022
Genres:
Paranormal Romance
Format:
eBook
Source:
Purchased
Goodreads
Purchase at
Amazon
|
Barnes & Noble
|
Kobo

The Angel of Death needs to get a life.
Archangel Azrael—AKA the Grim Reaper—spends his life around death, and his job is taking a toll on his happiness. At the advice of his therapist, he decides a night out with the living is just what the doctor ordered. To his dismay, it's speed dating night at DeLux Café, and the hosts refuse to let him leave. But when a bubbly blonde vampire catches his eye, she might just be the cure to this brooding angel's woes.
Deirdre moves to LA for a change of scenery and a new flavor of the month. What better way to find Mr. Right Now than at a session of speed dating? She sets her sights on a scrumptious dark angel, and he does not disappoint. Deirdre has always had a hard time keeping her hands to herself, and the wicked sharp scythe glinting in the bedroom light—the object he specifically tells her not to touch—is just too tempting.Whoops. Now she's gone from undead to really dead.
Azrael has three days to get Deirdre's soul reconnected with her body, but if she can't get over herself and forgive and forget, she'll be stuck in the spirit realm for good.
If you like sassy heroines and brooding heroes, you'll love this opposites attract paranormal romance!
Azrael is book three in the Speed Dating with the Denizens of the Underworld shared world, filled with gorgeous grim reapers, vampire vixens, and more.
---
I am reading through each of the Speed Dating with the Denizens of the Underworld books and finished reading the third book in the series. The third book was written by Carrie Pulkinen, a new author to me. I'm enjoying this series with the underworld denizens finding their mates at a Speed Dating event that Aphrodite and Eve host at the DeLux Cafe.
Storyline/My Thoughts: It's time for the Archangel Azrael, who happens to be the Grim Reaper, to find his mate. He deals with the dead daily by talking to the newly dead about crossing over, especially those who can't accept that they are dead. Azrael's job is to help the dead cross over so they can get out of purgatory and become a spirit in paradise. Azrael may be a therapist to the dead, but he also has a therapist, and his therapist wants him to have a night out away from the dead. He never expects to end up at the Speed Dating event that the lovely Aphrodite and Eve host. They won't let the Grim Reaper leave until he at least gives the event a try. Azrael is intrigued by a certain pink clothes-wearing beautiful vampire named Deidre, who has moved from New Orleans to Los Angeles for a change of scenery. She doesn't make commitments and isn't looking for a mate when she's at the speed dating event. No, she's only looking for one night with a guy because she had her heart broken before and will not go through that again.
Unfortunately, fate has other plans for Azrael and Deidre, and they will fall hard for one another. There's one issue, the second these two characters realize they have feelings for each other, Deidre goes from undead to dead. It's up to Azrael to put Deidre's soul back in her body; if he doesn't, he'll lose her forever.
I enjoyed Azrael's storyline when I was reading it. I loved the idea of Azrael as the Grim Reaper, who was a therapist for the dead. The poor guy, though, was bombarded by souls who didn't accept being dead. He needed happiness in his life, and I agreed with his therapist because he needed to get out of the office and have fun. He may not have enjoyed going to the Speed Dating event, but he sure did afterward when he hooked up with Deidre.
Now, Deidre, on the other hand, was a wild one. I loved that she broke the mold of having to wear black as a vampire. She chose to wear pink as a vampire. She's the opposite of Azrael and has the hang-ups of her own accord on why she doesn't commit. It takes death for her to realize that what happened to her in the past is not what Azrael would do to her.
I loved how Azrael wouldn't give up on Deidre because he knew she was his fated mate. He would do anything to return her soul to her body, even deal with Deidre's Guardian Angel to prove how much he loved Deidre. I also loved how Deidre was a fighter of her own and finally gave in to finding out her issue regarding commitment and telling the truth to Azrael about what happened to her.
Overall, I liked this book and gave it four stars. I'll have to check out Carrie Pulkinen's other books because I enjoyed her writing style and the characters she wrote for this series.
Standalone or Part of Series: It's part of a series, but each can be read as a standalone.
Steam/Spice: ⭐️ ⭐️
Trope(s)/Element(s): Fated Mates; Opposite's Attract
Would I recommend this book? Yes. You'll enjoy this book if you enjoy Paranormal Romance with Dark Angels, Vampires, and Guardian Angels.

This post contains affiliate links you can use to purchase the book. If you buy the book using that link, I will receive a small commission from the sale. It will help sponsor future giveaways but costs you nothing extra. You can read the full disclosure underneath the Privacy Policy.
---
---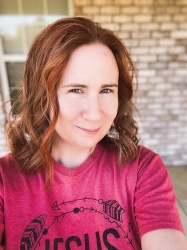 Latest posts by FranJessca
(see all)