Review: 'Bad Blood' by Mari Mancusi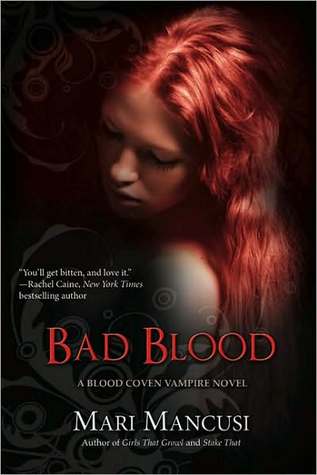 Bad Blood
by
Mari Mancusi
Series:
Blood Coven Vampire #4
Published by
Berkley
on January 5th 2010
Pages:
256
Format:
eBook
Source:
Purchased
Amazon Kindle
|
Amazon Paperback
Goodreads

The newest Blood Coven novel-accompanied by edgy repackages of the rest of the series
Sunny McDonald is in the ultimate forbidden relationship. Her boyfriend Magnus is a vampire, and the leader of the Blood Coven. And when the Coven decides that Magnus needs a mate to be his co-ruler, Sunny's humanity puts her out of the running. The Coven's chosen candidate is Jane Johnson, a magna cum laude graduate of Oxford University who just happens to look like a vampiric supermodel.
Sunny is suspicious of a Rhodes Scholar who can't answer the most basic poli-sci questions, but Magnus brushes it off as petty jealousy. Still, when the Blood Coven goes to Las Vegas for a vampire convention, Sunny and her twin sister Rayne secretly tag along. And Sunny's not going home before she learns the truth about Jane. Because not everything stays in Vegas-especially bad blood.
My Review:
(Originally Reviewed on Mrs. Papillion aka "The Book Worm")
This book was Sunny's side again. I have to say this was much better than Sunny's first story "Boys That Bite". Maybe because this book had more drama to it and Sunny got through some things that Rayne usually goes through. Both the twins also found out something really interesting in the middle and end of the book that changes their lives forever.
Let's say this book has a lot more twists to it and the author will throw you off at the ending and I LIKED it. I can't wait for the next book to come out. I also enjoyed how the author introduced another character in the book which caught Sunny's interest. I thought the ending was going to take a wrong turn and then Sunny would choose something different. I also didn't expect what happened when they went to Las Vegas and what the twins found out about their Dad and what he did.
I recommend this book to anyone who likes Paranormal YA.


I guess I should type a bio here. I'm FranJessca or Fran for short. I'm the owner of Book Lovin' Mamas and main Reviewer. I've been reviewing books since I got out of the Navy in 2011. Now 8 years later, I'm still reviewing, but this time with my youngest sidekick.
When I'm not reading and reviewing, you can find me at my day job during the week and on the weekend taking care of our little farm.

Latest posts by FranJessca (see all)