Review: 'Barbarian Alien' by Ruby Dixon
September 1, 2023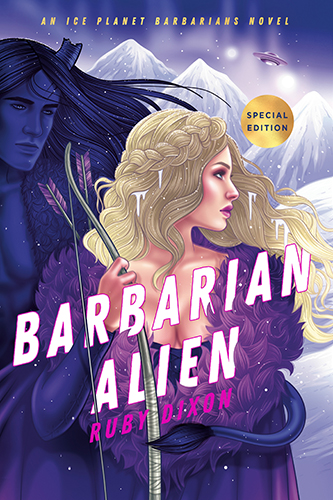 Barbarian Alien
by
Ruby Dixon
Series:
Ice Planet Barbarians #2
Published by
Berkley
on July 24, 2015
Genres:
Science Fiction Romance
Format:
AudioBook
,
Paperback
Source:
Scribd
,
the publisher
Goodreads
Purchase at
Amazon
|
Barnes & Noble
|
Kobo

The second novel in the Ice Planet Barbarians series, the international publishing phenomenon--now in a special print edition with bonus materials and an exclusive epilogue!
Liz Cramer swears she'll find a way off of this alien planet she's stuck on--then she meets Raahosh, the surliest and stubbornest alien, who won't leave her alone, and she just might be okay with that...
Twelve humans are left stranded on a wintry alien planet. I'm one of them. Yay, me.In order to survive, we have to take on a symbiont that wants to rewire our bodies to live in this brutal place. I like to call it a "cootie." And my cootie's a jerk, because it also thinks I'm the mate to the biggest, grumpiest alien of the group. Raahosh believes the cootie's right, so he steals me away from the group, determined to make me fall for him--or else.
He has no idea who he's up against.
And if I didn't want his insufferable self so much (thanks, cootie), I'd let him know exactly what I'm thinking. As it is, I'm doing my best to fight this instant attraction. Just because the symbiont thinks we're supposed to be together doesn't mean I have to go along with it. And if we fool around a little, it's merely biology. It doesn't mean I'm in love--or that I'm destined to be his.
---
Ruby's still a new author to me, and I have about five books of hers on my physical bookshelves that I've been meaning to read, so I decided to squeeze another one of her books into my August reading schedule. I read and finished the second book in her Ice Planet Barbarians series, Barbarian Alien, and I'm thankful I made time for it. The book helped me not get into a major reading slump, which I could feel myself slipping into the end of August.
Here is a little bit about the story behind how the FMCs in the Ice Planet Barbarians series ended up on another planet with aliens wanting to be their mates. Another species of aliens kidnaped the human women, and the spaceship crashed onto the icy planet, where the women find themselves having to survive an unknown place with blue aliens over seven feet tall that want the women as their mates. (Not the same aliens that had kidnapped the women originally) Liz Cramer, the FMC in Barbarian Alien, has no desire to be mated to one of the aliens and is determined to get off the planet and return home. She doesn't see the appeal of the blue aliens until she's forced to be with one and learns how they are with their mated females. 
The MMC, Raahosh, believes that Liz is his mate and is determined to have her when he forces her to take the 'cootie' within her body that is supposed to help her survive the cold, strange planet. Liz didn't want the thing, and now she is being carried away by the grumpy alien who thinks she's his, risking her life when she should remain with the rest of the females and aliens, just in case something goes wrong with the 'cootie' in her. (The 'cootie' or khui is a symbiont that rewires the human females' bodies to adjust to the planet's atmosphere, etc.)
I love alpha males who tend to be grumpy, and Raahosh was that type of male in this book. I know not every reader will like the MMCs that take control and tend to be jerks at first, but these are the types of male characters I've loved to read in my romance books since I was a teenager. They have a back story, and Ruby Dixon gave Raahosh one that was tragic and heartbreaking. No wonder he didn't want to give up on Liz when convincing her that they were mates, even though the whole time he thought she didn't want him because of his scars. Poor Raahosh! The alien has not only an internal struggle he's dealing with, but a physical one, too, and I felt for his character, especially when reading his POV. The worst part was when he was forced away from his mate and was not taking care of himself, and Liz called him out on it.
It took time for me to like Liz in the book because I found her character annoying, especially with how she treated Raahosh. I tended to tune her out whenever she complained and fought Raahosh about her being his mate. She didn't want to give it a chance, even though he was all about caring for her needs. One thing about Liz's character is that she is very independent and wants to be included in things that Raahosh does for her, for instance, hunting. She was taught to hunt thanks to her father, so she only wanted to be included, and I could understand her a little bit better after learning more about her. She redeemed herself towards the end when the leader, Vektal, decided to ban Raahosh for what he did, taking Liz away from the tribe and everything, and she wasn't going to have it. She fought back in her own way or getting back to Raahosh.
I'm definitely enjoying these books' steamy/spicy scenes and see the appeal and why some readers are devouring alien romances now. Ruby Dixon has a vivid imagination with the aliens and is putting human males to shame on Earth.
Overall, it is another good read, and I plan to continue reading this series when I squeeze it into my reading schedule throughout the rest of 2023.
Audiobook Review: I did listen to this book more than read the physical copy because it's hard to sit and read nowadays with my youngest daughter's soccer season back in full swing. I enjoyed the narrators for this book, Mason Lloyd and Hollie Jackson, and how they brought each character to life. If you prefer listening to books, I recommend the audiobook for this book due to the narrators. 
---
Story Rating: ⭐️ ⭐️ ⭐️ ⭐️
Steam/Spice Rating: 🌶🌶🌶.5
Standalone or Part of Series: It's part of the Ice Planet Barbarians Series, but each book can be read as a standalone. (If you are like me and like to read in order, start with Book One, where you'll meet Vektal and Georgie who appear in Book Two.)
Would I recommend this book? Yes. If you enjoy spicy alien romance stories on a faraway planet/galaxy, this series is for you.
Genre/SubGenre(s): Romance | Science Fiction Romance
Trope(s)/Element(s): Alien Romance | Fated Mates | Enemies to Lovers | Hate to Love | Alpha MMC | Breeding Kink | Pregnancy

This post contains affiliate links you can use to purchase the book. If you buy the book using that link, I will receive a small commission from the sale. It will help sponsor future giveaways but costs you nothing extra. You can read the full disclosure underneath the Privacy Policy.
---
---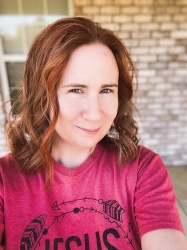 Latest posts by FranJessca
(see all)