Review: 'Bedlam's Playground' by C.A. Rene & Story Brooks
October 31, 2022
I received a complimentary copy of the book from the blog tour host in exchange for an honest review. This does not affect my opinion of the book or the content of my review.
This book may be unsuitable for people under 18 years of age due to its use of sexual content, drug and alcohol use, and/or violence.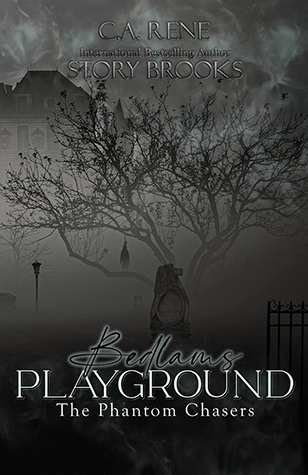 Bedlams Playground
by
C.A. Rene
,
Story Brooks
Series:
The Phantom Chasers #1
Published by
Self-Published
on October 31, 2022
Genres:
Dark Romance
,
Gothic Romance
,
Reverse Harem
Format:
eArc
Goodreads
Purchase at
Amazon
|
Barnes & Noble

Hey, Phantom Hood!We're The Phantom Chasers and we're looking for our next adventure.There's nothing too scary, or too haunted for the four of us.We've been to the most famous haunted houses in the state,And now we need your help.Where would you guys want us to take you next?We love to live stream our sleep overs,and share with you as much of the experience as we can.Send us your suggestions!!And remember,Nothing is off limits!Sincerely,Your Phantom Chasers.Mary, Connor, Nick, and James
*The Phantom Chasers series is intended for readers 18 years or older. Contains dark themes, sexual situations, hauntings, possessions, and other triggering situations. Please be advised to read the content warning found in the front of the book. *
---
I wanted to read a spooky read for Halloween 2022, and I came across Bedlam's Playground by Story Brooks and C.A. Rene, thanks to JLCR Author Services. I had never read anything from these two authors, and the synopsis, plus the tropes, hooked me into reading this book. First, I'm going to admit that the movie Poltergeist frightened me as a little girl. I have a hard time to this day watching that movie.
Storyline/My Thoughts: I was prepared for this book to terrify me due to where the setting was in this book. The spice in it, though out, weighed the creepiness in it. I took my time reading this novella even when it was short. The villain in this story is not someone to mess with because he is a serial killer. The four main characters in this story, Mary, James, Connor, and Nick, are Phantom Chasers, and they make money streaming their experiences in haunted places. Their next adventure takes them to Bellgrove Park – Asylum, where a notorious serial killer, Conroy Davies, was locked away in 1953 after he unalived several people in the facility. They are determined to find out if the serial killer is still locked in that room after so many years since it makes the people watching their streaming service want to pay them more.
Unfortunately, the second they open the door, they realize they have done something terrible. Now they are locked in the asylum with a poltergeist who wants to wreak havoc on them. He also doesn't want to return to that room; they are locked in the facility due to one of the ghosts thinking they are a patient.
The authors' Story Brooks and C.A. Rene give you a prologue detailing what happened to Conroy Davies, and the whole time I was reading the Phantom Chasers opening the door to where he was locked in, I was telling them not to do it. Unfortunately, you know me screaming at my kindle and the characters being fictional; they're not going to listen, and now they are dealing with the consequences. Seriously, even a couple of them didn't want to open that door. They got a weird feeling from it. Go with that feeling next time; fictional characters who I adore too much to see hurt like they were in this book.
If you ever read into asylums, like me, and wanted to know why someone was placed in an asylum, you would find out certain things that would make you question asylums back in the day. Why they thought they needed to treat people for certain things, they didn't need treatment for baffles me to this day. I'm glad the authors touched on some of the issues with asylums back in the past. It breaks my heart what people had to go through back then for treatments they did not need. As a romance reader, I would have been in an asylum for reading what I read. Try to lock me away from my books and see what happens. Even my husband knows not to bother me when I read because it makes his wife happy, and he benefits from it too. =)
This book is a Why Choose/Reverse Harem, where the characters don't have to choose. The MMCs, James, Connor, and Nick, have feelings for the FMC, Mary but have never acted on them. They respect her too much and don't want to hurt her, especially when you learn about her past. The boys won me over by how they were with Mary. I loved each of them in different ways.
Mary instantly became a favorite of mine while reading this book. The poor girl went through a lot in her past and goes through a lot in this book. She's strong with what she's gone through and what happened to her in this book. I'm glad she has James, Connor, and Nick with her. They are very protective of Mary, and after everything in this novella, they find out some things they didn't know about, and I'm glad they finally realize how they care for each other in different ways.
Yes, there are several spicy scenes in this book. Most of them are due to a villain that comes out of that dang room to wreak havoc on them. You will get M/F, M/M, and M/F/M scenes. There is a scene involving the brothers; remember, a villain is involved when it goes down.
Some scenes may trigger some readers and I've listed some triggers down below in my review, but I may have missed some of them.
This was an enjoyable creepy novella to read during the Halloween season. I can't wait to read the second book, especially with that ending and what happens. I know it's going to be creepier. I want to know where the Phantom Chasers go next for the fans of their streaming service.
Overall, I give the first novella four stars, and I'm glad I found these two authors' books and read Bedlam's Playground. Please, C.A.Rene and Story Brooks, don't put Mary, James, Nick, and Connor through too much in the next book. Although, more spice between them would be great. I can't wait to read how their relationships grow together.
Standalone of Part of Series: It's part of a series and I recommend reading in order.
Steam/Spice: 🌶 🌶 🌶 🌶
Genre(s)/Trope(s)/Element(s): Reverse Harem/Why Choose. Gothic Romance. MM Romance. MF Romance. MFM Romance. Halloween Romance. Haunted Asylum. Ghosts Dub/Con, Non Con. Brother on Brother. Poltergeist. Possession. Spooky. Doppelgänger. Degradation. Bondage/Restraints. Pierced MMC. Tattooed MMC.
Content Warning(s)/Trigger(s): Rape/Sexual Assault. Mention of Molestation from family member. Blood/Gore. Murder Mentioned. (Serial Killer) (I try to take note of possible CW when I'm reading a book for other readers that may be bothered by certain dark content.)
Would I recommend this book? Yes, if you enjoy phantom chasers (ghost hunters) that are all friends and work well together that end up dealing with a vengeful serial killer spirit that wants to wreak havoc, you'll enjoy this series. This is a Why Choose/Reverse Harem Paranormal/Gothic Romance book/series, and if you are a fan of those genres/tropes, you'll enjoy it too.

This post contains affiliate links you can use to purchase the book. If you buy the book using that link, I will receive a small commission from the sale. It will help sponsor future giveaways but costs you nothing extra. You can read the full disclosure underneath the Privacy Policy.
---
---
---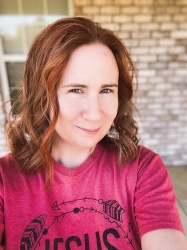 Latest posts by FranJessca
(see all)