Review: 'Covet' by Felicity Heaton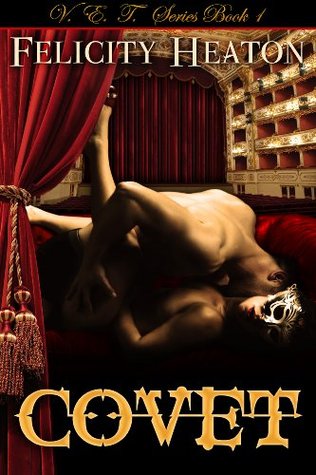 Covet
by
Felicity Heaton
Series:
Vampire Erotic Theatre #1
Published by
Dark Rose Publishing
on January 14, 2012
Genres:
Paranormal Romance
Pages:
148
Format:
eBook
Source:
Purchased
Amazon Kindle
|
Amazon Paperback
Goodreads

They've burned for each other for two years, the forbidden attraction between them growing each night. Now resisting the sinful desires of their hearts is becoming impossible.
Javier knows better than to succumb to his hunger for Lilah. The mortal female belongs to a powerful aristocrat patron of Vampirerotique, the theatre he runs with three other vampires. A single touch is all it would take to break the sacred law of his kind, sentencing himself to death, but his passion for her has become too fierce to ignore and he will risk everything to make Lilah his.
Lilah has fought her desire for Javier since arriving at his theatre as a servant but each glance he has stolen, his eyes promising pleasure that will satisfy her longing for him, has chipped away at her defences and she can no longer deny her need and her forbidden feelings for the powerful vampire male.
When they find themselves alone in a private box during one of the erotic performances, will they surrender to their passion and live out their wildest fantasies in a night of wicked pleasure or will the threat of Lilah's master keep them apart forever?
My Review
Felicity Heaton knows how to heat up things in a theatre…and this is not your ordinary theatre though.
Bring on Vampires and Erotica…and you got yourself one Sexy, Steamy, Deadly Theatre.Javier one sexy, determined vampire who helps run the theatre, Vampirerotique with three other vampires is about to succumb to his desires over the forbidden human female, Lilah, that he is not supposed to touch since she already belongs to an aristocrat Vampire.  She is at the Theatre to work since her Master was tired of her trying to run away from him.  Every glance at her brings to the heated passion of her back into his mind and she is about to tempt even more when she confesses that she has feelings for him as well.
Javier is about to give Lilah the best moments of her life, but the price may be his death and her punishment.This was one hot read from Author Felicity Heaton.  Be prepared to have a cold glass of water next to you because you will not want to put this book down until the very end.  When you are done reading it, then you will want a cold shower to cool yourself down.  It is that steamy.
Lilah is one dominant vixen and Javier can switch to being dominant and submissive because of Lilah.   He is never met someone like her in the 600+ years he has been alive.  He will risk anything to be with her and have her as his own.
Felicity is very descriptive in her writing and this helped pulled me in as a reader since I could feel the emotions of the characters and actually feel like I was in the moments with them, especially when it came to describing certain scenes in the books.
She even introduced other characters in the story that I look forward to hearing about later on and also reading their books.  Snow and Antoine got my attention immediately.  =)
I look forward to diving into this world of erotic theatre more, even though it is dangerous for mere humans like myself, but I just cannot get enough of this world that Felicity has created.
I highly recommend this book to fans of vampires and the erotica genre.
WARNING: This is a short erotic read, but it will have you burning up afterwards…so read with caution and be prepared to be over-heated in a good way.  =)


I guess I should type a bio here. I'm FranJessca or Fran for short. I'm the owner of Book Lovin' Mamas and main Reviewer. I've been reviewing books since I got out of the Navy in 2011. Now 8 years later, I'm still reviewing, but this time with my youngest sidekick.
When I'm not reading and reviewing, you can find me at my day job during the week and on the weekend taking care of our little farm.

Latest posts by FranJessca (see all)