Review: 'Cryptic Cravings' by Ellen Schreiber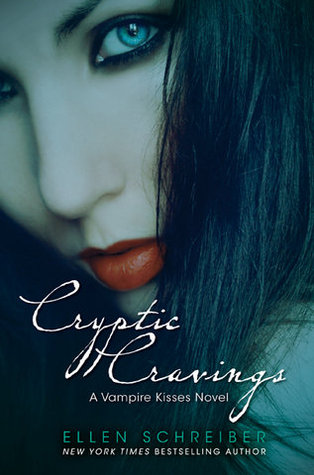 Cryptic Cravings
by
Ellen Schreiber
Series:
Vampire Kisses #8
Published by
Katherine Tegan Books
on May 17th 2011
Pages:
211
Format:
Hardcover
Source:
Purchased
Amazon Kindle
|
Amazon Paperback
Goodreads

The morbidly monotonous Dullsville has finally become the most exciting place on earth now that Raven is madly in love with her hot vampire boyfriend Alexander, and a crew of vampires has taken residence in Dullsville's old mill. Raven discovers Jagger's plan to open a new club, The Crypt, right here in Dullsville. But is it her dream come true, or her worst nightmare? Raven and Alexander have to figure out what the nefarious vampire has in store for Dullsville's teen and vampire population. Can Raven convince Jagger to listen to her plans to make the Crypt the morbidly magnificent dance club it could be? Will it be safe for mortals and vampires alike?
And as Sebastian and Luna's relationship heats up, Raven wonders about her own amorous fate: Will Alexander ever turn her? Does he crave her and does he want to spend eternity together? And what does she really want?
With cryptic secrets and cravings, this eighth installment in the Vampire Kisses series is a romantic and mysterious thrill ride.
(Originally Reviewed on Mrs. Papillion aka "The Book Worm")
The description above pretty much sums up everything that happens in the book except maybe the best parts that keep you reading on in the book. I had a hard time putting down this book like usual Ellen Schreiber knows how to sucker me into the world of her Vamps.
I love this series…and the other series she wrote…really hasn't drawn me in yet. I love Raven, Alexander, Sebastian, Jagger, and Luna. I even love Trevor…because the boy seriously has it for Raven…and Raven has no idea what to think about that. She finds out more in this book that he has a thing for her and the picking on her is just a cover-up.
She is faced with the reality, is she ever going to be a Vampire. Will Alexander ever turn her?
I love the ending most in this book because you never expect it….and you also don't ever expect the cliffhanger too. I know the next book will be just as good as this one.
I will continue to read this series as long as Ellen keeps writing about this series. Here's also hoping in the next book that Trevor calms down a bit with Raven…otherwise Alexander is going to hurt him. LOL
I even look forward to hearing more about Raven's best friend. I won't tell you why though.
I'll leave you guessing what happens.


I guess I should type a bio here. I'm FranJessca or Fran for short. I'm the owner of Book Lovin' Mamas and main Reviewer. I've been reviewing books since I got out of the Navy in 2011. Now 8 years later, I'm still reviewing, but this time with my youngest sidekick.
When I'm not reading and reviewing, you can find me at my day job during the week and on the weekend taking care of our little farm.

Latest posts by FranJessca (see all)