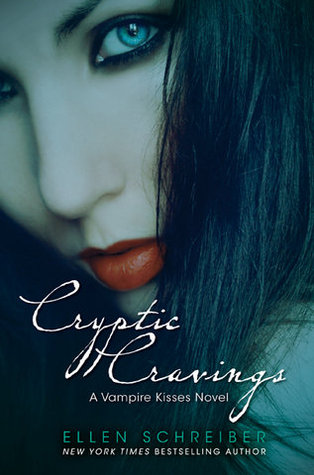 Cryptic Cravings
by
Ellen Schreiber
Series:
Vampire Kisses #8
Published by
Katherine Tegan Books
on May 17th 2011
Pages:
211
Format:
Hardcover
Source:
Purchased
Amazon Kindle
|
Amazon Paperback
Goodreads

The morbidly monotonous Dullsville has finally become the most exciting place on earth now that Raven is madly in love with her hot vampire boyfriend Alexander, and a crew of vampires has taken residence in Dullsville's old mill. Raven discovers Jagger's plan to open a new club, The Crypt, right here in Dullsville. But is it her dream come true, or her worst nightmare? Raven and Alexander have to figure out what the nefarious vampire has in store for Dullsville's teen and vampire population. Can Raven convince Jagger to listen to her plans to make the Crypt the morbidly magnificent dance club it could be? Will it be safe for mortals and vampires alike?
And as Sebastian and Luna's relationship heats up, Raven wonders about her own amorous fate: Will Alexander ever turn her? Does he crave her and does he want to spend eternity together? And what does she really want?
With cryptic secrets and cravings, this eighth installment in the Vampire Kisses series is a romantic and mysterious thrill ride.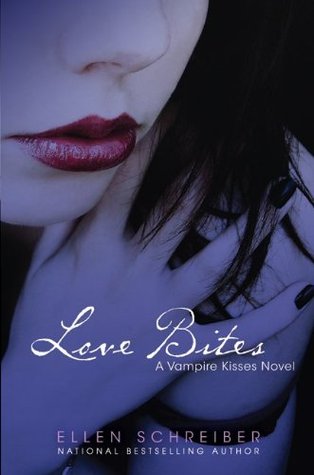 Love Bites
by
Ellen Schreiber
Series:
Vampire Kisses #7
Published by
HarperCollins Canada / Other
on May 18th 2010
Pages:
179
Format:
Paperback
Source:
Purchased
Amazon Kindle
|
Amazon Paperback
Goodreads

As a mortal girl dating a vampire, Raven knows that love isn't always easy. Now that Alexander's parents have returned to Romania, Raven and her dreamy vampire boyfriend are happy to resume their cryptic romance.
But soon another visitor comes knocking: Sebastian, Alexander's best friend, arrives for a stay at the mansion. At first Raven is wary, then thrilled--this is the perfect chance to learn more about her darkly handsome boyfriend and his past. Raven has been wondering whether Alexander will ever bite her and make their love immortal, and Sebastian could be her guide to the love habits of Alexander and his kind. But when Sebastian falls for a particular Dullsvillian, will another mortal beat Raven to the bite?
With suspense, danger, and a fabulous vampire party, this seventh book in the bestselling Vampire Kisses series continues the exciting nocturnal romance of Raven and Alexander.