Review: 'Love Bites' by Ellen Schreiber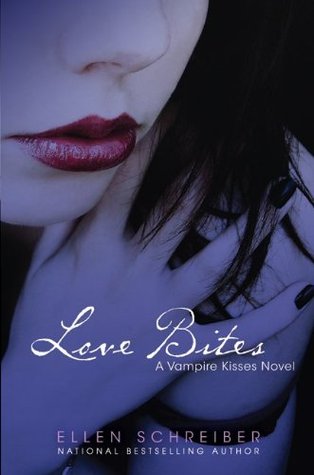 Love Bites
by
Ellen Schreiber
Series:
Vampire Kisses #7
Published by
HarperCollins Canada / Other
on May 18th 2010
Pages:
179
Format:
Paperback
Source:
Purchased
Amazon Kindle
|
Amazon Paperback
Goodreads

As a mortal girl dating a vampire, Raven knows that love isn't always easy. Now that Alexander's parents have returned to Romania, Raven and her dreamy vampire boyfriend are happy to resume their cryptic romance.
But soon another visitor comes knocking: Sebastian, Alexander's best friend, arrives for a stay at the mansion. At first Raven is wary, then thrilled--this is the perfect chance to learn more about her darkly handsome boyfriend and his past. Raven has been wondering whether Alexander will ever bite her and make their love immortal, and Sebastian could be her guide to the love habits of Alexander and his kind. But when Sebastian falls for a particular Dullsvillian, will another mortal beat Raven to the bite?
With suspense, danger, and a fabulous vampire party, this seventh book in the bestselling Vampire Kisses series continues the exciting nocturnal romance of Raven and Alexander.
My Review
(Originally Reviewed on Mrs. Papillion aka "The Book Worm")
It was a short and sweet book about Raven and her vampire boyfriend Alexander. I love this series because it's short and gets to the point. It leaves you hanging at the end also wanting more. This book is a YA series and believes me it doesn't bother me. I'm in my late 20s and still enjoy reading YA series.  Especially the authors who keep me wanting more as Ellen Schreiber does. I love Raven and Alexander. They are the perfect cryptic couple. Raven is mortal, and she wants to be a Vampire, and she falls for Alexander who is one. They are always dealing with issues in their relationship or with their friends/family. In this book, Raven finally meets Alexander's best friend, Sebastian. The bad thing in this book is that Sebastian falls for Becky who is Raven's best friend. Raven has never told Becky about Alexander's real life. This book goes through obstacles that Raven and Alexander have to deal with in their lives. I recommend this to any teen who loves Vampires and cliffhangers.  I also recommend it to adults who enjoy reading short YA stories.  I'm used to reading 400-600 page books, so it's nice to take a break and read less than that. =)


I guess I should type a bio here. I'm FranJessca or Fran for short. I'm the owner of Book Lovin' Mamas and main Reviewer. I've been reviewing books since I got out of the Navy in 2011. Now 8 years later, I'm still reviewing, but this time with my youngest sidekick.
When I'm not reading and reviewing, you can find me at my day job during the week and on the weekend taking care of our little farm.

Latest posts by FranJessca (see all)