Review: 'Dangerous Race' by Dee J. Adams
April 2, 2021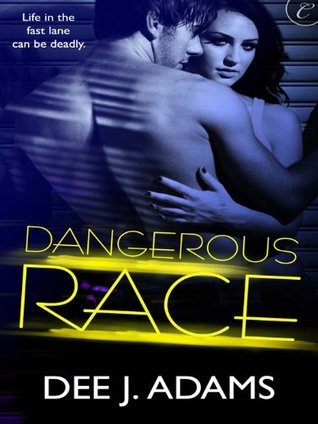 Dangerous Race
by
Dee J. Adams
Series:
Adrenaline Highs #1
Published by
Carina Press
on April 15, 2013
Genres:
Romantic Suspense
Format:
eBook
Source:
Scribd
Goodreads
Purchase at
Amazon
|
Barnes & Noble
|
Kobo

Four years ago, race car driver Tracey Bradshaw almost died in a horrific crash. Now scarred inside and out, she's making a comeback, but her team is plagued by a series of "accidents".When the team leader dies under mysterious circumstances, former driver Mac Reynolds takes charge. The pair clash as Trace resents his high-handed attempts to control her, while Mac fears Trace's recklessness will get her killed. Neither can throttle back the desire that spins out of control whenever they touch. Trace lets herself be seduced when Mac convinces her he finds her beautiful despite her scars, and she begins to hope for more. But Mac knows he's not nearly good enough for Trace…
---
I decided to pick a random book from my Goodreads TBR because it was time to tackle it. I know it's in no way going to dent my TBR since it's over 3000 books, but it's time to try. I've had Dangerous Race on my TBR since 2011. I'm glad I decided to read it finally. Dee J. Adams combines my love of car racing and suspense into one book. 
Female Protagonist: Tracey Bradshaw is a female race car driver who wants to impact the racing world. She's one determined, strong-willed, and hardheaded character in Dangerous Race. I loved her character to specific points. She drove me crazy with how she treated Mac, but I could understand why after she told her back story. She had big-time trust issues, and she had her heartbroken by her ex-fiancé, who happens to be someone she's known for a while. 
Male Protagonist: Mac Reynolds is a former race car driver who now has his own business overseas in London. He is back in the states to be the new team leader who he knew well before when he was racing. Mac is a very protective character, especially when it comes to Tracey. I adored his character because he wouldn't give up on Tracey, even after she was a jerk to him several times. He has his past issues and why he chooses not to race but lead racing.
Storyline/My Thoughts: Tracey is proving she can race just like the men can in race car driving. It's her life, and she's determined to win. One person, though, wants her not to race and is out to get her. Four years ago, Tracey's life changed when someone causes her to wreck before her big race. She's now scarred inside and out due to the wreck. She's never been the same, but she's determined more than ever four years later to prove herself. Now that person kills someone else in her life who has been there for her since day one. She's heartbroken and now forced to work with someone else as her team leader. Mac Reynolds is there for a favor, and he never expected to butt heads with Tracey. Every time he makes a suggestion, Tracey fights him on it, even when it comes to her life being in endanger. It takes both of them being in danger for them both to start seeing eye to eye.
I enjoyed reading Dangerous Race, and I'm looking forward to reading the rest of the series. I'm glad I gave this book a chance and can't believe I didn't read it back in 2011 when it was released. I was a big-time race car fan at the time. (I was obsessed with Dale Earnhardt Jr.) I loved Tracey Bradshaw because she was determined to prove she could race after being a major wreck caused by someone who wanted her killed. Even after she and Mac almost got killed in a car wreck driving to the racetrack, she never cowered away. Both Tracey and Mac butt heads a lot in this book, but they start falling for each other. Mac finds out something about Tracey that he never expected. Tracey never expects to meet someone like Mac. It's a great love story with these two.
One thing that drove me crazy was how the book would change POVs quite a bit. This book also follows Tracey's car mechanic/friend, Matthew, and his love interest. The transition of the different POVs could be confusing at times. I would have to re-read certain parts to make sure I was understanding who was telling the story. I could understand why Dee J. Adams wanted Matthew's and his love interest POV because these two played a crucial role in Tracey's life and the book's ending.
I figured out towards the middle of the book who was behind trying to harm or kill Tracey. It was given away, but that didn't stop me from reading it. I needed to find out if this person was finally going to be caught. It's a dramatic ending, so be prepared for it. I loved how Dee J. Adams closed out this book and can't wait for the next book in the series. I give this book four stars.
Standalone or Part of Series: It's part of the Adrenaline Highs series, but I believe these can be read as standalone. Each book follows a new couple in the series.
Steaminess: Very Steamy.
HEA: Yes
Trope: Enemies to Lovers; Workplace Romance
Would I recommend this book? Yes. I would recommend this book to readers who love Romantic Suspense and love sports romance, too. If you are a fan of race car driving, then this book is for you. I loved how this story had the heroine as the race car driver and how determined she was to prove herself. She never gave up. 🙂

This post contains affiliate links you can use to purchase the book. If you buy the book using that link, I will receive a small commission from the sale. It will help sponsor future giveaways but costs you nothing extra. You can read the full disclosure underneath the Privacy Policy.
---
---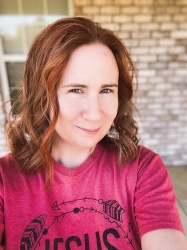 Latest posts by FranJessca
(see all)