Review: 'Darker Days' by Jus Accardo
September 6, 2013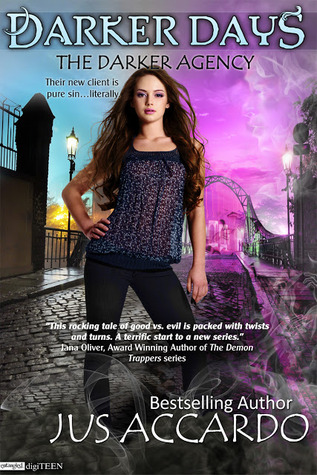 Darker Days
by
Jus Accardo
Series:
The Darker Agency #1
Published by
Entangled Teen Ember
on August 19, 2013
Genres:
Young Adult Fantasy
Format:
eBook
Source:
Purchased
Goodreads
Purchase at
Amazon

Jessie Darker goes to high school during the day, but at night she helps with the family investigation business. Cheating husbands and stolen inheritances? They're your girls--but their specialty is a bit darker. Zombie in your garage? Pesky Poltergeist living in your pool? They'll have the problem solved in a magical minute. For a nominal fee, of course...
When gorgeous new client, Lukas Scott, saunters into the office requesting their help to find a stolen box, it sounds like a simple case--until the truth comes out. The box is full of Sin.Seven deadly ones, in fact.
They've got five days to recapture the Sins before they're recalled by the box, taking seven hijacked human bodies with them. Easy peasy--except for one thing...
There's a spell that will allow the Sins to remain free, causing chaos forever. When the key ingredient threatens the life of someone she knows, Jessie must make the ultimate choice between love and family--or lose everything.
My Review
Every once in a while I need to read a YA book because YA is what brought me back to reading back in 2008. (Yes it was Twilight that did it) I had stopped reading when I joined the Navy back in 2001 since I had no time for it…but YA got me back to my first love…or in my mother's eyes…obsession.
I had to read Darker Days by Jus Accardo because it was up my alley what I would have read as a teenager and it brought back memories. =) Now 30 years old and YA books still keep my interest, especially when you have an Author, who can suck you into the story. Jus Accardo is one author I will be stalking now. I enjoyed the first book to the Darker Agency and looked forward to the next book even more with what the characters went through in Darker Days.
Darker Days had a lot of twists and turned to it that kept me flipping the pages on my iPad. I was determined to find out what was going on in the town of Penance and how to get the Seven Deadly sins back into their box. What intrigued me the most in this story was Lukas Scott and how he came to be in the box and how he ended up having one of the sins in him. Jessie Darker, who ends up helping Lukas, is one rebelling teenager, who was interesting at every turn. She should have listened to her mother though, especially at the end. She never listened though, which made the story even more fun to read because do you know of one teenager, who does not pull stunts of not listening to their parents? I will admit…I had times I did not listen. It's in their nature though and Jus Accardo, definitely gave Jessie that real teenage vibe to her, but she also gave her the kick-butt qualities too. She kept the story entertaining.
She also had the mother and father, who were two different kinds of people or creatures I should say…but they both had the same agenda when it came to Jessie.
Darker Days is the perfect YA paranormal story that will keep you turning the pages to find out what in the world is going on with Jessie and what she is exactly. You will also want to know more about the Darker family and how they came into the business they have. (I loved finding out about how that happened…and of course about the all-males in the Darker family until Jessie's Mom.) The fascinating part of the story.
There was a small bit of romance in the story, but not much, which I hope Jus does a little more in the next story because I want to see what happens between Jessie and Lukas…and I would love to find out more about Jessie's parents.
The best part of the story was the ending though. I was surprised by that and was not expecting it at all. Poor Jessie though and what she had to do but she should have listened to her parents. Geez…will she ever learn. LOL
All in all, I give this book 4 full moons and highly recommend it to YA paranormal readers out there. I will be in my fifties still reading YA…I don't care…as long as I have authors like Jus Accardo…to keep me reading YA…I will never give up the first genre that got me addicted/obsessed with reading.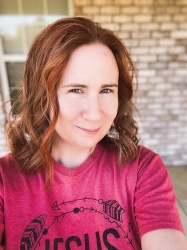 Latest posts by FranJessca
(see all)