I received a complimentary copy of the book from the publisher in exchange for an honest review. This does not affect my opinion of the book or the content of my review.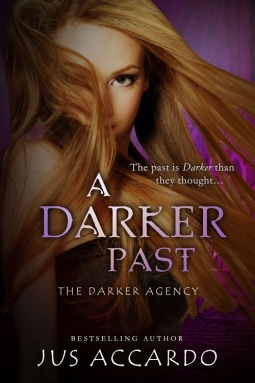 A Darker Past
by
Jus Accardo
Series:
The Darker Agency #2
on November 6, 2014
Format:
eArc
Source:
publisher
Amazon Kindle
Goodreads

The past is Darker than they thought...
Between helping her mother with the Darker Agency and laying the smack down on monster baddies, Jessie Darker puts the "normal" in paranormal. But lately, things have gotten a little crazy...even for a smart-assed half-demon teenage girl.
For starters, Jessie's been contracted into fifty-five years of annoying servitude. To a demon. Then there's Lukas Scott, her sexy new boyfriend. Once the former incarnation of Wrath, he's been going through some...uh, changes. Like residual anger. And trading chaste hangouts for lusty make-out sessions.
But it's when Lukas and Jessie accidentally release a Very Nasty Demon that things get really bad, setting into motion a chain of death and mayhem that threatens both Earth and the Shadow Realm. Jessie has exactly four days to fix it...before all of Hell breaks loose.

Continue reading →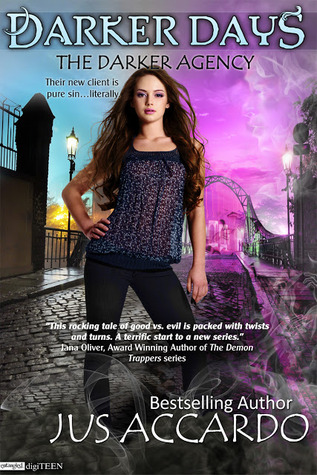 Darker Days
by
Jus Accardo
Series:
The Darker Agency #1
Published by
Entangled Teen Ember
on August 19, 2013
Pages:
332
Format:
eBook
Source:
Purchased
Amazon Kindle
Goodreads

Jessie Darker goes to high school during the day, but at night she helps with the family investigation business. Cheating husbands and stolen inheritances? They're your girls--but their specialty is a bit darker. Zombie in your garage? Pesky Poltergeist living in your pool? They'll have the problem solved in a magical minute. For a nominal fee, of course...
When gorgeous new client, Lukas Scott, saunters into the office requesting their help to find a stolen box, it sounds like a simple case--until the truth comes out. The box is full of Sin.Seven deadly ones, in fact.
They've got five days to recapture the Sins before they're recalled by the box, taking seven hijacked human bodies with them. Easy peasy--except for one thing...
There's a spell that will allow the Sins to remain free, causing chaos forever. When the key ingredient threatens the life of someone she knows, Jessie must make the ultimate choice between love and family--or lose everything.
My Review Continue reading →