ARC Review: 'A Darker Past' by Jus Accardo
November 11, 2014
I received a complimentary copy of the book from the publisher in exchange for an honest review. This does not affect my opinion of the book or the content of my review.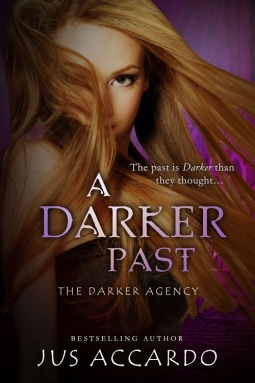 A Darker Past
by
Jus Accardo
Series:
The Darker Agency #2
on November 6, 2014
Genres:
Young Adult Fantasy
Format:
eArc
Goodreads
Purchase at
Amazon

The past is Darker than they thought...
Between helping her mother with the Darker Agency and laying the smack down on monster baddies, Jessie Darker puts the "normal" in paranormal. But lately, things have gotten a little crazy...even for a smart-assed half-demon teenage girl.
For starters, Jessie's been contracted into fifty-five years of annoying servitude. To a demon. Then there's Lukas Scott, her sexy new boyfriend. Once the former incarnation of Wrath, he's been going through some...uh, changes. Like residual anger. And trading chaste hangouts for lusty make-out sessions.
But it's when Lukas and Jessie accidentally release a Very Nasty Demon that things get really bad, setting into motion a chain of death and mayhem that threatens both Earth and the Shadow Realm. Jessie has exactly four days to fix it...before all of Hell breaks loose.

I have been patiently waiting for the next release in the Darker Agency series, so when I saw the next book was coming out in November, I jumped at the chance to read it. It's been over a year since I read the first book, Darker Days, so I was anxious to find out what the characters Jessie and Lukas were going to deal with in the second book.
Jessie Darker is back in A Darker Past, and this time she is dealing with a very nasty demon that she and Lukas accidentally let loose. This demon knows the Darkers very well, and he doesn't like them. He also knows the witches, the Belfairs, and he's out to do some damage to both the Darkers and Belfairs. It's up to Jessie and Lukas to capture the nasty demon again before he makes all hell break loose. It's not going to be easy because they can't get any help from the Shadow Realm, and they made one dangerous demon upset about their mistake. Eek!
With the demon on the loose Jessie is about to find out the Darkers past, and this past is something that can change Jessie's world completely.
In the second installment of the Darker Agency series, Jessie is not your typical teenage girl because she's a half demon and she has a contract for 55 years with another demon. He's annoying and summons her at the worst of times, but Valefar is a fascinating character. He's scary, but for some reason, he's growing on me, especially after certain scenes with Jessie. The character Lukas was being complicated in A Darker Past, but that is because he still feels he's carrying the demon Wrath. He's changing in the second book, and I loved how Jus Accardo opened him a little more and is improving his character.
This is a Young Adult novel, so there is not going to be much romance in the story, but there were times that both Jessie and Lukas kissed. Lukas is what you consider a gentleman. He grew up over a hundred+ years ago, so he believes in going slow. I love how Jus doesn't have him change the way he was from before he was in the box.
I enjoyed finding out more about Jessie's mom and her dad in A Darker Past. I wanted more of them from the first book, so I was excited that Jus Accardo had them more in this story. Damien (Jessie's Dad) is starting to act like a dad. =)
For readers that liked to be warned ahead of time, there is a cliffhanger at the end. I know I have some reader friends that don't like cliffhangers, but this is a series worth reading if you enjoy young adult with a different kind of paranormal twist to it.
Overall, the second book was a delightful, action-packed read that I had a hard time putting down. I give it 4.5 moons and recommend it YA Paranormal readers out there.
Now, to patiently wait for the third book in the series from Jus Accardo. =)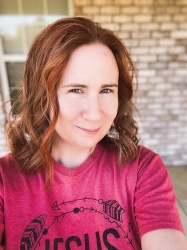 Latest posts by FranJessca
(see all)