ARC Review: 'Good Girls Don't' by Rosalie Lario
November 14, 2014
I received a complimentary copy of the book from the author in exchange for an honest review. This does not affect my opinion of the book or the content of my review.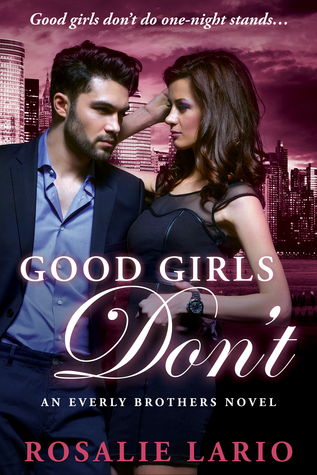 Good Girls Don't
by
Rosalie Lario
Series:
Everly Brothers #2
Published by
Self-Published
on November 17, 2014
Genres:
Contemporary Romance
Format:
eArc
Goodreads
Purchase at
Amazon
|
Apple

Good girls don't do one-night stands…
If there's one thing Lyssa Rivera knows, it's that good girls don't do one-night stands. But it only takes a few hours in the company of sexy businessman, James Everly, to change her mind. All she wants is a night of sin with the man who's admittedly way out of her league. Then she can go back to being painfully, boringly good.
James Everly doesn't do relationships, not after the horrible example set by his parents. When he meets a luscious, irresistible woman at his favorite bar, he's more than ready to show her a night of ecstasy, but that's all it could ever be. He certainly never plans on seeing her again. Yet when he shows up at his meeting the next morning to woo a venture capitalist, he's shocked to find his competition is the very woman whose bed he just left.
James knows he should stay away. He's no good at long term, and that's what a woman like Lyssa deserves. But as the two vie for the investor's attention, he finds himself struggling to choose between the family business and the woman whose touch makes him burn with desire.

Good Girls Don't by Rosalie Lario is the second book in Rosalie Lario's Everly Brothers novels, and I couldn't wait to find out who Rosalie Lario hooked James Everly up within this story.
The second book involves the sexy Everly brother, James who is in charge of gaining an investor for his brothers' company, but he ends up falling for his competition. He knows he needs to get this new investor for his company with his brothers so that they can go globally, but it's kind of hard to stay away from the sexy competitor Lyssa Rivera. Lyssa never does anything bad, and for one night she decides to do something out of the norm. She has a one night stand with James Everly. She, of course, doesn't figure it out until later that she is about to compete with him with an investor, and she fears she's already lost the investor due to how big James Everly company is.
Rosalie Lario doesn't make it easy for either one of these characters in Good Girls Don't. James is the sexy billionaire who never does relationships, and Lyssa is the typical good girl who doesn't do anything out of the ordinary. Lyssa is determined more than ever win over the investor, while James is doing it for his family. It's going to be a tug-of-war between these two with their feelings and their companies. They will drive you crazy, especially Lyssa, but when these two get together, it's explosive. I loved who Rosalie hooked James up with, and I'm so happy to know they both get a HEA. Rosalie even gives us the previous characters from the first book, and what they are doing and she introduces us to the next Everly brother.
I'm loving the Everly brothers, and I look forward to the next book even more after reading the first two books. If you are a fan of sexy billionaire books…this is the book for you. I highly recommend reading the first book though before diving into Good Girls Don't. You'll want to know the eldest brother.  =)
I give this book 5 full moons and highly recommend it to contemporary romance readers out there.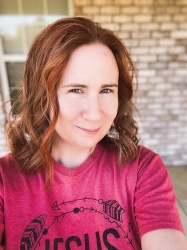 Latest posts by FranJessca
(see all)