I received a complimentary copy of the book from the Author in exchange for an honest review. This does not affect my opinion of the book or the content of my review.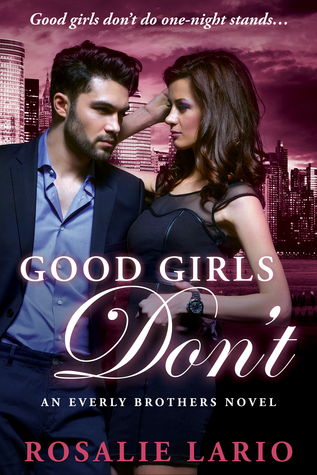 Good Girls Don't
by Rosalie Lario
Series: Everly Brothers #2
Published by Self-Published on November 17, 2014
Genres: Contemporary Romance
Format: eArc
Source: Author
Amazon Kindle | Amazon Paperback
Goodreads


Good girls don't do one-night stands…
If there's one thing Lyssa Rivera knows, it's that good girls don't do one-night stands. But it only takes a few hours in the company of sexy businessman, James Everly, to change her mind. All she wants is a night of sin with the man who's admittedly way out of her league. Then she can go back to being painfully, boringly good.
James Everly doesn't do relationships, not after the horrible example set by his parents. When he meets a luscious, irresistible woman at his favorite bar, he's more than ready to show her a night of ecstasy, but that's all it could ever be. He certainly never plans on seeing her again. Yet when he shows up at his meeting the next morning to woo a venture capitalist, he's shocked to find his competition is the very woman whose bed he just left.
James knows he should stay away. He's no good at long term, and that's what a woman like Lyssa deserves. But as the two vie for the investor's attention, he finds himself struggling to choose between the family business and the woman whose touch makes him burn with desire.

Continue reading →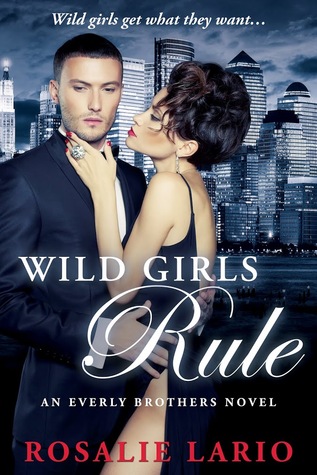 Wild Girls Rule
by Rosalie Lario
Series: Everly Brothers #1
Published by Self-Published on September 28, 2014
Genres: Contemporary Romance
Pages: 244
Format: eArc
Source: Author
Amazon Kindle | Amazon Paperback
Goodreads


Wild girls get what they want…
After moving to New York City, Hailey Thompson lands a job as the assistant to her older brother's best friend - and her childhood crush - Andrew Everly. Seeing Andrew again both thrills and terrifies her. The lighthearted boy she remembers has grown into an impossibly handsome man, but he's also become a cold and ruthless businessman.
When Andrew agrees to hire Hailey as a favor to his childhood friend, he still thinks of her as the fresh-faced girl that he knew growing up. On the contrary, she's all woman. Temptation in a short skirt. As alluring as she is though, the little beauty is far too flighty for a man like him…not to mention that he's her boss.
As Andrew secretly struggles with his self-control, Hailey does everything in her power to crack his rigid façade. After being forced to spend a weekend away together on business, Andrew's rigorously sculpted mask of discipline begins to slip, and Hailey gladly takes advantage of the opportunity to educate him in the ways of seduction. He can claim all he wants that he likes his women elegant and controlled, but Hailey knows a dirty little secret…when it comes to matters of the heart, wild girls rule.
My Review Continue reading →