Review: 'Wild Girls Rule' by Rosalie Lario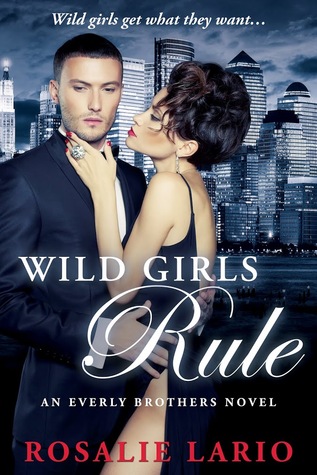 Wild Girls Rule
by
Rosalie Lario
Series:
Everly Brothers #1
Published by
Self-Published
on September 28, 2014
Genres:
Contemporary Romance
Pages:
244
Format:
eArc
Source:
Author
Amazon Kindle
|
Amazon Paperback
Goodreads

Wild girls get what they want…
After moving to New York City, Hailey Thompson lands a job as the assistant to her older brother's best friend - and her childhood crush - Andrew Everly. Seeing Andrew again both thrills and terrifies her. The lighthearted boy she remembers has grown into an impossibly handsome man, but he's also become a cold and ruthless businessman.
When Andrew agrees to hire Hailey as a favor to his childhood friend, he still thinks of her as the fresh-faced girl that he knew growing up. On the contrary, she's all woman. Temptation in a short skirt. As alluring as she is though, the little beauty is far too flighty for a man like him…not to mention that he's her boss.
As Andrew secretly struggles with his self-control, Hailey does everything in her power to crack his rigid façade. After being forced to spend a weekend away together on business, Andrew's rigorously sculpted mask of discipline begins to slip, and Hailey gladly takes advantage of the opportunity to educate him in the ways of seduction. He can claim all he wants that he likes his women elegant and controlled, but Hailey knows a dirty little secret…when it comes to matters of the heart, wild girls rule.
My Review
Wild Girls Rule by Rosalie Lario is the first book to her Everly Brothers series and it was full of tension, seduction, and romance.
It involves two characters who haven't seen each other in a long time and both have changed in different ways. Hailey Thompson is the independent, go-getter, dare devil person who will take a chance at anything even when things starting falling apart. Andrew on the other hand is the responsible, boring, strict person who lives his life to better his future at his job. Andrew has his reasons of being that way though because of what has happened in his past. He's trying to be the responsible person with his company, especially with his two brothers are only there when they need to be. He is helping Hailey out by hiring her as his assistant, but the minute he sees her after so many years his self-control is going to be tested.
Hailey is the woman who is determined to push Andrew to change. She knows there's another side of him, so she's going to have to see what she can do to see that side. It's going to be a whirlwind of seducing, romancing, and doing things out of the norm to win over the old friend she once knew. Unfortunately, it's not going to come easy due to Andrew being set on being the boss of Hailey and trying to ruin his reputation.
Wild Girls Rule is exactly what the title suggest with the character Hailey being the wild girl who is going to eventually win over stubborn Andrew. That man tried everything to resist, but Hailey is the perfect wild free character that will win anyone over…even Andrews brothers.  =)
Hailey may be crazy at times with her wild free world (at least that is what her brother thinks), but the girl knows how to live life even when life seems to be crumbling. I adored every bit of her in the story and how she was always trying to win over Andrew. (Andrew definitely met his match with Hailey)
I loved every bit of this story and look forward to reading the other Everly brothers stories. The other brothers are definitely different from Andrew, so I look forward to reading what Rosalie puts them through. (At least which female characters win over their hearts)
I give this book 5 full moons and highly recommend it to contemporary romance readers out there. A book that includes an old crush and a woman who is determined to win over that old HOT crush by using her wild, sexy charm. =)


I guess I should type a bio here. I'm FranJessca or Fran for short. I'm the owner of Book Lovin' Mamas and main Reviewer. I've been reviewing books since I got out of the Navy in 2011. Now 8 years later, I'm still reviewing, but this time with my youngest sidekick.
When I'm not reading and reviewing, you can find me at my day job during the week and on the weekend taking care of our little farm.

Latest posts by FranJessca (see all)