Happy Release Day + Review: 'Devil of Dublin' by BB Easton
September 22, 2022
This book may be unsuitable for people under 18 years of age due to its use of sexual content, drug and alcohol use, and/or violence.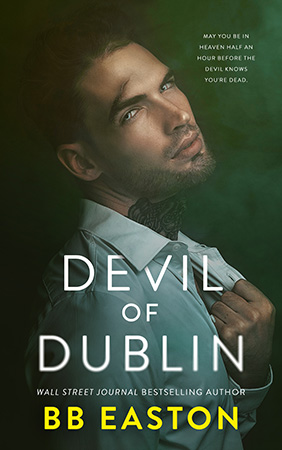 Devil of Dublin
by
BB Easton
Published by
Self-Published
on September 27, 2022
Genres:
Dark Mafia Romance
,
Dark Romance
Format:
eArc
Goodreads
Purchase at
Amazon
|
Barnes & Noble

From the Wall Street Journal bestselling author of 44 Chapters About 4 Men (inspiration for the Netflix Original series Sex/Life) comes a dark mafia romance steeped in Irish folklore.

I can't remember anymore if my grandfather's eyes were blue or green, but I'll never forget the way they wrinkled at the corners when he laughed at one of his own jokes. Or the way they sparkled with mischief when he told me tales about the magical creatures that dwelled in the forest behind his humble Irish sheep farm--shy fairies who liked to eat tea biscuits, cruel witches who liked to eat children, a moody lake spirit with a taste for expensive gifts.

As a child, I believed every fantastical word. But when he warned me about the mute boy who also lurked in those woods, the one the priest had declared to be the spawn of Satan himself, I refused to listen. Kellen wasn't evil. He was kind, and beautiful, and special, and hurting. He was my friend. And with every summer I spent stolen away with him in those enchanted woods, he grew to become so much more.

But when I return to Glenshire as an adult, grieving and engaged to someone else, all those legends quickly morph into nightmares.

My grandfather had been right about everything, especially the boy.

If only I had listened.

AUTHOR'S NOTE: Devil of Dublin is intended for mature audiences who enjoy extremely dark subject matter, high emotional intensity, explicit adult content, graphic violence, heart-pounding suspense, fairy-tale worthy love, and gorgeous Irish scenery. If that sounds like you, then welcome to Glenshire! If you're unsure, please review the comprehensive content warning on my website before reading.
---
If you are looking for a standalone Dark Irish Mafia Romance novel, I highly recommend adding Devil of Dublin to your TBR. This book has immediately gone to my TOP Book I've read in 2022. Not only due to the storyline but because of the characters I fell hard for, Darby and Kellen. I loved these two characters so much that they will live on in my head for the rest of my life. Thank you, B.B.Easton, for writing this story. Every time I see bluebonnets and a teapot and look at pictures of Ireland's scenery, it will remind me of this book and how Darby and Kellen came together. *Sigh*
Storyline/My Thoughts: Why am I adding Devil of Dublin to my favorite books of 2022 and possibly ALL-time?
Kellen. I love a tortured anti-hero in my romance books, and Kellen has all those qualities. I felt for his character immediately, and I was rooting for him the whole time to find his HEA with Darby, the FMC in the story. B.B. Easton also based him on one of her favorite Tim Burton characters, and I'm all for it since he's a favorite character of mine, too.
Darby. I loved the coppery/redhead. She was so adorable as a little girl in the story, and I loved how she didn't let others tell her what to do when it came to being with Kellen. Not her mother, grandfather, etc. She went through some rough times too, but she fought back.
Darby + Kellen together. Childhood sweethearts who reunite when they are older. They have gone through so much, apart and together, to find their HEA in the end. I loved these two so much!!! Favorite Couple in a book. Yes, definitely!!! They both were meant to be together in the long run.
Dark Irish Mafia Romance with Irish Folklore. I'm all for any book that is based in Ireland and has Irish folklore in it. This book makes me want to visit Ireland and learn about my family history.
The research that B.B. Easton put into this book about the Catholic Church and other things. There are some very dark things in this book regarding the Catholic Church.
Tear-jerker. Holy crap, it was a tear-jerker, especially at the end. What Kellen and Darby went through in this book was awful. I felt for both characters the whole darn time. I wanted them not to go through the stuff they went through in this book, which was a lot. In the long run, they conquered what was thrown at them.
This book has a lot of violence and suspense in it. There are some dark, extreme elements/triggers in this book.
The Dual POVs. I loved how BB Easton had the book start off when Darby and Kellen were kids and how they met each other. You will get dual POVs of Darby and Kellen when they were kids and adults. I loved reading their story from beginning to end.
I could go on with why this book is my favorite of 2022, but my review would be too long, and I want readers to add this book to their TBR and read it immediately!!!
I give this book five stars, and I will forever remember Darby and Kellen's story.
Standalone or Part of Series: Standalone.
Steam/Spice: ⭐️ ⭐️ ⭐️
Trope(s)/Element(s): Dark Mafia Romance. Irish Folklore. Childhood Sweethearts. Reunited Lovers. Tortured Hero. Hitman Romance. Anti-Hero. First Love Romance. Secret Romance. Tragic Past. Tortured MMC. Forbidden Romance. Friends to Lovers.
HEA: Yes.
Would I recommend this book? Yes, I would high recommend this book to readers that love Dark Romance that has Mafia Romance and is based in Ireland. You will get two characters that are childhood sweethearts who reunite as adults and both have lived tragic lives to find their happily ever after together.
Favorite Quote(s): The Devil had been God's most beautiful angel, then Kellen wasn't just his son. He was the Prince of Darkness himself.
If the devil wanted to drag me back to hell, he was going to need a fucking body bag.
I was no longer human or demon or even fucking breathing. I was simply hers–mind, body, and cursed black soul.
"What do you want love? His voice caressed my naked body like warm black velvet. "I want you to eat me alive." The words left me on a single breath. Unfiltered and unashamed.
Kellen was the most courageous, most resilient, most formidable person I'd ever met. He'd found the strength to destroy the men who's hurt us, and if that made him the Devil, then I would gladly burn in hell by his side.

---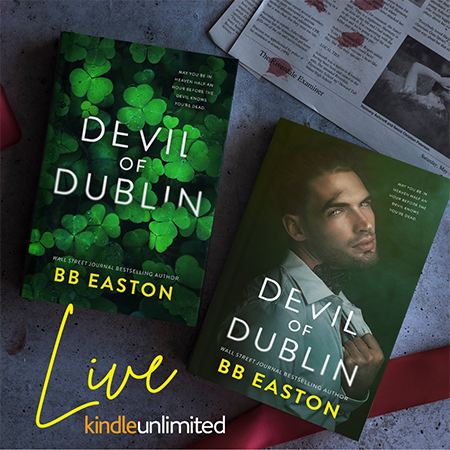 Download today or read FREE in Kindle Unlimited!
https://mybook.to/devilofdublin
Special edition hardbacks and paperbacks are also available with an alternate cover designed by Emily Wittig and eight full-page, B&W photos of the gorgeous Irish locations mentioned in the book!
Also available in audio!
Narrated by: Elizabeth Klett and Eric Nolan
(an Irish actor seen on Game of Thrones, Vikings, Vikings Valhalla, & The Witcher)
---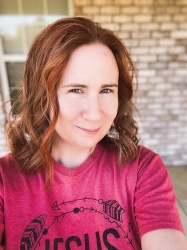 Latest posts by FranJessca
(see all)