Review: 'Gladiator' by Anna Hackett #romanceopoly
August 21, 2019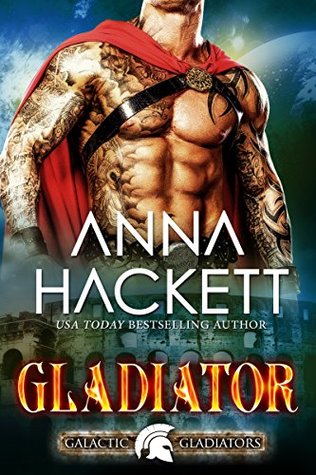 Gladiator
by
Anna Hackett
Series:
Galactic Gladiators #1
Published by
Self-Published
on October 23, 2016
Genres:
Science Fiction Romance
Format:
eBook
Source:
Purchased
Goodreads
Purchase at
Amazon
|
Apple
|
Google Play
|
Kobo

Fighting for love, honor, and freedom on the galaxy's lawless outer rim…
When Earth space marine Harper Adams finds herself abducted by alien slavers off a space station, her life turns into a battle for survival. Dumped into an arena on a desert planet on the outer rim, she finds herself face to face with a big, tattooed alien gladiator…the champion of the Kor Magna Arena.
A former prince abandoned to the arena as a teen, Raiden Tiago has long ago earned his freedom. Now he rules the arena, but he doesn't fight for the glory, but instead for his own dark purpose—revenge against the Thraxian aliens who destroyed his planet. Then his existence is rocked by one small, fierce female fighter from an unknown planet called Earth.
Harper is determined to find a way home, but when she spots her best friend in the arena—a slave of the evil Thraxian aliens—she'll do anything to save her friend…even join forces with the tough, alpha male who sets her body on fire. But as Harper and Raiden step foot onto the blood-soaked sands of the arena, Harper worries that Raiden has his own dangerous agenda…
I decided to read Gladiator by Anna Hackett for the Alien Avenue block for the Romanceopoly Challenge, and I'm glad I did because I found a new author and series to add to my auto-buy list. First off, I haven't read much Science Fiction Romance, but I'm going to remedy that by reading more of it in 2020. (Not this year since I already have a mass pile of books to read this year.)
I enjoyed Gladiator by Anna Hackett because it reminded me of Star Wars and Gladiator. Star Wars + Gladiator = Action-packed Science Fiction Romance that will have you on the edge of your seat and needing a cold shower.
The female protagonist Harper Adams is a human who has been abducted and sold by Alien Slavers. The Alien that ends up buying her is Galen, and his slaves are Gladiators. He forces her to become one, but that's no issue for her since she proved herself in the beginning that she can fight and is not a female to mess with due to her attitude and strength. His gladiators though are not enslaved, and she comes across a very sexy, strong alien gladiator named Raiden Tiago. He's a former prince for his planet that was destroyed by Thraxian aliens. He wants to avenge his family and planet from what happens to them, which is why he's one of the mighty Gladiators for House of Galen. He gets a chance to take his revenge out on Thraxian aliens. He meets Harper, and she shows him that revenge is not always the answer. He ends up helping her when she finds out one of her friends is a slave for the Thraxian aliens.
Both Harper and Raiden may be from different planets, but they're perfect for each other. Harper changes Raiden in the book, but not at first. He's a stubborn, sexy, alpha alien who usually gets his way with other females. Harper doesn't make it easy for him because she doesn't want to be another female he has been within his life.
I loved the story that Anna Hackett created for Gladiator, and I loved the steaminess in the book too. Yes, there was some serious steaminess between Harper and Raiden. I loved how she reacted to Raiden when she first saw him not wearing anything. I also loved how Raiden responded to how Harper was in bed with him. It was steamy even for him. 🙂
If you are a fan of Sci-Fi Romance, then I would recommend this book. I'm going to check out the rest of the series because I want to know who each Gladiator hooks up within their books. I'm glad I found a new author and thanks to Romanceopoly for given me the chance to find Anna Beckett.
---
Story Rating: 4-star rating
Steaminess Rating: 4-star rating
Standalone or part of series: Part of series, but each follows a new couple.
Do I recommend this book? Yes.
Will I read other books from the author? Yes.
Tropes/Elements: Action-packed (Gladiator fighting); Aliens
Hero: Alien; Gladiator; Alpha; Sexy
Heroine: Human; Kick-Butt; Forced into being a Gladiator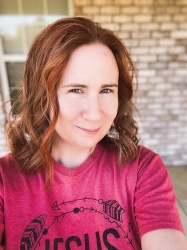 Latest posts by FranJessca
(see all)