Review: 'I'm not a Scaredy Cat: A Prayer for When You Wish You Were Brave' by Max Lucado
January 6, 2018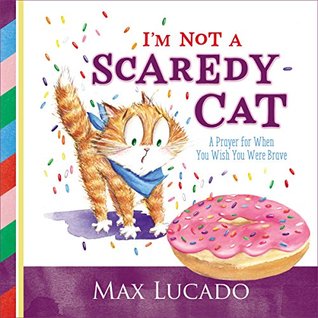 I'm not a Scaredy-Cat: A Prayer for When You Wish You Were Brave
by
Max Lucado
,
Shirley Ng-Benitez
Published by
Thomas Nelson
on October 3, 2017
Genres:
Children
Format:
Hardcover
Source:
Purchased
Goodreads
Purchase at
Amazon
|
Apple

From New York Times bestselling author Max Lucado comes I'm Not a Scaredy-Cat, a hilarious new picture book to help kids manage their fears and worries and learn to trust God.

Follow a silly series of misadventures as scaredy-cat faces his worst fears: an appalling abundance of (gulp!) yellow and pink sprinkles on his donut, an elephant on the verge of a ginormous sneeze, and the terrifyingly loud chime of a clock. For each of the fears, Max provides this reassuring child's version of Philippians 4:6–9:

"God, you are good.

God, you are near.

God, you are here!

And, God, you love me."

A fun read for children and parents, I'm Not a Scaredy-Cat will open doors for important conversations about fear in a nonthreatening way and help you instill godly bravery in your kids.
My Review with Rambunctious Kindergartener's input
I saw this book at our local LifeWay store and decided to get it for my Rambunctious Kindergartener for Christmas. I knew she would enjoy it since she's a future bookworm in the making.
Although, this mom had a feeling that her baby girl already had this book read to her. The minute she unwrapped it on Christmas morning she was excited to see it and she even knew the title. The best reaction though is when this Mom actually read the book to her baby girl because her baby girl actually got into the book. She started reading parts of the story with her mama. She even wanted to make sure she saw all the illustrations of the book.
The amazing illustrations in the book kept this Mommy intrigued, when she was reading it. I loved the storyline too of the book and the little prayer the cat did every time he was scared and needed help from God.
This book is all about managing your fears and worries with the use a hilarious storyline and very detailed illustrations of a little kitty's adventures.
My Rambunctious Kindergartener gives this book 5 stars and so does this Book Lovin' Mama. We highly recommend this book to little ones. I have a feeling I'll be reading this book quite a few times this year since my little one enjoyed it tremendously.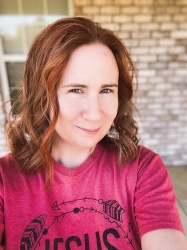 Latest posts by FranJessca
(see all)