Review: 'Immortal Rider' by Larissa Ione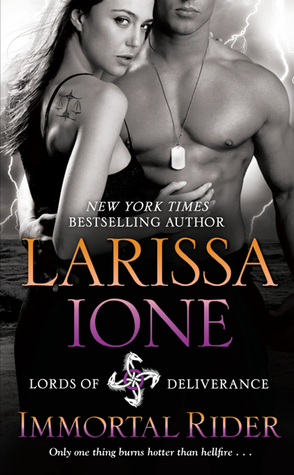 Immortal Rider
by
Larissa Ione
Series:
Lords of Deliverance #2
,
Demonica #7
Published by
Grand Central Publishing
on December 1st 2011
Genres:
Paranormal Romance
Pages:
414
Format:
Paperback
Source:
Purchased
Amazon Kindle
|
Amazon Paperback
Goodreads

The signs are everywhere...disastrous world events. Evil rising up, unleashed upon the innocent. The prophecies were there...but no one listened. Until now. The time has come for those who can either usher in Doomsday...or prevent it. They are here. They ride. The Four Horsemen of the Apocalypse.
Arik Wagner, a soldier with the U.S. Army's paranormal unit, the R-XR, kissed a girl and liked it. And then he went to hell as punishment. Where he's spent weeks being tortured...and plotting revenge.
Limos, Horsewoman of the Apocalypse, isn't your average girl. She's immortal, dangerous, and her fiancé is Satan himself. In a moment of weakness, she gave in to her desire and kissed Arik, triggering her fiancé's wrath - and his claim on her. In order to save Arik, and the world, Limos must make a dangerous pact with her recently turned evil brother, Pestilence. A deal that might just cost her her soul...and her heart.
My Review

I do not how many times I'm going to type this…but I love Larissa Ione's writing style.  I love the stories that she creates.  =)  She's one of the FAVES that has taken over my bookshelves and my Kindle. Here's the deal on "Immortal Rider."  This is the book about Limos and Arik.  The first chapter you read, you are in Arik's head.  He's fascinated with Limos and can not stop thinking about her.  Limos approach Arik and want to fight with him.  Instead, Arik kisses her…what happen next.  He's taken to Hell because…ummm…well, Limos is supposed to hook up with Satan himself.  Whoever kisses Limos…is faced with being tortured until the guy cracks with saying Limos name.  Arik is put through Hell (literally), while down in Hell, he refuses to break through.  Limos is trying to get him back somehow.  Arik manages to get himself out of Hell.  He's not the same.  Limos take it upon herself to try to get Arik back to his original self.  It's not easy for her because he still thinks he's down in Hell and the demons are messing with him.  She even sends for Runa (who is Arik's sister who I remember from the Demonica Series).  I even got a taste of Shade again.  *sigh* I miss my UG guys/gals. Larissa, takes you back and forth to Limos, Arik, Thanatos, Regan (if you want to know who she is…you'll have to read this book), Ares (get to read about him again..Yay!!) and of course Reseph (or rather Pestilence) who still is a ASS! (but I love him…looking forward to his book). You learn a lot about Arik in this book and what he went through as a kid and what his sister went through.  You also get a glimpse of how Limos is and what made her and her brothers become the horsemen.  Yup…that is an interesting one. She also goes through hell in this book because of Pestilence.  (what a friggin' jerk Grrr!) I loved how everything is coming together so far for the Lords of Deliverance.  I understand a better on what is going on and the history of why the horsemen came to be.  I love how Larissa makes everything flow in her stories.  She also prepares you a little on what is going to happen next. I recommend this book for the paranormal romance lovers out there, the die-hard Larissa Ione fans (like myself), and everyone who has been thinking about trying out this series…but has not gotten a chance yet.  (What are you waiting for?) I'm not giving anything else away in this book…because I hate spoiling a book that someone wants to read or is thinking about reading. I'm on to reading "Lethal Rider" now on my Kindle.  I waited early this morning to see when it would download…Have to love Amazon… 1 am…I was surprised to see it there.  *Sigh*


I guess I should type a bio here. I'm FranJessca or Fran for short. I'm the owner of Book Lovin' Mamas and main Reviewer. I've been reviewing books since I got out of the Navy in 2011. Now 8 years later, I'm still reviewing, but this time with my youngest sidekick.
When I'm not reading and reviewing, you can find me at my day job during the week and on the weekend taking care of our little farm.

Latest posts by FranJessca (see all)