Review: 'Last Kiss Goodnight' by Gena Showalter
January 1, 2013
I received a complimentary copy of the book from the publisher in exchange for an honest review. This does not affect my opinion of the book or the content of my review.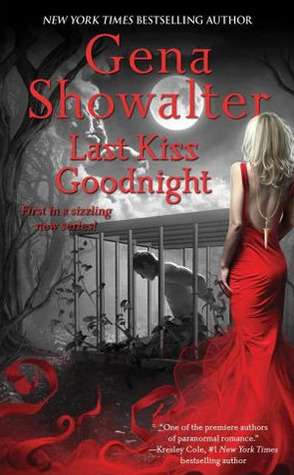 Last Kiss Goodnight
by
Gena Showalter
Series:
Otherworld Assassin #1
Published by
Pocket Books
on December 26, 2012
Genres:
Paranormal Romance
Format:
ARC
Goodreads
Purchase at
Amazon
|
Barnes & Noble

The breathtaking first novel in New York Times best selling author Gena Showalter's new paranormal romance series, Otherworld Assassins, featuring a black ops agent who is captured and enslaved…and the beautiful deaf girl who holds the key to his salvation…
THE SWEETEST TEMPTATION…
Black ops agent Solomon Judah awakens caged and bound in a twisted zoo where otherworlders are the main attraction. Vika Lukas, the owner's daughter, is tasked with Solo's care and feeding. The monster inside him yearns to kill her on sight, even though she holds the key to his escape. But the human side of him realizes the beautiful deaf girl is more than she seems—she's his.
THE ULTIMATE PRICE…
Vika endures the captives' taunts and loathing, hoping to keep them alive even if she can't free them. Only, Solo is different—he protects her. But as hostility turns to forbidden romance, his feelings for her will be used against him…and he'll be put to a killer test.
---
I finished "Last Kiss Goodnight" the last day of 2012, and now I'm bringing in the New Year with the review of it. =) Gena Showalter is one of my TOP fave Authors, so I planned it well.
"Last Kiss Goodnight" is a spin-off to Gena Showalter's Alien Huntress Series. I was a little upset to hear that the Alien Huntress series does not have another book coming out, but of course, I could not pass up the idea of a spin-off of it, especially when some recognized names I knew in the Alien Huntress series end up in the first book to the Otherworld Assassin Series. Hello….Dallas~! How I have missed you, honey! *sigh* Even if it was a just a small part Dallas is one character who stole my heart and soul in the Alien Huntress Series, and I am patiently waiting on his story.
Let me say ahead of time if you have not read the Alien Huntress Series before this book, that you do not need to dive into those books first. Gena Showalter is one author who explains her books very well, and she opens up this book with of course with tears and then a HUGE explosion. (literally)
I am always amazed on how well Gena Showalter can go back and forth to different worlds in her various series, and that is one of the many reasons why she will always have a fan from me as long as she continues writing. I'm BEYOND addicted!
Black ops agent Solomon "Solo" Judah was one minute hanging out with his other Black ops agents about to embark on their next mission, and now he is chained with cuffs inside a cage to be one of the circuses acts for a spectacle that is illegal. He has no idea where the other agents are and if they are alive. He only remembers the man they were out to get sold Solo to a man who runs not a typical circus. Instead, Jecis, the owner of the Circus, does dark arts and his main attraction of different otherworlders.
Jecis's daughter is supposed to be the keeper to the otherworlders and make sure they get fed and cleaned ready for their next act in front of the humans.
Beautifully, quiet, Vika has had a hard life. At a young age, she watched her close friends be killed, and she had to kill one her best friend a lion named One Day. Her father said they were not doing what they supposed to do and he head them killed and instead brought in the otherworlders to take their place.
Vika knows she must behave; otherwise, she'll end up with more bruises or even worse like that dreadful day she lost her animal friends. She lost her hearing.
Now she must find a way to free the otherworlders, although they hate her because they see her as helping Jecis.
Solomon though, finds Vika is captivating and can not help, but think he was meant to meet her and help her. He starts having feelings for her and will do anything to protect her, especially when he starts seeing the marks on her and knows who it is coming from initially. His goal is to find a way out of the cage even though it would be difficult because of the drugs that keep pumping through the cuffs every once in a while. He is not your normal otherworlder though. He can turn into a deadly creature if his temper rises. Thank goodness for someone that tries to calm him down every once in a while….and now Vika may be another one of those who can calm him.
Gena Showalter did a bang-up job on explaining this new series and what is to be expected in the next book. I enjoyed the beginning of the book. I did find it not like her usual books that I am used to reading. They're parts that were dry and dragged on, but once the action started and of course the steamy parts between Solo and Vika…then my attention was back.
I am excited to see what happens after this book since they're other characters that were introduced that need more explanation. I love how Gena throws in other characters from a different series into the mix. Kitten, for example, is a very familiar name and of course Dallas. =)
I enjoyed both Solo and Vika….especially Vika since she proved to be stronger than she thought she was. She just needed someone to nudge her along. Solo was one scary otherworlder when he got pissed off, but he had his tender moments. It helped to have Vika there to help him realize that he could be loved and cherished for who he was even when he thought it was too scary.
The bad guys in this story were, of course, harsh and very mean. Vika's so-called father had it coming to him at the end.
And as for other otherworlders in the book, well, you'll have to read it to find out more. =)
All and all I give this book four moons and I will be counting down to the next book….patiently.
Another thing that intrigues me with Gena is how she comes up with ideas that have not been done before. =)
Gena's "Last Kiss Goodnight" involves action-packed, craziness with some steamy moments between two characters in a circus that includes the dark arts and you have one HELL of a ride.

This post contains affiliate links you can use to purchase the book. If you buy the book using that link, I will receive a small commission from the sale. It will help sponsor future giveaways but costs you nothing extra. You can read the full disclosure underneath the Privacy Policy.
---
---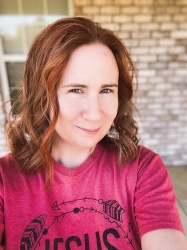 Latest posts by FranJessca
(see all)