Review: 'Losers: Part One' by Harley Laroux
October 6, 2022
This book may be unsuitable for people under 18 years of age due to its use of sexual content, drug and alcohol use, and/or violence.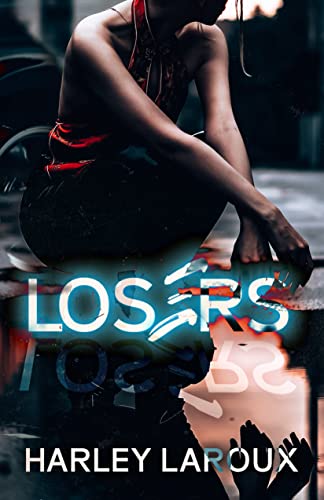 Losers: Part I
by
Harley Laroux
Series:
Losers #1
Published by
Self-Published
on September 30, 2022
Genres:
Dark Romance
,
Polyamorous Bisexual Romance
,
Reverse Harem
Format:
eBook
Goodreads
Purchase at
Amazon

I was supposed to have it all.
I'd been Prom Queen, Cheer Captain - high school's most savage Queen Bee. I could have everything I wanted.Except them. The freaks, the weirdos, the school's ultimate losers: Manson, Jason, Lucas, and Vincent. Our hatred for each other couldn't keep us apart, not even when my own mistake got Manson expelled and made me the ultimate villain to the rest of them.
One night was supposed to be enough.
I couldn't resist forever. For one night I gave myself over to the men I wasn't supposed to want and satisfied the darkest parts of my soul. But some things are meant to stay in the dark. One night, and it was over.
Nothing more than a game.
Now, with college behind me, our worlds collide yet again. Four men, all willing to share me as their plaything until my debt to them is paid. Another game to satiate my dark cravings, the twisted rules of which bring us all even closer than before. But games aren't meant to last.
When the debt is paid and the game is done, what if I don't want to walk away?
Although not required, it is recommended to read the novella, The Dare, prior to reading Losers.
This book is First Person, Multi POV.
This is an 18+ polyamorous bisexual romance between one woman and four men, including MF, MM, and group scenes. Reader discretion is strongly advised, this is a dark read. This book contains graphic sexual scenes, intense scenes of BDSM, graphic violence, and strong language. A full content note can be found in the front matter of the book.
---
WARNING VERY LONG REVIEW. NO SPOILERS THOUGH. I HAD TO GUSH OVER THIS BOOK.
One of my most anticipated releases this year was Losers Part One (& Two) by Harley Laroux. After reading The Dare earlier this year, I needed more of Jess, Manson, Lucas, Jason, and Vincent. All five of these characters became instant favorites of mine, and I needed more of them together. I was so happy when Harley announced she was giving them a full-length novel (two actually in parts) that I was there to click to buy as soon as she posted the preorder buttons.
If you have not read The Dare, which introduces all the characters, I highly recommend reading it before you dive into Losers Part One. You'll miss out on Jessica running into Manson, Lucas, Jason, and Vincent at a Halloween Party. (You don't want to miss out on reading it. I've read it several times. It's my go-to book whenever I feel like I'm going into a reading slump.)
Storyline/My Thoughts: Jessica is back in her hometown after she finishes college. She never thought she would return, but unfortunately, she didn't land a job that would take her away from her home. She never thought she would run into the four men that changed her life one night a few years ago at a Halloween party. She thought one night would be all she needed until she was tempted by what they could offer her again years later. She shouldn't want what they gave her at the Halloween party, but she's intrigued by Manson, Lucas, Jason, and Vincent. Jessica ends up trusting the wrong people, and now she owes a debt to the boys; that debt involves something she should turn down, but she's tempted and ends up going for it.
Bring on the spice because if you thought The Dare was spicy, you haven't read anything yet. Harley knows to up it to a level where you question everything in your life. You'll be asking the same question repeatedly: am I into this? Heck, yes, you are. (But remember, don't try anything in this book unless you know what you are doing.) After reading the first full-length novel with these five characters, you will need several cold showers, or maybe you looked at your significant other and said, it's time. 😂 This is why my hubs love me reading romance; no matter what sub-genre it is, he's all for it.
This book was everything! When I opened my kindle and started reading Losers Part One, I knew I would have a time putting down this book. I loved that Harley had everyone have POVs in this book. I loved being inside all of their heads and getting to know them each.
After reading Losers Part One, I don't know who I like more. Can I like them all equally? Each stole my heart in a way.
I already adored 'Daddy' Manson (or Master Manson 😉) from The Dare. He stole me even more, especially with the scenes between him and Lucas. I love those two together. They are perfect for each other because they know what they both need. Manson will always be my number one, but he may be tied with Lucas now.
Lucas, what can I say about him? He may be a hardass, but when it comes to Jessica, he's trying to hide his soft side with her in his own twisted way. I loved learning about him and being inside his head because he treated Jessica like crap because he didn't trust her. He had every right not to trust her because of what she did to him in high school and the others and how she had ghosted them three years ago.
Jason Roth, this blue-haired boy, stole my heart when I learned he's the smarty-pants of the bunch and nicknamed 'Zero Cool.' We can't be friends if you don't know who Zero Cool is. I loved how Harley Laroux referenced my favorite movie I've seen so many times that I can recite it. It was the movie that made me go into the Cybersecurity Field, and for Jason Roth to be an IT (Programmer), yes, I had an instant connection with him. He also loves to play video games and has a major setup in his room. His time with Jessica was HOT as hell!
Vincent, long-haired hottie, I adored him, too. He doesn't seem to be the dominant kind until you really get to know him. Oh boy, he is so kinky in the bedroom that he knows what he is doing regarding BDSM. The scenes between him and Jason were everything. These two were perfect together, and I loved how Vincent cared for Jason. Swoon-worthy is what these two are together. LOVE!!
If there is one of many reasons why I enjoyed this book, it was how the four boys were a family, and you could tell they cared for each other in their own ways. They knew what each needed, and I loved how they came together with all the crap they had been with their families. What they all went through in high school, too? These boys found their family, and it was them, but now they hope Jessica will be a part of their family, too. Jessica realizes in this book how the town sees them, and now that she is hanging out with them more, she sees them as who they are, which is why it's hard for her not to stay away. I know I wouldn't be able to stay away from them.
Jessica will realize in this book who she shouldn't trust, and it's not her friends from high school. I felt for Jessica's character and what she was put through with her a-hole friends and even her mother. She is supposed to be a certain standard, but what if she wants more in life and it involves Manson, Lucas, Jason, and Vincent? Go for it, Jessica! In this book, they treat you way better than the rest of the town, even if you act like a brat at first with the boys. They put her in her place, and I was here for it when reading the book.
Yes, there are group scenes between all five characters and lots of one-on-one interaction. (Both MF and MM scenes.) Again, this book is off-the-charts spicy, and I was ALL for it. (I may have gone a little overboard, highlighting on my kindle my favorite scenes.)
This book does leave you hanging at the end with a cliffhanger. There is a big issue in this story involving someone from Manson's life who comes crawling back to cause trouble. Every one of the boys, even Jessica, is scared of this person. I need to find out what happens next because after reading part one, I have fallen even more in love with each of these characters.
I give the Losers Part One five stars and look forward to diving into Part Two when it releases.
Harley Laroux has become one of my top fave authors now. She's on my auto-buy list, and I can't wait to dive into the other books she's written. Yes, her books will be bought for my kindle and in paperback, because I need these books on my bookshelves.
I'm going to say this when I was reading this book the whole time, I was thinking about my seventeen-year-old daughter. It's all because of Jason and Vincent's cars. They were driving her dream cars. (My dream cars were Manson and Lucas, but I love Jason and Vincent's cars too. I'm a car whore and have been since I was a pre-teen.)
I told my daughter she couldn't read this book until she moved out of my house, but if there is one book I would gladly let her borrow (but she has to give it back) would be this book. She's not into reading like her mama, but maybe she will be in the future. I told her she hadn't found that one book yet. This book may be it for her. Although I definitely don't want my daughter to find out about my favorite kinks and look at me strangely. 😂 She already finds mama crazy for having tattoos and loving the bad boys and villains in movies/books. She doesn't understand my obsession with Loki. She'll find out later in life.
Standalone or Part of Series: Part of Loser series (Part One). I highly recommend reading The Dare, so you are introduced to the characters in the novella.
Trope(s): Polyamorous Bisexual Romance. MM Romance, MF Romance, and Group Scenes. Reverse Harem/Why Choose. Dark Romance. Found Family.
Kink(s)/Element(s)/Trigger(s): BDSM. Anal Sex/Play. Spanking. Breath Play/Choking. Degradation/Praise. Pet Play. Sadist MMCs. Masochist FMC and MMCs. Knife Play. Blood Play. Spitting in Mouth. Orgasm Denial and Torture. Stipulation Play (Ice). Electricity/Shock Play. Humiliation. Public Play. CNC. Edge Play. Damage done to the boys cars. (Seriously, that made me cry.) (I'm sure there are way more, but these are the ones I found when reading, which didn't bother me one bit. Harley Laroux knows how to bring on the kinks in her books.)
Would I recommend this book? Yes. Most definitely, Yes. If you enjoy books that have RH/Why Choose and lots of kinks in it with characters that you will fall madly in love with, then pick up this book.

This post contains affiliate links you can use to purchase the book. If you buy the book using that link, I will receive a small commission from the sale. It will help sponsor future giveaways but costs you nothing extra. You can read the full disclosure underneath the Privacy Policy.
---
---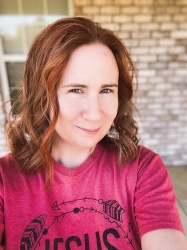 Latest posts by FranJessca
(see all)