Review: 'Lucifer' by Gina Kincade and Erzabet Bishop
August 15, 2022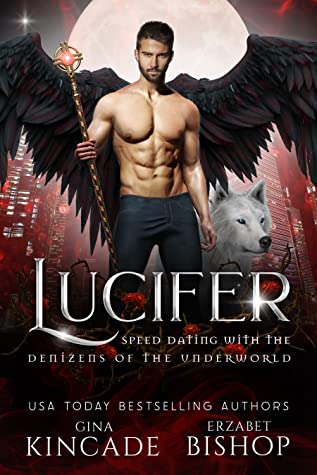 Lucifer
by
Gina Kincade
,
Erzabet Bishop
Series:
Speed Dating with the Denizens of the Underworld #1
Published by
Naughty Nights Press LLC
on May 24, 2022
Genres:
Paranormal Romance
Format:
eBook
Source:
Purchased
Goodreads
Purchase at
Amazon

Only his fated mate could bring Lucifer to his knees...
Confirmed bachelor and legendary playboy, Lucifer Morningstar, is the cocky King of the Underworld. By day, he moonlights as the owner of the DeLux Cafe, and at night he controls evil supernatural beings in the underworld. One stroke of his whip makes immortal demons grovel and quake. With his faithful hellhound by his side, life couldn't be better.
That is, until he meets a delicious Detective and can't get her out of his mind. Lucifer is obsessed with chasing down his fated mate and making her his.
Detective Chloe Frost moved to LA four years ago to further her career. She's driven and good at her job. A white wolf shifter, she has a nose for these things. Being the best detective she can be is all she wants...even if she is lonely without her pack. Her true love is her profession. Who needs a man anyhow?
Despite her negative outlook on love, Chloe accepts her friend's suggestion to attend a speed dating mingle at the DeLux Cafe. Heidi swears it's just what Chloe needs. Her hopes aren't high, but a little fun-n-sexy-times won't hurt, right?
Lucifer is book one in the Speed Dating with the Denizens of the Underworld shared world, filled with devilish demons, sinful shifters, and more.
---
Thanks to Julie Morgan, I came across Speed Dating with the Denizens of the Underworld. Several authors are writing books in this shared series together, and I knew I had to check it out.
Storyline/My Thoughts: First up, Gina Kincade and Erzabet Bishop's book has the King of the Underworld, Lucifer, at one of the speed dating events. He owns and works at the DeLux Cafe, where the Goddess of Love, Aphrodite, and her vampire sidekick, Eve, host the speed dating event. Lucifer never expects to find his fated mate at one of the events.
Chloe Frost is a white wolf shifter, and she loves her job as a detective. She's all about her career; she has no time for fun or finding love. However, her friend Heidi suggests she attend a speed dating event, and Chloe is hesitant initially to attend. She ends up with three potential guys to go on an actual date with after the event is over. Unfortunately, there is one denizen who does not want her on those dates and will spy on her. He's determined to make Chloe his because he knows she's his fated mate.
Now, I like the series' concept so far that the authors have done for this world. This series includes all those sexy paranormal beings we all love in stories; demons, vampires, shifters, etc. I know I love all things supernatural. The denizens of the Underworld find their fated mates, too. Yes, sign me up because everyone deserves love, even the ones who live and work in the Underworld, such as Lucifer.
The only thing was this book was an okay read for me. It did not grab me. The romance between Lucifer and Chloe felt rushed. It had instant love/attraction regarding the characters falling in love. I'm not a big fan of that trope. I understand it happens in fated mates' stories. I get it, but it's not for me. I also expected Lucifer to be dark and evil for being the King of the Underworld. He wasn't in this book. I didn't want him being mean to Chloe, but the dates she potentially had gone out with after the speed dating rounds.
I did enjoy Chloe Frost's character and how she is career-oriented. I wish I would have read more of her in her element as a detective. She seems to be a kick-butt at her job, especially being a white wolf shifter.
Overall this book was an okay read for me, which meant it only received three stars. Just because it was an okay read for me does not mean someone else may not enjoy and love it. I know other readers may enjoy this story more than I did. Will I check out Gina Kincade and Ezrabet Bishop's other books? Most definitely, yes.
Standalone/Part of Series: It's part of the Speed Dating with Denizens of the Underworld series, but each can be read as a standalone.
Trope(s): Fated Mates; Instant-Love/Attraction
Would I recommend this book? Yes. If you enjoy PNR, check out this book/series.

This post contains affiliate links you can use to purchase the book. If you buy the book using that link, I will receive a small commission from the sale. It will help sponsor future giveaways but costs you nothing extra. You can read the full disclosure underneath the Privacy Policy.
---
---
---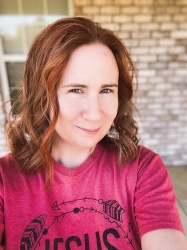 Latest posts by FranJessca
(see all)