Review: 'Night of the Cougar' by Caridad Pineiro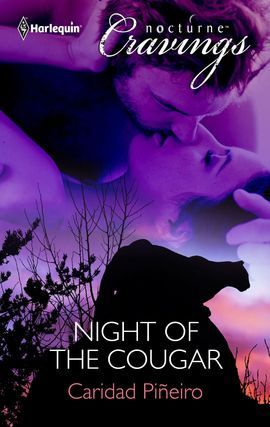 Night of the Cougar
by
Caridad Piñeiro
Published by
Harlequin Nocturne Cravings
on June 1st 2012
Genres:
Paranormal Romance
Pages:
56
Format:
eBook
Source:
Purchased
Amazon Kindle
|
Amazon Paperback
Goodreads

Reporter Jamie Morrison got the scoop of a lifetime when she snagged a meeting with bestselling author Galen Hawke, but their rendezvous didn't end with an interview. Their immediate attraction led to a wicked night together and a plan to meet again—until an accident left Galen changed forever….
Now, one year later, Jamie is sent to interview Galen once more. When a snowstorm strands them together in his remote mountain lodge, they are both eager to explore their reawakened passion. But will Jamie stay by Galen's side when she discovers what he's become?
My Review
I was looking for a short, steamy read that could perk me up last week when I was doing college finals. I found it in "Night of the Cougar" by Caridad Pineiro. This book helped me get out of my reading funk thanks to Biology and Math exams. Reporter Jaime Morrison is sent to interview Galen who is the best selling author. She ends up not only getting an interview but a night of passion from the sexy author. After a year, of not seeing him, she is sent to interview him again. This time though, she's going to be stranded with him due to a snowstorm. She also is going to find out a secret about him and why he is hidden from people nowadays. Galen doesn't want to end up hurting Jaime, so he tries everything to send her away, but for some reason, he can't. He's forced to come out with the truth, and he may end up losing her My thoughts on the book were of course very steamy, and sexy. It's a concise read, but it quenched the paranormal romance thirst that I was looking for in a book. I had a hard time putting down my Kindle while reading this book, thanks to Caridad and how the story developed between the characters. She also delivered some very sexy, hot, steamy scenes between Galen and Jaime. Oh boy! I think I had to cool myself down with a glass of water…or was it a cold shower. =) I loved the character Jaime and how persistent she was with Galen. She never gave up on him, even when he told her his secret. She also put him in his place. (gotta love a female character like her) I recommend this book to anyone who loves the paranormal romance genre loves the erotic romance genre and loves were-cougars. (Oh yes, …were-cougars!!) This book will take you on a steamy ride up a mountain with a were-cougar what more could you ask for? (Now I want my were-cougar)


I guess I should type a bio here. I'm FranJessca or Fran for short. I'm the owner of Book Lovin' Mamas and main Reviewer. I've been reviewing books since I got out of the Navy in 2011. Now 8 years later, I'm still reviewing, but this time with my youngest sidekick.
When I'm not reading and reviewing, you can find me at my day job during the week and on the weekend taking care of our little farm.

Latest posts by FranJessca (see all)