Review: 'NightShade' by Andrea Cremer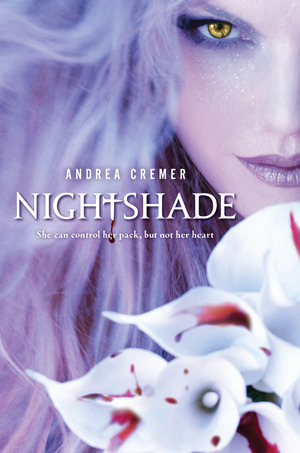 Nightshade
by Andrea Cremer
Series: Nightshade #1, Nightshade World #4
Published by Philomel on October 19th 2010
Pages: 452
Format: eBook
Source: Purchased
Amazon Kindle | Amazon Paperback
Goodreads


Calla Tor has always known her destiny: After graduating from the Mountain School, she'll be the mate of sexy alpha wolf Ren Laroche and fight with him, side by side, ruling their pack and guarding sacred sites for the Keepers. But when she violates her masters' laws by saving a beautiful human boy out for a hike, Calla begins to question her fate, her existence, and the very essence of the world she has known.
By following her heart, she might lose everything- including her own life. Is forbidden love worth the ultimate sacrifice?
"A finely-wrought compelling tale of romance and treachery..."-Cynthia Leitich Smith(New York Times bestselling author of Eternal and Tantalize)
My Review
(Originally Reviewed on Mrs. Papillion aka "The Book Worm")
Calla is a very determined and stressed out girl. She is destined to marry Ren who is the Sexy Alpha from the Wolfsbane clan. Calla is the Alpha for the Nightshade clan. Since they were born, they've been destined to be together, but is that what Calla actually wants now. When she saves a human boy from a bear in the beginning of the book and ends up meeting up back in her school with him, her feelings are becoming stronger for the human boy. She also becomes confused when she is around Ren. Maybe it's just the wolf in her that loves Ren, and the other side loves the human. She is put through so many tests in this book, and she ends up screwing up a lot. Towards the end of the book, Andrea Cremer threw me off a it…but a good off. I'm so glad on what happened.. and Andrea Cremer left me hanging on the last chapter.  Gotta love cliffhangers.  I'm really excited about this series. Maybe my love for Vampires is finally over, and werewolves are growing on me more. Who knows…but this book proves that Werewolves are more of a fascination right now and I look forward to learning more about Calla and her world.


I guess I should type a bio here. I'm FranJessca or Fran for short. I'm the owner of Book Lovin' Mamas and main Reviewer. I've been reviewing books since I got out of the Navy in 2011. Now 8 years later, I'm still reviewing, but this time with my youngest sidekick.
When I'm not reading and reviewing, you can find me at my day job during the week and on the weekend taking care of our little farm.

Latest posts by FranJessca (see all)