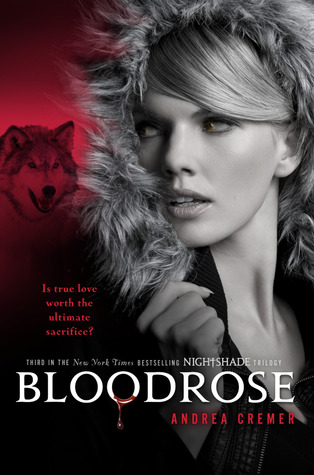 Bloodrose
by
Andrea Cremer
Series:
Nightshade #3
,
Nightshade World #6
Published by
Philomel
on January 3rd 2012
Pages:
406
Format:
Paperback
Source:
Library
Amazon Kindle
|
Amazon Paperback
Goodreads

Calla has always welcomed war.
But now that the final battle is upon her, there's more at stake than fighting. There's saving Ren, even if it incurs Shay's wrath. There's keeping Ansel safe, even if he's been branded a traitor. There's proving herself as the pack's alpha, facing unnamable horrors, and ridding the world of the Keepers' magic once and for all. And then there's deciding what to do when the war ends. If Calla makes it out alive, that is. In this remarkable final installment of the Nightshade trilogy, international bestselling author Andrea Cremer crafts a dynamic novel with twists and turns that will keep you breathless until its final pages.
Wolfsbane
by
Andrea Cremer
Series:
Nightshade #2
,
Nightshade World #5
Published by
Philomel Books
on July 26th 2011
Pages:
390
Format:
eBook
Source:
Purchased
Amazon Kindle
|
Amazon Paperback
Goodreads

Calla Tor wakes up in the lair of the Searchers, her sworn enemy, and she's certain her days are numbered. But then the Searchers make her an offer–one that gives her the chance to destroy her former masters and save the pack–and the man–she left behind. Is Ren worth the price of her freedom? And will Shay stand by her side no matter what? Now in control of her own destiny, Calla must decide which battles are worth fighting and how many trials true love can endure and still survive.
My Review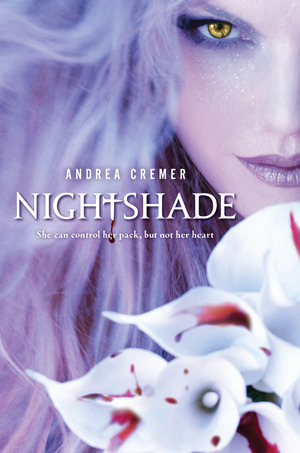 Nightshade
by
Andrea Cremer
Series:
Nightshade #1
,
Nightshade World #4
Published by
Philomel
on October 19th 2010
Pages:
452
Format:
eBook
Source:
Purchased
Amazon Kindle
|
Amazon Paperback
Goodreads

Calla Tor has always known her destiny: After graduating from the Mountain School, she'll be the mate of sexy alpha wolf Ren Laroche and fight with him, side by side, ruling their pack and guarding sacred sites for the Keepers. But when she violates her masters' laws by saving a beautiful human boy out for a hike, Calla begins to question her fate, her existence, and the very essence of the world she has known.
By following her heart, she might lose everything- including her own life. Is forbidden love worth the ultimate sacrifice?
"A finely-wrought compelling tale of romance and treachery..."-Cynthia Leitich Smith(New York Times bestselling author of Eternal and Tantalize)
My Review