Review: 'Wolfsbane' by Andrea Cremer
August 4, 2011
Wolfsbane
by
Andrea Cremer
Series:
Nightshade #2
,
Nightshade World #5
Published by
Philomel Books
on July 26th 2011
Genres:
Young Adult Paranormal
Format:
eBook
Source:
Purchased
Goodreads
Purchase at
Amazon
|
Apple

Calla Tor wakes up in the lair of the Searchers, her sworn enemy, and she's certain her days are numbered. But then the Searchers make her an offer–one that gives her the chance to destroy her former masters and save the pack–and the man–she left behind. Is Ren worth the price of her freedom? And will Shay stand by her side no matter what? Now in control of her own destiny, Calla must decide which battles are worth fighting and how many trials true love can endure and still survive.
My Review
(Originally Reviewed on Mrs. Papillion aka "The Book Worm")
To top it off that I finished Wolfsbane earlier than I wanted…I find out the next book "Bloodrose" is the last book in the series. I hate knowing once I get used to the characters, I have to let them go. I've loved learning about Calla, Shay, and Ren. I also love now learning about other characters, like Connor, Adne, and Monroe.
My thoughts on Wolfsbane I loved the book. Some parts dragged on, and I was getting sick of Shay. He needs to leave Calla alone and let her decide what she wants and not push her. Her heart is broken into two and in my opinion, after reading this book, I would rather her end up with Ren.
I found out some twists in this book, that made me go into shock. I had to keep reading the book to find out more. Andrea Cremer also loves to leave you hanging as she did with this book, which I love cliffhangers. I ended up being in shock even with Ren's decision in the book when Calla tries to save her pack from the Keepers. He doesn't know the truth and Calla wants him to believe her.
Ansel, Calla's brother, shocks me too. What a moron. Why would he do that? I'm anxious to find out what happens in the next book.
I'm also determined to find out more about the Searchers; Conner, Ethan, and Adne. I'm sad what happened to Monroe because I was starting to like him and to find out a twist that happens with him in it. I'm more in love with his character now.
I can't wait to find out what Calla does at the beginning of Bloodrose since Andrea left us hanging at the end of the book. I have to say though…Andrea, you sure know how to capture a reader's attention, and I look forward to your next book and your next series. You have become one of my FAVE authors to follow now. I'm so glad Amazon recommended Nightshade to me.  =)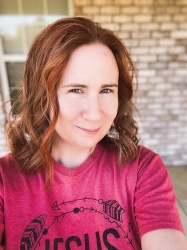 Latest posts by FranJessca
(see all)