Review: 'Siren Song' by Cat Adams
August 5, 2011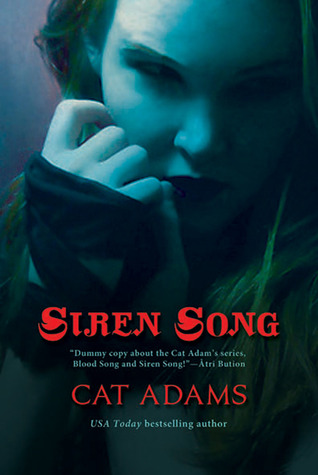 Siren Song
by
Cat Adams
Series:
Blood Singer #2
Published by
Tor Books
on September 28th 2010
Genres:
Urban Fantasy
Format:
Paperback
Source:
Library
Goodreads
Purchase at
Amazon
|
Barnes & Noble

In Celia Graves's world, vampires roam the alleys of Tinseltown, street corner psychics have real powers, and cops use memory enhancement spells. But Celia thought she was an ordinary human, albeit one with a clairvoyant best friend and a ghostly little sister.
The vampire attack that made Celia an Abomination forces her to take food in liquid form and gives a whole new meaning to the word "sunburn." She's slowly adjusting (therapy sessions and all) when she discovers that the attack awakened a hidden part of her heritage: Celia is part Siren, able to enthrall men—and enrage women.
Her best friend's murder is unsolved; the cops think Celia should be in jail or staked; and her old lover, mage Bruno DeLuca, has something important to tell her. To top it all off, Celia's been summoned to the Sirens' island.
Celia Graves has more than one enemy. Some of them want her blood. Some of them want her soul. All of them want her dead.
Siren Song, Book Two in the Blood Singer series, is another thrilling paranormal fantasy from bestselling author Cat Adams—an action-packed follow-up to Blood Song.
---
(Originally Reviewed on Mrs. Papillion aka "The Book Worm")
I liked this book a lot better than the first. Celia had accepted that she is an abomination. In this book though, she learns more about the Siren side of herself and finds out she's cursed. She has to figure out who cursed her and why. She also needs to go to court and claim she's not a threat to humankind. What is Celia to do? To top it off, she has to do her job and be a bodyguard to the King too. Grrr…her life seems to get into more trouble than anything.
I love how Cat Adams, threw in twists in the story and I was amazed by how the book ended. I'm sorry to say that Celia's Mom is finally getting what she deserved, but maybe she'll get help now. I'm a little upset with Bruno though, Celia's love interest or should I say former love interest. I'm also upset about what happens at the end with Bruno and Celia. Grrr!!! What a problematic man he is. I'm hoping Celia ends up with Creede now. He sounds exciting and sexy.
So it's onto another book, and I'm going to put this series on hold for just a little while. I'm looking forward to hearing what happens to Celia next. There may not be much of love, sex, and violence in these books but I'm loving Cat Adams writing style and how she can keep me from putting down a book.

This post contains affiliate links you can use to purchase the book. If you buy the book using that link, I will receive a small commission from the sale. It will help sponsor future giveaways but costs you nothing extra. You can read the full disclosure underneath the Privacy Policy.
---
---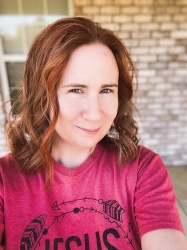 Latest posts by FranJessca
(see all)