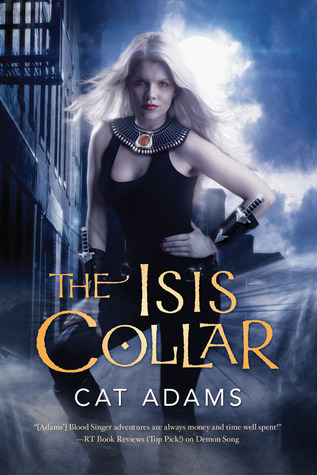 The Isis Collar
by
Cat Adams
Series:
Blood Singer #4
Published by
Tor Books
on March 13th 2012
Genres:
Urban Fantasy
Format:
Paperback
Source:
Library
Goodreads
Purchase at
Amazon
|
Barnes & Noble

A clairvoyant's vision sends Celia racing to evacuate a local elementary school before a concealed magical bomb goes off. She gets almost everyone out but is caught in the explosion!
Amazingly, the bomb seems to cause no damage…until two weeks later, when a stubborn bruise on Celia's leg turns out to be the first sign of a magical zombie plague. Schoolchildren and their parents are the next victims. The cure is both painful and in extremely short supply.
Worse, it soon becomes clear that there are more explosions to come. But helping the FBI track down the bomber isn't Celia's only problem. Her abusive, alcoholic mother has broken out of prison on the Sirens' island; her ghostly little sister has possessed a young girl; and one of Celia's boyfriends has mysteriously disappeared in the middle of a casting.