Review: 'Demon Song' by Cat Adams
August 12, 2011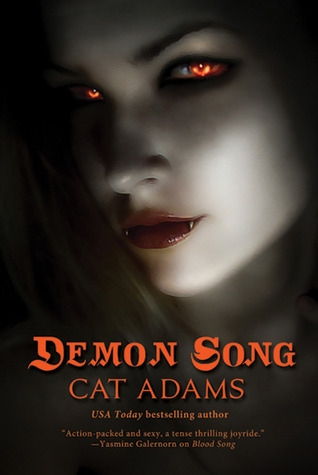 Demon Song
by
Cat Adams
Series:
Blood Singer #3
Published by
Tor Books
on March 1st 2011
Genres:
Urban Fantasy
Format:
Paperback
Source:
Library
Goodreads
Purchase at
Amazon
|
Barnes & Noble

Bodyguard Celia Graves plies her trade in a world where bloodthirsty vampires roam the night and street-corner psychics have real powers. A vamp attack turned Celia into a unique creature who finds sunlight painful and who must take all her food in liquid form—but who still retains her human heart, mind, and soul.
The attack also awakened a hidden part of her heritage: Celia is part Siren, able to enthrall men…and enrage women…without half-trying. Needless to say, her bodyguard business has taken off: who wouldn't want to be protected by a sexy, extremely capable woman who is half-vampire, half-Siren princess?
An ancient rift between the demonic dimension and our own, sealed during the destruction of Atlantis, begins to open and threatens to loose all the demons of hell on humanity (including the one personally bent on destroying Celia). Celia's recent hellish experiences may have given her the unique combination of abilities needed to close the rift. But to overcome a death curse that nearly guarantees her failure, she'll need to join forces with people she no longer trusts…and put people she has come to care about directly in harm's way.
---
(Originally Reviewed on Mrs. Papillion aka "The Book Worm")
'm so glad I came across this author among the many other authors at the Library. "Demon Song" has become the best of the books in the Bloodsinger Series. I could not put this book down one bit. I would get upset at night when I would be too tired to go on, or my daughter would make me put it down to help her with something. I'm in love with the characters even more. I'm fascinated now that Celia is in a love triangle…not with just Bruno, John Creede…but also with a sexy Medic who she came across in the first chapter of this book, Christopher Gaetano…who only played a small part in the book. I have a feeling though he'll show up more in the next book. Yum!!
From the beginning of this book to the end of this book I was intrigued. The book picks up from Siren Song and may I say Cat Adams leaves you hanging at the end of this book. Ugh!!
I loved the storyline in this book. Celia has to still fight her craving for blood. She doesn't want to become a full vampire. She also has to continue her job as a bodyguard and also solve crimes. She has to find out why a state facility is making shifters/werewolves go crazy. When she does find out the truth, it's a scary one. Remember that demon from the first book well, he's back, and he still wants Celia. That is when Bruno comes back in the story. The best part of the book was when she had her first close love encounter with John Creede. Holly Molly!! And it wasn't even a sex scene, and he had her to her knees. He's a Mage with some serious SKILLS. That's all I'm going to say. I won't spoil the story..but all I can say is if you haven't read this series and you think the first two books are not for you…you should at least try Demon Song.
I'm looking forward to the next story that Cat Adams has written about Celia and her friends….and of course her lovers.
I'm ready for the release of "The Isis Collar" already.  =)

This post contains affiliate links you can use to purchase the book. If you buy the book using that link, I will receive a small commission from the sale. It will help sponsor future giveaways but costs you nothing extra. You can read the full disclosure underneath the Privacy Policy.
---
---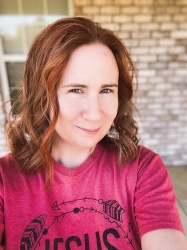 Latest posts by FranJessca
(see all)