Review: 'Blood Song' by Cat Adams
July 30, 2011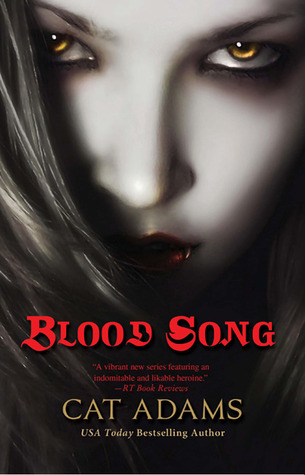 Blood Song
by
Cat Adams
Series:
Blood Singer #1
Published by
Tor Books
on June 8th, 2010
Genres:
Urban Fantasy
Format:
Paperback
Source:
Library
Goodreads
Purchase at
Amazon
|
Barnes & Noble

Bodyguard Celia Graves has definitely accepted her share of weird assignments, both human and supernatural. But her newest job takes the cake. Guarding a prince from terrorists and religious fundamentalists is hard enough, but it seems like the entire supernatural world is after this guy too. When she is betrayed by those she is employed to help, and everything goes horribly wrong, Celia wakes to find herself transformed.
Neither human nor vampire, Celia has become an abomination-something that should not exist-and now both human and supernatural alike want her dead. With the help of a few loyal friends-a sexy mage, a powerful werewolf, and a psychic cop-Celia does her best to stay alive. On the run from her enemies, Celia must try to discover who is behind her transformation . . . before it's too late.
---
(Originally Reviewed on Mrs. Papillion aka "The Book Worm")
I finished reading my first library book in a long time. I think the last time I read a library book was when I was in high school and that was ten years ago. I don't know why I didn't sign up with the local library sooner. I love going to the library and just looking around and reading there. It's peaceful being around that many books. I feel like I'm in heaven. Yes that's the bookworm coming in me, but when can I say, I have an obsession with books. Maybe it's also a Passion too. I happened to come across "Blood Song" by Cat Adams while browsing in the fiction section at the library. It wasn't something I was used to reading as far as Paranormal. I'm used to the hardcore romance type paranormal reading. This one seemed to be more about actual action pack, which had me guessing if I would like it…but towards the end, I had a hard time putting it down.
My thoughts on the book after I finished it was it's something different and was not expecting the book to twist and turn like that. There were moments in the book that were dry, and I had to put it down for a while and re-group…but there were other moments, where I had to keep turning the pages to find out what the heck was going to happen next. I enjoyed knowing there was a twist to the story at the end. I love when the author flips the switch and makes you gasp, and that is what Cat Adams did. I wasn't expecting that at all to happen to the main character, Celia. I didn't like the beginning of the book…but I did enjoy the ending very much, and I look forward to reading the next book. I will be borrowing it from the library.
I look forward to finding out what happens next to Celia Graves and I don't want to tell you what I found out about her in this blog post because I don't want to spoil the book for anyone who hasn't read it. All I know is, I think I have found another author that I will keep reading her books.

This post contains affiliate links you can use to purchase the book. If you buy the book using that link, I will receive a small commission from the sale. It will help sponsor future giveaways but costs you nothing extra. You can read the full disclosure underneath the Privacy Policy.
---
---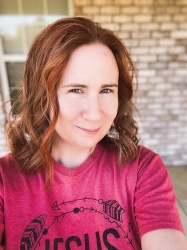 Latest posts by FranJessca
(see all)