Review: 'The Isis Collar' by Cat Adams
May 11, 2012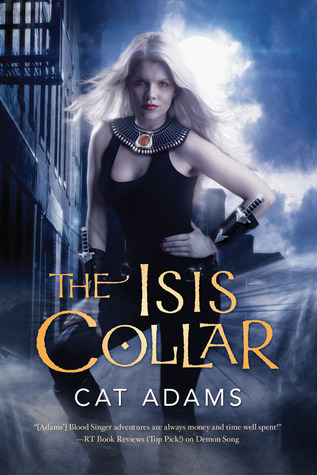 The Isis Collar
by
Cat Adams
Series:
Blood Singer #4
Published by
Tor Books
on March 13th 2012
Genres:
Urban Fantasy
Format:
Paperback
Source:
Library
Goodreads
Purchase at
Amazon
|
Barnes & Noble

A clairvoyant's vision sends Celia racing to evacuate a local elementary school before a concealed magical bomb goes off. She gets almost everyone out but is caught in the explosion!
Amazingly, the bomb seems to cause no damage…until two weeks later, when a stubborn bruise on Celia's leg turns out to be the first sign of a magical zombie plague. Schoolchildren and their parents are the next victims. The cure is both painful and in extremely short supply.
Worse, it soon becomes clear that there are more explosions to come. But helping the FBI track down the bomber isn't Celia's only problem. Her abusive, alcoholic mother has broken out of prison on the Sirens' island; her ghostly little sister has possessed a young girl; and one of Celia's boyfriends has mysteriously disappeared in the middle of a casting.
---

I was excited to read this book since I came upon this series while browsing the shelves at my local library. I actually had the first book my to-be-read for awhile, but never got a chance to read it until last year during the summer.
After I finished reading Demon Song and found out the fourth book would be out during the Spring time of 2012…I added the book to my to-be read and prepared the countdown.
I'm glad though that I didn't buy this book. I was a little disappointed in it, but it still captured my interest in some parts, but not all.
When you first start reading this book, Celia Graves is trying to evacuate a grade school because there's a bomb located in it, but the principal doesn't believe her. Unfortunately, the principal should have listened to Celia. It's not a regular bomb in the school. Celia knows magic is involved with this one and she wished that someone would have believed her because now something is seriously wrong with not only herself, but everyone at the school. She does not even realize something is wrong with her until she realizes she's not healing correctly. Let's not forget the crazy, psycho witch who keeps appearing, which maybe the culprit of the bombings.
Not only is Celia having to deal with the bombing at the school, but now she has to searched down her mother who disappeared from the Siren's Island. She's off to find her drunk mother around town and when she finds her, it's not a happily ever after.
Celia is also dealing with two guys wanting her attention, Bruno and Creede. Creede doesn't really have much of a part in this book like the previous books. He actually disappears for awhile and Celia has been trying to locate him.
I did like the ending of the book and who was the villain in this book. It actually turned out to affect one of my fave characters in the book the most.
I was actually disappointed in of the lack of romance in this book. I also do not know who Celia she hook up with now. Cat Adams…you've made me fall in love with both of the male leads after Celia's heart now. Dang you! Bruno is her ex-lover and he's starting to grow on me now…but then there's Creede who stole my heart awhile back ago. I wanted him more in this book though.
I'm also not a fan of reading about Zombies, which this book tends to lead to because of what is going on with the bombings. I will not spoil the plot line with anyone who has not read this book. If you are into Zombies, you'll love this book.
I recommend this book to Urban Fantasy lovers out there, and zombie fan addicts.
Don't get me wrong…I'm a huge fan of "The Walking Dead" on AMC…but reading about zombies is another story. Maybe later on the zombie reading will grow on me…but I need my romance and more action packed storyline. I'm used to Celia kicking butt.

This post contains affiliate links you can use to purchase the book. If you buy the book using that link, I will receive a small commission from the sale. It will help sponsor future giveaways but costs you nothing extra. You can read the full disclosure underneath the Privacy Policy.
---
---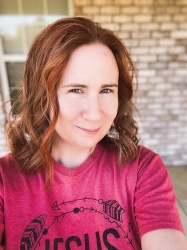 Latest posts by FranJessca
(see all)