Review: 'On These Black Sands' by Vanessa Rasanen
August 30, 2021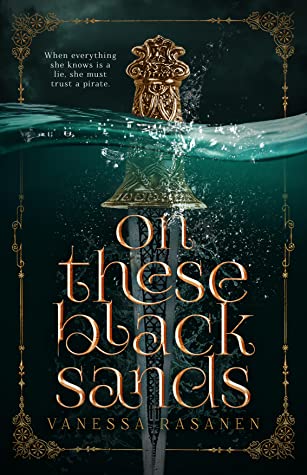 On These Black Sands
by
Vanessa Rasanen
Series:
Aisling Sea #1
Published by
Crab Apple Books
on August 10, 2021
Genres:
New Adult Fantasy
Format:
Paperback
Source:
Purchased
Goodreads
Purchase at
Amazon
|
Barnes & Noble

AN HEIR ON THE RUN
In one month, Aoife Cascade will turn twenty and take her seat on the Council of Cregah, an honor she's been preparing for her whole life. But when she lets a secret slip to her mother with devastating consequences, all her plans for the future crumble. Believing her people to be better off without her, she flees Cregah, stowing away aboard a pirate ship bound for dangerous waters.
A PIRATE CAPTAIN WHO NEEDS HER HELP
Captain Declan McCallagh is young compared to the pirate lords, but after twelve years on the grueling sea, he has earned a well-respected ship and the attention of the lords, who'd like nothing better than to see his ruin. All he wants is to leave the Aisling Sea—and his past—behind him. But when his sister demands he find the enchanted dagger her rebel faction needs to overthrow the ruling Council, he'll have to decide whether to cast off all family ties or take the perilous voyage to waters guarded by sirens, only passable with the help of the last remaining fae, currently imprisoned by the Council.
With murder and betrayal at every turn, can Aoife and Declan learn to rely on one another? Or will the secrets they carry destroy their people—and each other?
---
One day, I was browsing my Instagram stories and noticed one of the bookstagrammers I followed was sharing about On These Black Sands by Vanessa Rasanen. I was immediately intrigued by it due to it being a New Adult Pirate Fantasy book. I knew I had to add it to my Goodreads TBR. I then may have followed the author on Instagram and found out there would be a book box with goodies from Crap Apple that included the book. I went ahead and pre-ordered and waited patiently for the box to be delivered. Then, later on, the author announced that Wicks by Pearl was going to have an On These Black Sands Special Edition candle box. Well, that got purchased, too. =)
Storyline/My Thoughts: For me to not accidentally spoil this book, I'm not going to go into the storyline. The synopsis describes enough of the book for anyone who is wanting to read it. 
First, I have not read many pirate-related books, so I was excited to read this book. Vanessa Rasanen did a fantastic job of introducing the characters and world-building in the first book.
There were so many action-packed scenes and twists and turns that I had difficulty putting down the book. I was hoping to finish the book the week it was released, but unfortunately, my migraines affect my reading schedule sporadically. I'm glad, though, that I got to savor the book longer.
I fell immediately for Declan because he comes off as a ruthless pirate, but he has a soft side. He doesn't want to admit it. He cares for his pirate crew and is determined to complete his mission(s). The minute Aoife comes into his life is when his crew starts noticing a change in him. He won't admit though.
Aoife was a likable character, too. She's run away from the life she has been raised for because she finds out some things that make her question everything. She's never really experienced life until she stows away on Declan's ship. She's curious about everything, which I found relatable. I can't wait to see her grow more in the books.
I enjoyed the storyline so much in this book because it has pirates and fae and magic in it. It kept me wanting more, and I can't wait for the next book, especially after Vanessa Rasanen left a cliffhanger to this book. I was not expecting that sort of cliffhanger.
This book is told from several points of view, which I love reading several points of view. I loved knowing what Declan and Aoife were thinking. There was also Declan's sister, which she was interesting to get to know, too.
This book doesn't have steam in it. aIt does have a long-waited kissing scene. I had been waiting patiently for this scene to happen. I would consider this book a very slow burn with the main characters.
Overall, On These Black Sands receives 4.5 stars from me. I look forward to diving into the next book when it releases. I know this is one book that I will be reading again and again.
Standalone or Part of Series: It's part of the Aisling series, and I would recommend reading in order.
Cliffhanger: Yes.
Would I recommend this book? Yes. If you like books with pirates, fae, and adventure, then this book is for you.

This post contains affiliate links you can use to purchase the book. If you buy the book using that link, I will receive a small commission from the sale. It will help sponsor future giveaways but costs you nothing extra. You can read the full disclosure underneath the Privacy Policy.
---
---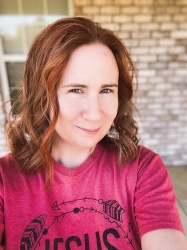 Latest posts by FranJessca
(see all)