Review: 'Over My Brother's Dead Body, Chase Andrews' by Piper Rayne
April 4, 2023
I received a complimentary copy of the book from Valentine PR in exchange for an honest review. This does not affect my opinion of the book or the content of my review.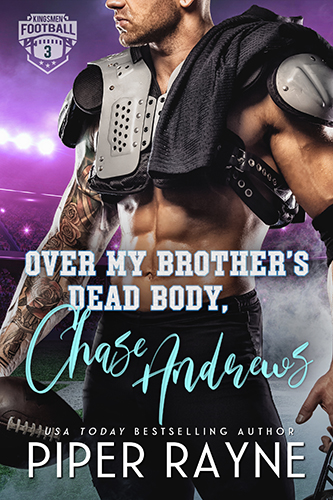 Over My Brother's Dead Body, Chase Andrews
by
Piper Rayne
Series:
Kingsmen Football Stars #3
Published by
Self-Published
on April 4, 2023
Genres:
Contemporary Romance
Format:
eArc
Source:
Valentine PR
Goodreads
Purchase at
Amazon
|
Apple
|
Barnes & Noble
|
Google Play
|
Kobo

Chase Andrews.
The Kingsmen's top tight end.My brother's friend and teammate.My new neighbor.The grumpy to my sunshine.
But underneath that grumpy exterior, there's so much more.
Chase likes to pretend nothing affects him, but I've seen glimpses of his other side in the time we've spent together.
And the more we get to know each other, the more I'm falling for him.
Under normal circumstances, this would be great. Except my hyper-protective big brother thinks no man is good enough for me, and my ex-fiancé is trying to win me back.
One charming, seemingly good man already broke my heart. Am I stupid to give a self-confessed relationship-adverse football player a chance to break it a second time?
---
If you are like me and have been anxiously waiting for Chase Andrews's book since he was introduced in the first book of the Kingsmen Football Star series, then this book is for you. The author duo Piper Rayne gives us the grumpy Chase Andrews and the woman that will bring out his softer side. Piper Rayne delivered yet another book that was hard to put down and another MMC who is book-boyfriend material
Storyline/My Thoughts: If there is one thing I love in romance books is the grumpy MMC, and Chase Andrews personifies grumpy. He's the one that keeps to himself and doesn't go into detail about his love life, or personal life, period on the Kingsmen Football team in San Francisco. He does have a thing for his fellow teammate's little sister, Twyla, but he knows it's wrong to try anything with her, especially after her ex-fiance broke her heart. The issue is now she's his neighbor since she decided to leave her small hometown and get away for a while and babysit Chase's neighbor's pet and condo for a bit. He can't seem to stay away from her, especially when his teammate, her brother, Miles, asks him to keep an eye on her. This is bound to backfire on Chase, especially when Twyla is very tempting to him when they start to hang out more.
I loved Chase and Twyla's chemistry in and out of the bedroom in their book. It does take a bit for these two to end up having any intimacy together, but that's due to hang-ups on both sides. When they did have those intimate moments, it was steam-worthy. Chase is not afraid to dominate on what he wants and will even surprise Twyla with his mouth in the bedroom, or was it the bathroom the first time with them? You'll have to read the book to find out. 😉
I loved the moments when they were getting to know one another too. They definitely were meant to be together. He is the grump to Twyla's sweet, sunshiney side. Don't let that fool you; this football player is a sweetheart with a soft side. He repeatedly proves it in this book, even if he fails to admit it, because he has a reputation to keep on the football team. He becomes a big softy when it comes to a kitten he cares for because of Twyla. This kitten is why Twlya and Chase are together in the first place. Chase also has a protective side and will not let anyone disrespect Twyla. Twyla is taken aback by Chase whenever she gets to spend time with him in a group setting and even alone because she's getting to see the real Chase.
Yeah, there's no doubt that Chase Andrews is a fave Kingsmen Football Star after reading his book. I liked Twyla's character, too, but she gave me whiplash whenever she made certain choices I questioned in the book. It all boiled down to her realizing that the man that genuinely wanted her would do anything for her, even give her up, if he had to since he wanted her happiness. Unlike the douche she had been engaged to, who needed to stay out of her newfound happiness. I didn't like that guy and hated when he popped up or even if his name was mentioned. I knew Chase didn't like him either. He despised him as much as Twyla's brother, Miles, did, and Miles didn't like him initially.
I give this book four stars, and I'm sad to know the Kingsmen Football Star series is finished, but I'm ecstatic to read Miles's books next in the new series, Chicago Grizzlies. He's another character I've wanted to read his book, especially with who the FMC is in his book.
Standalone or Part of Series: It's part of the Kingsmen Football Stars series, but each book can be read as a standalone.
Steam/Spice: 🌶 🌶
Genre/SubGenre(s)/Trope(s)/Element(s): Romance. Contemporary Romance. Sports/Football Romance. Grumpy vs. Sunshine. Opposite's Attract. Brother's Best Friend Romance. Neighbors to Lovers. Secret Romance. Football Player MMC. House/Pet Sitter FMC. Teacher FMC.
Would I recommend this book? Yes. I recommend this book to fans of Piper Rayne and readers who love Sports/Football Romances with a Grumpy MMC and Sunshine FMC in their stories.

---
---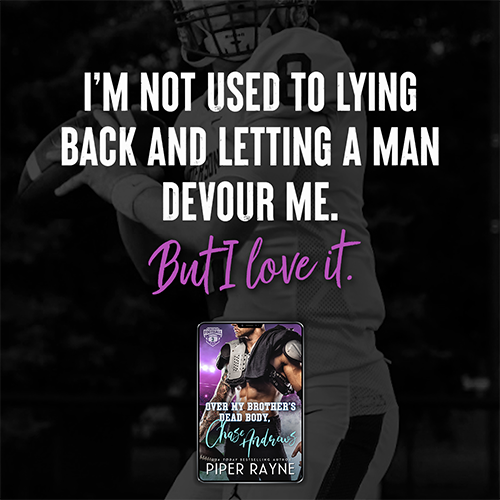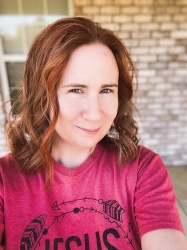 Latest posts by FranJessca
(see all)