Review – "Passion Unleashed" by Larissa Ione
February 16, 2012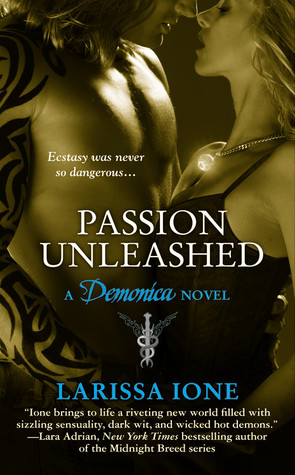 Passion Unleashed
by
Larissa Ione
Series:
Demonica #3
Published by
Forever
on March 31st 2009
Genres:
Paranormal Romance
Format:
Paperback
Source:
Purchased
Goodreads
Purchase at
Amazon
|
Apple

FORBIDDEN TEMPTATIONS
Serena Kelley is an archaeologist and treasure hunter-and a woman with a secret. Since she was seven, she's been the keeper of a powerful charm that grants her health and immortality . . . as long as she stays a virgin. But Serena isn't all that innocent. And when a dangerously handsome stranger brings her to the brink of ecstasy, she wonders if she's finally met the one man she cannot resist.
FATAL DESIRES
Wraith is a Seminus demon with a death wish. But when an old enemy poisons him, he must find Serena and persuade her to give him the only known antidote in the universe-her charm. Yet, as she begins to surrender to his seductions and Wraith senses the cure is within his grasp, he realizes a horrible truth: He's falling for the woman whose life he must take in order to save his own.
My Review

(Originally Reviewed on Mrs. Papillion aka "The Book Worm")
My thoughts of why I loved this book and why I had a hard time putting it down…let's just say, I will forever love Larissa Ione's writing style. She reminds me of Gena Showalter and J.R. Ward. Where she'll go back and forth to each character and even throw in other characters in the mix. She'll throw in a another twist in the story and also throw in the characters she'll be writing about in her next book. She gets you prepared for the next book, which is GREAT.
What I loved most of this book, was the character Serena and how she was always tempted to be with Wraith, but she always had the willpower to stop herself. Wraith turned into another person in this book and you found out the softer side to him. Seminum demons will do anything to be with the women they love and he proved it in this book. What he did to Serena was awful, but he made up for it at the end. I fell in love with both these characters. They definitely were meant to be with each other. Serena a beautiful charmed woman and Wraith a evil vampire who did everything to get into trouble met his match when he met Serena. I loved the ending too because their was a twist for Wraith at the end and he had to grow up even more and I was proud of his decision. I was even surprised of Serena and how she accepted Wraith and his past.
Thank you, Larissa Ione for feeding me my Demon Addiction now. =)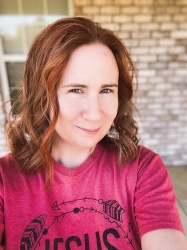 Latest posts by FranJessca
(see all)