Review – "Pleasure Unbound" by Larissa Ione
February 13, 2012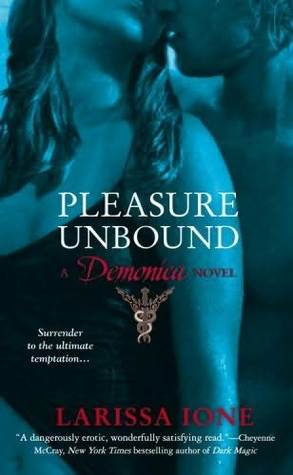 Pleasure Unbound
by
Larissa Ione
Series:
Demonica #1
Published by
Forever
on July 1st 2008
Genres:
Paranormal Romance
Format:
Paperback
Source:
Purchased
Goodreads
Purchase at
Amazon
|
Apple

In a place where ecstasy can cost you your life . . .
She's a demon-slayer who hungers for sensual pleasure-but fears it will always be denied her. Until Tayla Mancuso lands in a hospital run by demons in disguise, and the head doctor, Eidolon, makes her body burn with unslakable desire. But to prove her ultimate loyalty to her peers, she must betray the surgeon who saved her life.
Two lovers will dare to risk all.
Eidolon cannot resist this fiery, dangerous woman who fills him with both rage and passion. Not only is she his avowed enemy, but she could very well be the hunter who has been preying upon his people. Torn between his need for the truth and his quest to find his perfect mate before a horrific transformation claims him forever, Eidolon will dare the unthinkable-and let Tayla possess him, body and soul . . .
My Review:
(Originally Reviewed on Mrs. Papillion aka "The Book Worm" in 2010)
This series reminds me of the Alien Huntress Series by Gena Showalter a little bit. It has the same kind of world in it like the aliens that Gena writes about, but Larissa is writing about demons instead. The Demonica Series has bad and good demons and also has slayers that kill the demons.
Of course you have the demon in the story who falls in love, but he ends up falling in love with a slayer. Eidolon is a doctor at UG Hospital and he happens to come across Tayla because she gets injured in one of her fights with a demon and is almost on the verge of death, but Eidolon saves her. He doesn't know why in the beginning, but for some reason he is drawn to her. Tayla of course has something strange about her, that Eidolon finds out.
I love the characters in the story. Tayla is tough and determined to stay the path she's on because all she's known is The Aegis. Eidolon is determined to not make "The Change" that his demon species makes after their 1000 year mark. Eidolon is a sweetheart in this book. I wouldn't mind having him as my doctor. Tayla is definitely well taken care of in the book and I'm kind of jealous of her. It did take me awhile to finish this book, but not because I wasn't interested. I was just too busy to pick up my book, which of course had me irritated. I love reading on my downtime, but it seems on my downtime I rather sleep right now. Work has been crazy the last couple of weeks and I'm looking forward to September when I have some vacation time again and I'm there for my daughter when she goes to school. I definitely love Larissa Ione's Demonica Series and I'm looking forward to reading the next book. Larissa Ione has become a author I will follow for awhile. Her books are addictive so far and I definitely categorized her with Gena Showalter and Kresley Cole. =)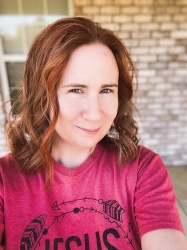 Latest posts by FranJessca
(see all)