Review: 'Redemption' by Elise Marion
November 23, 2012
I received a complimentary copy of the book from the author in exchange for an honest review. This does not affect my opinion of the book or the content of my review.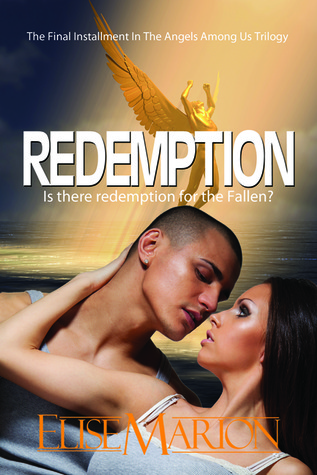 Redemption
by
Elise Marion
Series:
Angels Among Us #3
Published by
Marion Press
on November 11, 2012
Genres:
Paranormal Romance
Format:
eArc
Source:
the author
Goodreads
Purchase at
Amazon

In a world full of the sick and dying, the hurting and desperate, and those lost in darkness, angels dwell.
Once a Warrior Angel, Nathaniel has now become one of the Fallen, after losing sight of his purpose. Fallen angels are cursed to wander the depths for all of eternity, a fate that Nathan has avoided every day for the past seven years. As the demon within him grows, he knows that it is only a matter of time until he becomes a monster. His love of a human woman is what caused him to lose his wings, yet Nathan cannot bring himself to regret it, or the child that came of their love. It is that child's identity as a Naphil—half angel, half human—that threatens the existence of everyone he loves and Nathan finds himself having to face his past in order to secure his son's future.
Carmen Rodriguez lives her life in constant fear. The power of her son grows every day, leaving him vulnerable to the plans of the Evil One. When a demon's bold abduction puts Carmen in a desperate position, she turns to the only one who can bring him back. Nathan warns her that the road to rescuing their son will be a treacherous one … one that leads them straight into lair of the Prince of Darkness.The third and final installment of the Angels Among Us series goes where it never has before.
Even in the very pits of hell, can an angel find salvation? Will the love that Nathan has for Carmen and his son be enough, or will Nathan finally have to face the consequences of his actions.
Is there redemption for the Fallen?
My Review
The last installment to the Angels Among Us Trilogy was full of emotions, action, and very steamy scenes.
It ended the Angels Among Us books very well and also opened up a new installment that I know Elise Marion will make us love just like she did with the Angels.
Nathaniel was a Warrior Angel at one time until he fell in love and made the mistake of pursuing that love. He knew that he should not have fallen for the beautiful woman he met while dancing. He knew his actions would lead him losing his wings forever and becoming one of the Fallen. He could not stop his feelings for the beautiful woman though who captured his heart, and now she needs his help more than ever, but he has been dealing with seven years of not turning into the demon that he made himself become.
Carmen Rodriguez has been trying to move on with her life with her son who is Nathaniel's. She did not know that one night of passion would give her such a fantastic son who now has Guardians looking after him since demons want her son to help them in their battle. Her son is going to be one very powerful Naphil (half angel/half human). His Guardians who are Sarah and Jackson will do about anything to keep himself. He even has a Warrior Angel by the name of Reniel to keep him safe as well.
Unfortunately, they were not prepared for what the demon who wants him for himself to open a portal and steal him in minced a battle.
Now Nathaniel has to help his past love to find their son and bring him back and also help Carmen with her Oracle powers that she is still trying to learn.
I could go on in the description of the book, but I will give too much away. This is the final installment, so I do not want to give it away.
Elise Marion made the Angels Among Us go out with a bang. She also picked the perfect characters to finish the trilogy as well. She even brought in previous characters from "Tempted" since they played a vital role in this book. Can I say…I love Reniel of the prior book and now this book even more. =)
I felt a very close connection with the character, Carmen, since she is one strong female who can handle anything and she will do anything to get her son back.
Nathaniel who had me fighting his demon from taking over was terrific as well. He challenged the hardest of them all because he did not want to become what Lucifer wanted him to be.
The ending was epic, and I look forward to the spin-off series even more after getting a small glimpse into it at the end of "Redemption." I was wondering since there were questions at the end that needed to be answered.
Even the angels said there's more going on that needs to be finished. Angels Among Us just introduced us to three angels who fell in love and how they were able to live their lives with their loved ones. There's a battle now that needs to be conquered or should I say battles.
Elise Marion did not disappoint in the last book, and it had me crying as well. I love her writing style since it is very descriptive, powerful, and emotional.
If you have not read this trilogy yet, what are you waiting for?
Warning though, you will miss the Angels after your done reading all three books.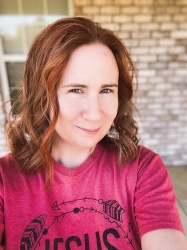 Latest posts by FranJessca
(see all)