Review: 'Samael' by Julie Morgan #CMCon23
September 6, 2022
This book may be unsuitable for people under 18 years of age due to its use of sexual content, drug and alcohol use, and/or violence.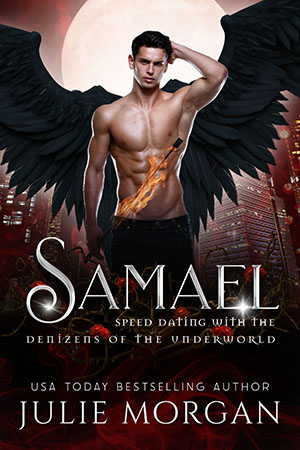 Samael
by
Julie Morgan
Series:
Speed Dating with the Denizens of the Underworld #4
Published by
Naughty Nights Press LLC
on June 14, 2022
Genres:
Paranormal Romance
Format:
eBook
Source:
Purchased
Goodreads
Purchase at
Amazon
|
Barnes & Noble
|
Kobo

When the Prince of Hell finally meets his match, it's no longer about collecting sin…
Samael has everything he needs at the snap of his fingers. As the owner of a Den of Sin, he offers desires fit for every person in the world. Those who come in never leave the same. But what happens if he has desires of his own?
Isabella Wallace relocated to LA just over a year ago. She started a new job, and began life with a fresh vivacity. When she is offered a chance at a speed dating mingle at DeLux Café, she's hesitant at first. Determined to have a good time at this mingle, she doesn't count on being attacked on her way there and dragged into an alley. She suspects she's about to die, but what she doesn't expect is to fall into the arms of a beautiful stranger.
Samael is book four in the Speed Dating with the Denizens of the Underworld shared world, filled with innocent humans, seductive demons, and a decadently sinful nightclub where your innermost desires may become reality.
---
Samael by Julie Morgan is the fourth book in the Speed Dating with the Denizens of the Underworld series. I was excited to read Julie Morgan's book in the series, but I was not expecting what I read during the first few pages. Oh my! This book is a HOT one! Samael is now listed as one of my favorite MMCs, and he gets the title of Book Boyfriend. 
Storyline/My Thoughts: This time around, Samael, the Prince of Hell, who owns a sex club named Den of Sin, is about to meet his match when he saves the FMC, Isabella Wallace, from being attacked in an alley. He never suspects the woman he saved is his fated mate. He decides to grace his presence at the DeLux Cafe for the speed dating event, so he can feed on the lust that the individuals have at the event. He never suspects running into the woman he saved, and Samael is about to find out right away that he can't stay away from her, even if he wants to try. Samael is used to getting what he wants and giving others their desires with consequences. He's intrigued by Isabella and wants to give her things he never wanted to give any other woman. He is very protective of her, too, which is something new to him.
What can I say about this book and the characters without giving anything away? Julie Morgan had me from the first to the last page with the storyline and the two main characters. I love when authors can make me fall for their characters immediately, and Julie did just that and more.
I loved the chemistry between Samael and Isabella. I loved Samael! The first scene in the book had my mouth hanging open that involved Samael at his sex club, Den of Sin. If you enjoy your MMCs that are Dom, then you'll love Samael. I love reading books that involve BDSM in books. It's one of my favorite themes in romance books, and I haven't read much of it in PNR books. I've only read it mostly in Contemporary/Erotic books. I loved how he convinced Isabella to give in to her fantasies, too, with him, even if she was initially hesitant to try. It took her going to his club to find some of what she liked.
I loved Isabella's character too. She was initially scared to discover what Samael was into and kept internally talking to herself, not believing she was enjoying it. I loved how she did a switch in the book.
There is drama in the book. Isabella was dealing with an ex-boyfriend who couldn't seem to get that she didn't want anything to do with him, and he stalked her. She even had a restraining order on him. This book has 'Touch Her and I'll Unalive You' vibes because no one will get away with threatening Samael's fated mate after he realizes what she is to him.
Let's talk about spice in this book – It's off the charts HOT! I'm giving this book five stars for the story and characters, and I'm giving it five for spiciness.
Julie Morgan has a new fan, and I can't wait to read her other books. My bank card will be hurting now because I have several books I need to read from Julie Morgan. It's worth it, though. Thanks to Coastal Magic Convention for introducing her books to me.
Standalone or Part of Series: It's part of a series, but each follows new characters, so can be read as a standalone.
Steam/Spice: ⭐️ ⭐️ ⭐️ ⭐️ ⭐️
Trope(s)/Element(s): Fated Mates, Opposite's Attract, Touch Her and I'll Unalive You, BDSM – Dom/Sub.
HEA: Yes.
Would I recommend this book? Most definitely, yes. Get this book immediately if you enjoy PNR, which has BDSM in it, and an MMC who owns a sex club. The sex club owner is a sexy, alpha Fallen Angel/Demon that falls hard for a human.

This post contains affiliate links you can use to purchase the book. If you buy the book using that link, I will receive a small commission from the sale. It will help sponsor future giveaways but costs you nothing extra. You can read the full disclosure underneath the Privacy Policy.
---
---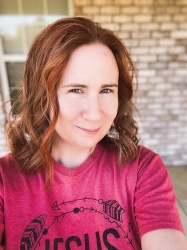 Latest posts by FranJessca
(see all)