Review: 'Sapphire' by Jeffe Kennedy
October 27, 2011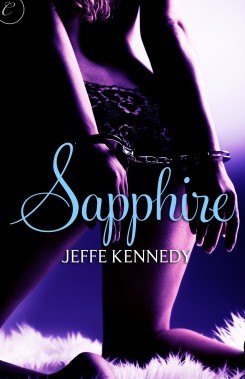 Sapphire
by
Jeffe Kennedy
Series:
Facets of Passion #1
Published by
Carina Press
on October 1st 2011
Genres:
Erotic Romance
Format:
eArc
Source:
Netgalley
Goodreads
Purchase at
Amazon
|
Apple

A successful executive, M. Taylor Hamilton is on track with her ten-year plan. Too bad her personal life consists of hitting the gym and grocery shopping. Enter the seductive Adam Kirliss. They may have a working relationship, but everything changes at an office party when he handcuffs her to the rail of a yacht.
Taylor writes off the adventure as too much champagne, but when Adam challenges her to a date, she agrees to meet up with him. And follow his rules. They share a night of exquisite intimacy, brimming with both pain and pleasure. But afterward, fearful of losing her heart, Taylor pulls back emotionally.
Adam is determined to prove that she longs for the loss of control he can give her--and the passionate release it provides. How can he make her see that he wants her, and not just her body?
32,000 words
My Review
(Originally Reviewed on Mrs. Papillion aka "The Book Worm")
I haven't read Erotica in awhile and when I got a chance to read and review "Sapphire" by Jeffe Kennedy…I jumped on it. What captured my attention the most was the description of the book and then the cover. A book that shows someone in handcuffs has to be good, right?
From the beginning to the end, this book is intense. M. Taylor Hamilton is one woman who thinks work is her life. She never has fun and never gets loose until she is put into an enticing and sexy situation with sexy, mystery and out of control Adam Kirliss on her boss's yacht. They've always had a working relationship, and she never gave him a chance for anything else, but when he starts showing a darker side and makes Taylor do things, she never thought she would allow Taylor starts realizing maybe she has another side to herself, that she may like better.
Adam's primary focus to break Taylor from her hard life and make her realize she can lose control every once in a while.
What Adam does to Taylor though, is just way overboard KINKY.
Jeffe had the sex scenes get steamy and erotic in certain parts of the books. Taylor had to trust Adam with her body and her emotions when it came to Adam's sex control. I don't think I would allow some guy who I hardly know take control like Taylor did with Adam….until Jeffe described Adam a little more in the book and then I changed my mind. Yum!!!
Adam is a perfect match for Taylor, and I'm glad he got her to open up and break her shell. At the end of the book, it takes a twist which opens up Taylor even more. I love it!!
I gave this book 4 full moons because it had me keep reading until the end. I had to stop reading certain parts to cool down though. =)
My hubby has always wondered why I loved reading romance and erotica. Books like this give me ideas on what we could together. =) Thank you, Jeffe Kennedy, for some ideas that I definitely wouldn't mind trying out…although there is one thing I won't try…it's just too far out there for me. LOL
I definitely will be keeping up with Jeffe's books now after I read this book and I recommend this book to anyone who likes erotica. I even recommend for anyone who isn't comfortable with erotica. This book will take you out of your comfort zone and who knows, maybe bring out another side you never knew about, as Adam did to Taylor.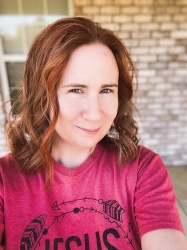 Latest posts by FranJessca
(see all)