Review: 'Savage Bonds' by J. Bree
October 13, 2022
This book may be unsuitable for people under 18 years of age due to its use of sexual content, drug and alcohol use, and/or violence.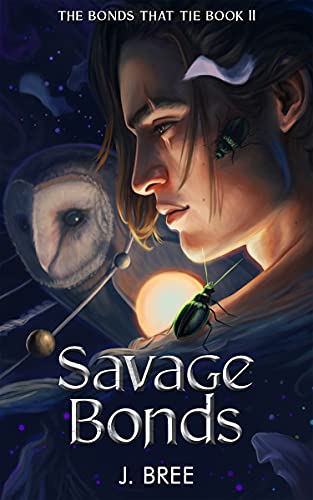 Savage Bonds
by
J. Bree
Series:
The Bonds That Tie #2
Published by
Self-Published
on September 26, 2021
Genres:
Dark Paranormal Reverse Harem Romance
Format:
eBook
Source:
Kindle Unlimited
Goodreads
Purchase at
Amazon
|
Kobo

With my gift coursing through my veins, the tables have turned on the Draven Campus.
I'm no longer the Giftless reject, no longer the girl who's fair game to the other students for daring to run away from my Bonds.
But there are bigger problems heading my way.
With destiny pushing me closer and closer to each of my Bonds, I'm fighting tooth and nail against nature to keep my distance.
But they're fighting harder to keep me in their grasp.
When it becomes clear that the Resistance is closer than we ever thought, I don't know who I can trust.
Can I finally take control of my gift, or will it take control of me?
*Savage Bonds is a full length reverse harem PNR novel with material that may be difficult for some readers. This book will end on a cliffhanger. It's recommended for 18+ due to language and sexual situations.
---
Savage Bonds is the second book from J. Bree's The Bonds That Tie series, and oh boy, this one knocked the socks off my feet when reading it. Holy crap! If you have not started this series, I recommend you do it soon. The last book in the series releases at the end of October 2022, and I'm so glad I started this series late in the game, so I didn't have to wait in between books because J. Bree leaves her readers on cliffhangers. I thought the last book's cliffhanger was a good one, no this one was a big surprise ending, and I'm going to be immediately diving into the third book because of it. 
Storyline/My Thoughts: What are my thoughts on the second book? This one gets five stars because it kept me on edge while reading it. Oli lives in the Draven mansion, and her bond is acting up even more now since she's unleashed her powers. She's having difficulty controlling her actions, especially when her bonds are in trouble or injured. It also doesn't help when two of the bonds have women around them, and she gets instantly jealous of the women. It takes a few of her bonds, watching over her and keeping her calm, so she doesn't go on a murderous rampage over those women who try to come between her bonds.
Readers will discover what she is in this book, and she's being called a monster. She's potentially the deadliest of her bonds, and the bonds should be worried about how she reacts to certain things. I love her character and how strong she is out of everyone. I also love how she cares for not only her bonds but her friends, too. Don't mess with anyone in Oli's circle.
Atlas won me over in the last book because he didn't judge Oli for her actions, and he still won me over in this book, but now I have Gabe and Gryphon, who I adore too after reading the second book.
In this book, Oli is forced to sleep in a room on rotation with each of her bonds so her bond doesn't act up. This means, eventually, she has to be in the same room as the Draven brothers. I know that eventually, Nox will change, and I may end up liking him, but for now, he will remain on my poopy list. Although, his shadowy nightmare creatures have taken a liking to Oli, which I found adorable, even if they are meant to be scary. Oli has one attached to her, following her everywhere, which makes others scared when the creature comes out of hiding. North has creatures, too, like his brother, but they don't act the same, but there was a scene in this book that had me cracking up because of how everyone acted when Oli petted one of North's creatures. Everyone else is scared of the Draven brothers' nightmares, but Oli.
I liked discovering more about Oli's bonds in this book and their powers. Each is unique, and I can see why the Council worries about how much power Oli and her bonds will have if they bond completely.
J. Bree went into detail a bit on how you find out who your bonds are in this book, which is something I wanted to know when I read the first book. Some things come to light with a secondary character, Oli's friend, and the dilemma she is facing with her bonds. Oh, boy, it's a doozy!!!
Let's not forget about the real threat: the Resistance. They are still kidnapping the gifted and getting closer to Oli. She knows she should run again, but that dang chip prevents her from running, plus her friends and how close she is getting with some of her bonds. Oli is at risk of her bonds finding out the truth of what happened to her when trying to hide from everyone.
This book has some spice. There's a lot of tension, too, but there is spice.
It involves Oli and one of her bonds, and I'm not telling which one. I felt it would happen because Oli is feeling things in this book that she wouldn't have felt in the first book since she was hiding her powers.
I felt for Oli more after reading this book because of how people treated her after she revealed her powers; now, everyone knows about her. They were judgmental of her, and I wanted to hug her and yell at everyone who was calling her a monster. Thankfully, her bonds, especially Atlas, Gryphon, and Gabe, will not tolerate someone talking about Oli in a derogatory way. North and Nox, not so much. North may be winning me over towards the end of this book, but again, Nox, I don't like you right now. I only like your shadowy creatures.
When an author such as J. Bree can make me pick and choose from the characters she writes in her books on who my favorite is, I know I'm going to be in for it later in the books. She's going to make me do a 360, isn't she? I'm going to end up loving the Draven brothers more, aren't I? Okay, I'm prepared for it because I love morally grey characters that win me over, eventually. Right now, Atlas is still my favorite.
Overall, I give the second book in the series five stars, and I can't wait to read where J. Bree takes me next in this series. Will my heart survive it?
Standalone or Part of Series: It's part of The Bonds That Tie series, and I recommend reading in order.
Steam/Spice: 🌶 🌶 🌶
Trope(s)/Element(s): Fated Mates – Originally Rejected. Slow Burn. Touch Her and I'll Unalive You. Touch Him and I'll Unalive You, Too. Forced Proximity. Enemies to Lovers. Praise.
Trigger(s): Unaliving. Violence. Bullying.
Cliffhanger: Yes.
Would I recommend this book? Yes. If you enjoy NA Paranormal Romance with Reverse Harem/Why Choose, this book/series is for you.
Favorite Quote(s): I feel like if I murdered this man right now, I could argue my case in court and have it be counted as justifiable.
"If you burn, I burn with you. You're not alone, Oli, not for one second. I told you before, I'm not afraid."
"You're in so far over your head, she's going to eat you all alive and I'm going to enjoy the show."

This post contains affiliate links you can use to purchase the book. If you buy the book using that link, I will receive a small commission from the sale. It will help sponsor future giveaways but costs you nothing extra. You can read the full disclosure underneath the Privacy Policy.
---
---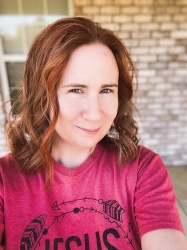 Latest posts by FranJessca
(see all)