Review: 'Shadowfever' by Karen Marie Moning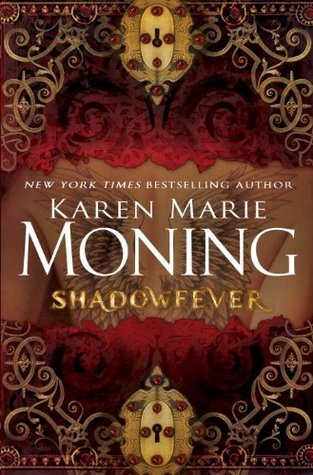 Shadowfever
by
Karen Marie Moning
Series:
Fever #5
Published by
Delacorte Press
on January 18th 2011
Genres:
Urban Fantasy
Pages:
608
Format:
AudioBook
Source:
Purchased
Amazon Kindle
|
Amazon Paperback
Goodreads

"Evil is a completely different creature, Mac. Evil is bad that believes it's good." — MacKayla Lane was just a child when she and her sister, Alina, were given up for adoption and banished from Ireland forever. — Twenty years later, Alina is dead and Mac has returned to the country that expelled them to hunt her sister's murderer. But after discovering that she descends from a bloodline both gifted and cursed, Mac is plunged into a secret history: an ancient conflict between humans and immortals who have lived concealed among us for thousands of years.
What follows is a shocking chain of events with devastating consequences, and now Mac struggles to cope with grief while continuing her mission to acquire and control the Sinsar Dubh -- a book of dark, forbidden magic scribed by the mythical Unseelie King, containing the power to create and destroy worlds.
In an epic battle between humans and Fae, the hunter becomes the hunted when the Sinsar Dubh turns on Mac and begins mowing a deadly path through those she loves.
Who can she turn to? Who can she trust? Who is the woman haunting her dreams? More important, who is Mac herself and what is the destiny she glimpses in the black and crimson designs of an ancient tarot card?
From the luxury of the Lord Master's penthouse to the sordid depths of an Unseelie nightclub, from the erotic bed of her lover to the terrifying bed of the Unseelie King, Mac's journey will force her to face the truth of her exile, and to make a choice that will either save the world . . . or destroy it.
My Review
(Originally Reviewed on Mrs. Papillion aka "The Book Worm")
What a BOOK!! I had a hard time putting this book down. This book has ended up being in my Top Ten books I've ever read. I think I'll put it at #2 on my list. I can't put it at #1 though since Anne Rice's "The Mummy" still holds that. While reading this book, you'll be on the edge of your seat. Karen Marie Moning even throws you off several times in this book.
I ended up getting pissed in some parts, but that's a good thing, not a bad thing. I won't summarize the book for you..because that would take too long. What are my favorite parts in the book well let's say I finally found out what Barrons is. Hell Yes!!! And even after finding out what he is I still love the Man. The sex in this book was so intense. All I can say is Mackayla is one lucky woman. Another part in the book that was my favorite was finding out the truth at the end about the book, Mac and get this even, V'Lane. I wasn't also expecting that. Oh…and, the big kicker, is when the Unseelie King made an appearance. Yes, I want to find out more about him hopefully soon.
What pissed me off in the book, but in a good way, was that Mac found out who killed her sister and I was upset to find out who it was. I cried during that part. Poor Mac! I could go on and on about what I loved about this book and why I just had a hard time putting it down…but here is what I want to say to everyone who hasn't read this book or the series…Why haven't you? You are regretting it if you haven't. I chose to put my other TBR books on hold to read this series, and I don't regret it for a moment. Now I have to play catch up with my books at home, my library books, and my to-review lists, but that's okay. Now I have plenty of time to play catchup until Karen Marie Moning writes her first book for the spin-off to the Fever series…which will be more about Dani O'Malley. Karen Marie Moning, I look forward to the next books in the series after the spin-off series. Please continue writing the way you do, and you will always have a fan reading and obsessing over your books. I have the Fever! =)


I guess I should type a bio here. I'm FranJessca or Fran for short. I'm the owner of Book Lovin' Mamas and main Reviewer. I've been reviewing books since I got out of the Navy in 2011. Now 8 years later, I'm still reviewing, but this time with my youngest sidekick.
When I'm not reading and reviewing, you can find me at my day job during the week and on the weekend taking care of our little farm.

Latest posts by FranJessca (see all)