Review – 'Sin Undone' by Larissa Ione
February 16, 2012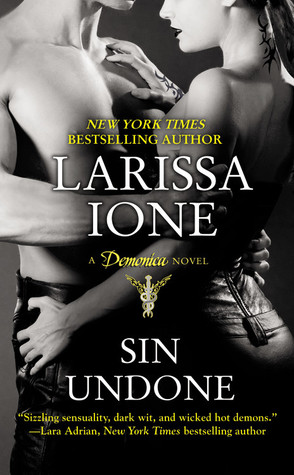 Sin Undone
by
Larissa Ione
Series:
Demonica #5
Published by
Grand Central Publishing
on August 24th 2010
Genres:
Paranormal Romance
Format:
Paperback
Source:
Purchased
Goodreads
Purchase at
Amazon
|
Apple

HER TOUCH IS DEADLYAs the only female Seminus demon ever born, master assassin Sinead Donnelly is used to being treated like an outcast. She spent decades enslaved, and now vows she'll die before she'll relinquish her freedom again. Then Sin's innate ability to kill her enemies goes awry: She creates a lethal new werewolf virus that sparks a firestorm of panic and violence. HIS HUNGER CAN'T BE DENIEDHalf-werewolf, half-vampire Conall Dearghul is charged with bringing in Sin to face punishment for the plague. And she's no stranger: He's bound to her by blood, and the one sexual encounter they shared has left him hungering for her raw sensuality. Worse, Sin is the underworld's most wanted and Con soon learns he's the only one who can help her . . . and that saving her life might mean sacrificing his own.
(Originally Reviewed on Mrs. Papillion aka "The Book Worm")
Let me just say this…I'm really upset to hear that this is the last book in the Demonica Series. I loved reading about Demons. My Demon fix though will be put to a halt now. I guess I'll have to re-read the series eventually if I want my fix again, which I definitely don't mind.
On to the Review though…Larissa Ione couldn't of picked the best two to finish out the series…Sin and Conall are perfect together. Sin who is been through so much since she was born and Conall who is been through a lot in his lifetime as well.
Sin unfortunately creates a virus that is killing off ALL the turned werewolves. Conall has to find away to stop it and stop her. He falls in love with her though. He actually messed with Sin in the previous book though so I got a feel on how Sin and Conall got together. Sin has a lot on her shoulders in this book. Not only do the werewolves want to stop the virus that she is spreading and kill her…but her assassins that she has working for her want her dead too because they want to take over. Geez…poor Sin!! Conall will stop at nothing to find out how to stop the virus and also be with Sin. Sin keeps pushing him away though. I was surprised at the ending. I couldn't put this book down when I was reading it. Thank you, Larissa for making a PERFECT book for the ending to the Series. I'm sad the series is over…but I'm looking forward to your next series that you are writing about. Looks like the Demonica series will be another series I will read over and over again. =) I can't wait to read the New Series..which will happen soon. Thank you again Larissa Ione for my Demon fix. I loved all these Demons!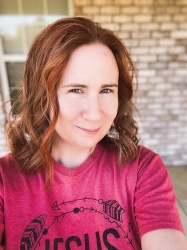 Latest posts by FranJessca
(see all)