Review: 'Sinner's Obsession' by Bianca Borell
February 23, 2023
I received a complimentary copy of the book from Grey's Promotions in exchange for an honest review. This does not affect my opinion of the book or the content of my review.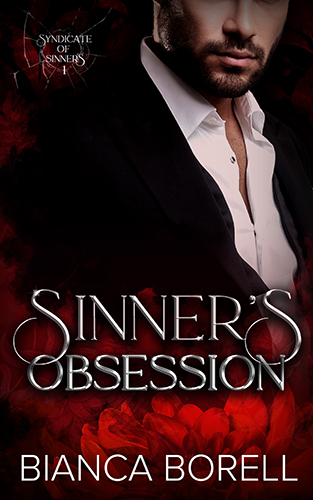 Sinner's Obsession
by
Bianca Borell
Series:
Syndicate of Sinners #1
Published by
Self-Published
on February 23, 2023
Genres:
Dark Romance
Format:
eArc
Source:
Grey's Promotions
Goodreads
Purchase at
Amazon

When sin and innocence collide, passion ignites.
Aurora McNamara refuses to continue living in fear. More than anything, she yearns to be free from her cruel father and his nefarious plans.
When she's whisked away under the cloak of darkness, her circumstances take an unexpected turn.
Unwilling to allow her choices to be taken from her once more, Aurora plots her escape. But how can she tear herself away from the one man whose skilled touches and tantalizing kisses leave her breathless?
Kieran Hunt belongs to one of the world's most feared syndicates. Cold. Ruthless. Jaded. A merciless sinner with no conscience and no regrets. His sole goal is to destroy the man responsible for his father's death.
By honoring a blood oath, he claims Aurora as his wife. But what was meant to be a marriage of obligation instead awakens intense feelings he can't ignore.
Aurora, with her innocent beauty, is his and anyone who dares to challenge that will feel his wrath. Can a marriage filled with secrets and ever-lurking danger survive? Or will their blooming love prove powerful enough to overcome all obstacles?
---
Sinner's Obsession is the first book in Bianca's new series, Syndicates of Sinners. If you have never read Dark Romance before, this subgenre has dark elements, which means it will have mature and graphic content that may trigger some readers. Bianca lists some of the content warnings at the beginning of the book. 
Storyline/My Thoughts: I'm all for a book with an OTT jealous/possessive MMC and FMC that is in danger and needs saving. This is precisely what the MMC, Kieran Hunt, and FMC, Aurora McNamara, were in Sinner's Obsession. Don't let me forget to mention it has the Brother's Best Friend and Force Marriage Trope, too. Two of my favorite tropes are mixed in a romance story of a heroine who needs saving from her own father, who doesn't even treat her like a daughter. He treats her like crap and has something sinister for her. Aurora's brother Cameron calls in a favor and asks his best friend, Kieran Hunt, to save her from a fate that could ruin her innocence. Kieran is not the same boy Aurora knew when she was younger and had a crush on him. He's out for revenge for what happened to his family, particularly his father, and taking Aurora from her father will help with that revenge. 
I always love revenge stories, and Kieran has every right to revenge. I was all for what he had planned, even when he hesitated to take Aurora. Kieran is not a character to cross in the story, and I'm glad Bianca wrote this book with dual points of view. I loved reading Kieran's POV and how he truly felt about certain things, especially when it came to Aurora. This man would do anything for Aurora, even if she kept a secret from him. He also has a way in the bedroom, and I've listed him as one of my favorite dirty talkers and a man who loves saying 'good girl.' I'm all for praising during spicy scenes. Aurora was even taken back with Kieran in the bedroom.
Aurora is the sweet and innocent heroine. She has no clue about the darkness in the world that surrounds her father, her brother, and Kieran. She's been away at a girl's school due to her a-hole father. Now she's being forced into situations she has no control over, and she wants freedom. I felt for her character since her life has always been dictated, and now Kieran is forcing her hand in marriage and other things. She had every right to fight back and try to escape. She trusts too quickly, though, and is keeping a secret from Kieran. I'm not too fond of miscommunication in books, but that is precisely what happens in this story when the FMC keeps something from the MMC. It's so frustrating when the characters don't communicate. There's also the issue of a secondary character that drove me batty that caused such a mess, but I won't spoil it.
I enjoyed the first book in Bianca's new story and getting Kieran and Aurora's story. They were perfect for each other, even with all the ups and downs at first. They keep each other on their toes. Kieran was very protective of Aurora, and Aurora made Kieran realize she could be his Queen at his side. Overall, I give the book four stars and look forward to reading the next book in the series. I hope those characters get their crap together as Kieran and Aurora did in their book. I don't know, though; the FMC in the next book drove me crazy in this one.
Standalone or Part of Series: It is an Interconnected Standalone in the Syndicate of Sinners series.
Steam/Spice: 🌶 🌶 🌶
Genre(s)/Trope(s)/Element(s): Dark Romance. Mafia Romance. Brother's Best Friend Romance. Forced Proximity. Forced Marriage. Billionaire MMC. Alpha MMC. Damsel in Distress. Touch Her and I'll Unalive You. Jealous/Possessive OTT MMC. Virgin FMC. Praise.
Trigger(s)Content Warning(s): Graphic Violence. Explicit Sexual Content. Murder.
Would I recommend this book? Yes. If you enjoy Dark Romance with a mafia and revenge storyline, this book is for you. There's also a dirty-talking MMC who will burn the world down to save his Queen from the monsters out to take her from him. No one takes his Queen from him without repercussions. That includes those so-called family members.
Favorite Quote(s): "Give me your moans, princess. Be my good girl and come. I'm thirsty, and only your juices will quench it."
"God, Kieran." "Such a good girl, craving to be tainted by a sinner while she calls on God."
"I'll never be sorry, Aurora. For taking you, for making you mine. I'll burn this damn world down and everyone in it who thinks they could keep me from you."

---
---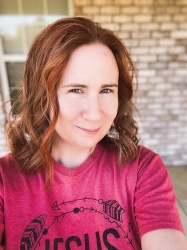 Latest posts by FranJessca
(see all)