Review: 'Sins of the Father' by Winter Austin
February 6, 2017
I received a complimentary copy of the book from the author in exchange for an honest review. This does not affect my opinion of the book or the content of my review.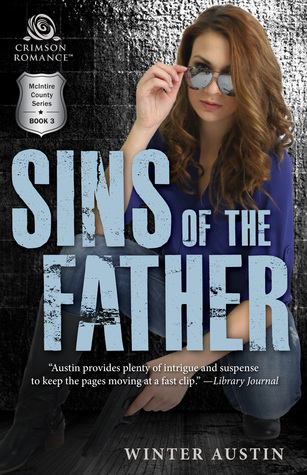 Sins of the Father
by
Winter Austin
Published by
Crimson Romance
on December 12th 2016
Genres:
Romantic Suspense
Format:
eArc
Goodreads
Purchase at
Amazon
|
Apple

Newly pinned deputy Jolie Murdoch's first big job as a McIntire County deputy is to locate a missing girl. What Jolie doesn't expect is to stumble upon a corpse—the girl's father—with a prime suspect still hanging around. But why would local bartender Xavier Hartmann go off the deep end and bludgeon a man to death?
A former marine, Xavier is barely coping with a traumatic brain injury, and he has no memory of what happened at the crime scene. He came to Eider to confront his past, not get embroiled in a murder as the number one suspect. To make matters worse, as the mystery deepens, Xavier finds himself drawn to the reluctant deputy.
As Jolie fights against mounting pressure to get to the truth, she realizes there's more to Xavier than meets the eye. But someone is lingering on the fringes, determined to put a stop to her investigation and Xavier's freedom. Will Jolie do her sworn duty or buck the status quo to give her and Xavier's newfound passion a chance?
My Review
Sins of the Father is the third book to her Mcintire County series and Winter will definitely have you the edge of your seat with suspense.
Winter Austin takes us back to McIntire County in Iowa, where another crime has rocked the small town. This time though the town is dealing with a girl gone missing and its up to Jolie Murdoch who is a rookie cop to find her. Unfortunately, she's going to come across her first clue on what happened to the girl due to stumbling on a corpse and the potential suspect Xavier Hartmann. Xavier Hartmann is a Marine war veteran, who is still recovering from his injuries. Some times he ends up not remembering what he's done and he never thought he would be suspect one in a murder case.
Sins of the Father leaves you guessing on who is behind the girl's disappearance, especially when another incident happened so many years ago.
One of the many reasons why I enjoy reading Winter Austin's books are the characters she writes in her books. They end up being characters that readers will feel for and adore. At least that is how I felt about Jolie and Xavier. Both have their own problems. Jolie is a rookie cop that has her father's legacy to live up to because he was the previous Sheriff, but she doesn't really want to follow in his path. She's one strong-willed and determined character. Then you have Xavier who is a veteran and he has secrets that he's not willing to tell and he has drama. Both characters definitely are different, but they make each other stronger.
Another reason why I enjoyed Sins of the Father is the storyline. Winter tends to create edgy storylines that have you going along with the characters to figure out the crime. Winter definitely doesn't make it easy for Jolie and Xavier to figure out what happen to the girl who disappeared. Jolie is going to realize that not every one is who they seem to be and McIntire county has it's own secrets.
I give this book 5 stars and highly recommend it to fans of the Romantic Suspense genre. If you haven't read any of Winter Austin's books I highly recommend you do. 🙂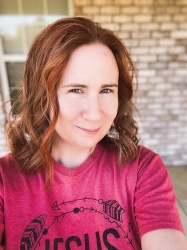 Latest posts by FranJessca
(see all)