Review: 'Taken by Storm' by M.J. Schiller
November 19, 2012
I received a complimentary copy of the book from the author in exchange for an honest review. This does not affect my opinion of the book or the content of my review.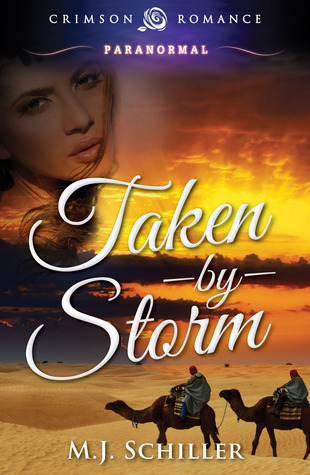 Taken by Storm
by
M.J. Schiller
Series:
Romantic Realms Collection #1
Published by
Crimson Romance
on October 15, 2012
Genres:
Historical Romance
Format:
eArc
Source:
the author
Goodreads
Purchase at
Amazon

Born from the fire of a palace coup, the relationship between the king of Avistad's son Prince Tahj and the captive girl Bashea burns with a passion that neither of them quite understands. The pair is drawn closer together as they face enemy soldiers, a screaming panther, even the scathing winds of a desert storm.
After what she has been through, Bashea is afraid to trust and her fiery nature is both what appeals to Tahj and what drives him crazy. It takes a long separation to bring them back to each other, but when Tahj does return, it is once again during a battle with his greatest enemy, Lord Boltar. But now Lord Boltar, who has been forced beyond reason by Tahj's success in retaking the throne, is an even more dangerous threat than before. Reunited, will Tahj and Bashea be strong enough to defeat their twisted and powerful enemy?
My Review
M.J. Schiller's debut novel opens up with Bashea's character being kidnapped and having to face the worst kind of punishment that a woman ever has to endure.  Her family does not even know she is gone and she is not sure why she is being kidnapped and where she's being taken.
Prince Tahj is dealing with his own problems.  His father who is not himself is ill in bed and Tahj is forced to take care of stuff he does not really want to be apart of.  His older brother was supposed to be King, but he was killed.  What Prince Tahj does not realize is that Lord Boltar has had something to do with everything that is happening.
Prince Tahj and Bashea will actually come across each other's paths, but in the worst kind of way.  Bashea is a gift to Tahj from Boltar and Tahj is not sure why.  Bashea does not trust the Prince due to his men taking advantage of her.  It is up to the Prince to find out who she is and get her to trust him since he had nothing to do with her being put in the predicament that she is in.
Now Tahj is running for his life away from the life he has always known with his closest friend and the girl who came into his life unexpectedly.  It is up to him to find out the truth and take Bashea back to her family.
In the meantime though, Prince Tahj and Bashea will fight each other's feelings for each other and those feelings will keep getting stronger and stronger.
My thoughts on "Taken by Storm" is that M.J. Schiller definitely wrote a very entertaining and action packed story.  I loved the connection with Prince Tahj and Bashea.  They definitely were destined to meet and they definitely helped each other grow.  Bashea had her own feelings towards why she thought she could never hook up with a Prince and why she could not trust him.  Prince Tahj was not sure that Bashea would love him for who he was and also was afraid of how Bashea's family would take the news.
I definitely look forward to more novels from M.J. Schiller in the near future.
M.J. Schiller's debut novel is full of action and romance that will take you for a ride through the desert.    You will definitely be rooting for the characters to have a happily ever after.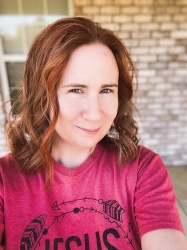 Latest posts by FranJessca
(see all)